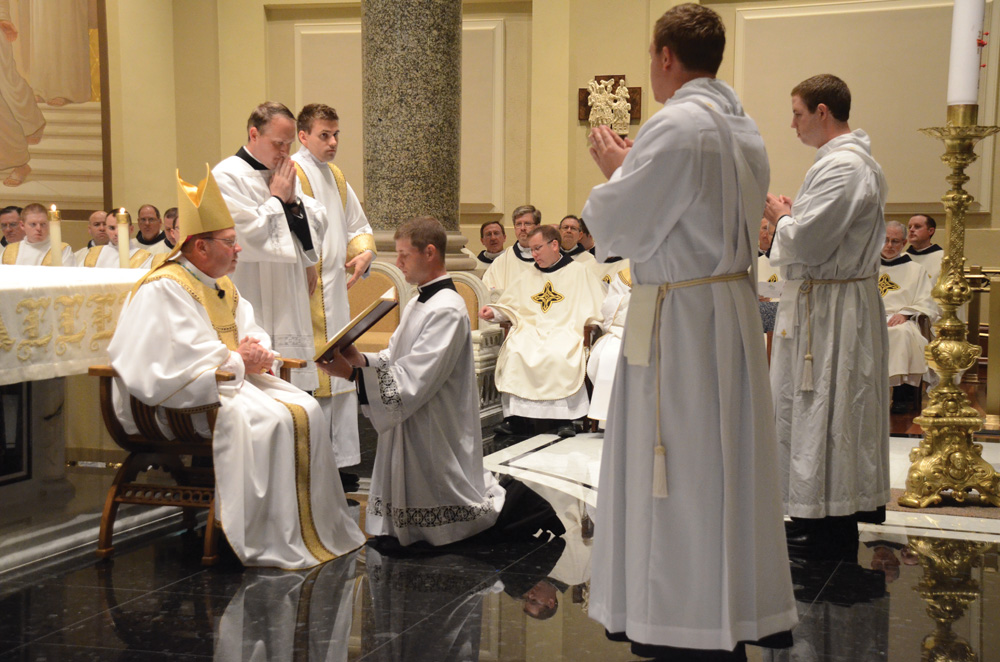 Some kids want to be doctors. Others want to be teachers. At age 9, Wichita native Sam Brand knew he wanted to be a priest.
"The life appealed to me," Brand said. "I loved the prayer and the self-sacrifice."
By the time Brand reached 7th grade he was absolutely convinced. His years at Bishop Carroll Catholic High School cemented his desire. He knew he needed to go to a Catholic university; he decided on Newman.
Brand entered Newman in fall 2006. He joined the Sloppy Joes Improv Troupe, thought about majoring in history and sprang up a friendship with then-Newman Chaplain Father Joe Tatro. He also became best friends with Kurtis Dugan, another Bishop Carroll grad who, like Brand, was living at home and commuting to campus.
"He would always transform everyone around him," Dugan said. "He would make everyone his friend."
They were both good students and they enjoyed adventure. One day, Dugan and Brand decided to go hunting before math class. They knew there was a chance of snow, but they didn't know a storm was brewing. Soon they were hiking through several inches of snow. They decided they needed to leave but realized the roads were in bad shape.
"We kept calling Professor Sponsel [Assistant Professor of Mathematics Barbara Sponsel, Ph.D.] and telling her we might be late," Dugan said.
An hour later they walked into their algebra class, right on time.
Brand gave several pheasant feathers to a student from Nigeria and told her to take them home to show her family.
"He told her to tell her family 'Billy the Kid and Jesse James gave them to you,'" Dugan said while laughing. "Sam loves to have fun and make friends with everybody."
Although he loved Newman and treasured his professors and fellow students, after his freshmen year Brand set his sights on the seminary.
"It was Fr. Joe Tatro who gave me the final push to enter seminary," Brand said. "He did it indirectly."
Tatro showed Brand by example. Each day, he demonstrated his love of Christ, his compassion for others and his unwavering beliefs.
"The chaplain serves as a mentor, one whom young men can walk alongside and see themselves 'in the shoes' of this particular priest one day," said Father Mike Simone, the director of vocations at the Catholic Diocese of Wichita and former chaplain at Newman. "The chaplain serves in a role as priest, mentor and friend."
Brand soon transferred to St. John Vianney College Seminary in St. Paul, Minn., and later to Kenrick-Glennon Seminary in St. Louis, Mo. In May 2014, Brand was ordained and placed as parochial vicar (associate pastor) at Church of the Magdalen in Wichita. Brand took the place of Father John Fogliasso, who moved to Newman to become the university's chaplain and director of Campus Ministry. The two priests had attended seminary together.
"Sam has always impressed me as an intelligent and charismatic individual
who has all the qualities to be a remarkable priest," Fogliasso said. "Being as personable as he is, I'm sure it will not take him long
to find success in his ministry."
Brand is excited about serving all congregants from youth to the elderly.
"God doesn't know any age limit," Brand said. "A priest has to be all things for all people. It's about God, and it's about people."
Many Newman students follow path to priesthood
Sam Brand is hardly the first or only Newman University student to attend seminary and follow the path to priesthood.
Kyle Dugan, Kurtis Dugan's brother, is one.
Currently, seven former Newman University students are in seminary. In addition to Dugan, they are: J.D. Betzen; Adam Grelinger; Ed Herzog; 'Nic' Jurgenemeyer; Adam Labenz, and Tanner Martin.
According to Father Mike Simone, director of vocations with the Catholic Diocese of Wichita, on average three priests are ordained each year in the Diocese of Wichita.
Pictured above: The Most Rev. Carl A. Kemme, Bishop of the Wichita Diocese, reads a passage during the ordination ceremony. Sam Brand is in the foreground with his back to the camera.
– Alice Mannette