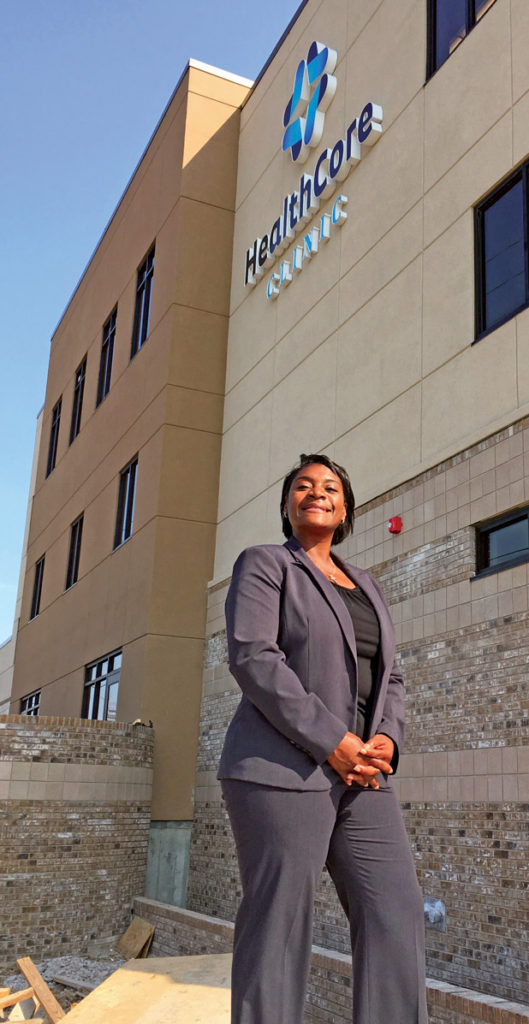 Teresa Lovelady stands in front of the newly constructed HealthCore Clinic. Photo by Davna Gould
NEWMAN ALUMNA TERESA LOVELADY BRINGS NEW LIFE TO HEALTHCORE CLINIC
Newman University alumna Teresa Lovelady has seen HealthCore Clinic through some hard times — but times are getting better thanks to all that she's done for and with the clinic since becoming its CEO nearly six years ago. But she said she wasn't alone.
"I stand on the shoulders of two incredible women who came before me."
That is how she described the giant shoes she was preparing to fill in 2011 when she became CEO of the community health clinic in Wichita, Kansas. But her story with the clinic started before then.
Lovelady found herself without insurance as a single mom in 2004 — and her son needed care for his asthma.
"I was going back to school to continue my education," said Lovelady. "I had a 2-year-old at the time who had asthma, so I needed a place to get access to health care for my son, and I found this organization. I came here and they took care of me. They took care of my son. He's 15 now — healthy, plays soccer and tenor saxophone. They took care of us."
As a patient at the clinic, she quickly took notice of how they helped others in the community. Lovelady said not only did they accept anyone regardless of their insurance situation, but they were helping patients physically and mentally in order to have improved lives.
Her next connection with the clinic would come in 2009 as a consumer board member.
"During my time in the Master of Social Work (MSW) program at Newman, we had an evening class here at the clinic," explained Lovelady.
"Beverly White (the clinic's CEO at the time) gave us a brief tour and told us more about the clinic."
This gave Lovelady a chance to see what happened behind the scenes in their daily routine.
"It was interesting for me because I'd been a patient, but I didn't know how it all worked. So when I learned more about how everything worked, I wanted to make certain that I could really help."
As vice president of prevention and advocacy at the Mental Health Association, Lovelady knew she could bring some good things to the table. She explained to White that she would focus on integrating mental health into the medical environment to reduce the stigma of mental health diagnoses.
She told White that when she was closer to her graduation date (in May 2010), she would like to serve on the board. But White didn't want to wait that long. She talked Lovelady into joining the board during the spring of 2009.
When the clinic found themselves in a search for a new CEO in 2011, Lovelady jokingly said to the board, "I guess I'll quit my day job." The board liked the idea, and she soon found herself among other candidates for the position.
She became the clinic's CEO in January 2011. Lovelady was nine months pregnant at the time.
"Jan. 1 was my first official day — and my son was born on Jan. 22. I was actually at Wesley's BirthCare Center, and (an employee) met me there with payroll. I was signing checks, and then I had a baby."
Before becoming CEO, Lovelady was in two graduate degree programs at Newman.
"I did the MSW and the (Organization Leadership) MBA program simultaneously. I guess you could say I'm that social worker with an eye on the bottom line."
That certainly paid off for Lovelady and the future of the clinic.
A new 40,000 square-foot facility that is attached to the original HealthCore Clinic
building was recently completed, and she credits God for holding her together through the process.
The organization found a way to save $1.2 million to serve as a nest egg for the new facility.
With that nest egg, and the help of a starter donation of $50,000 courtesy of the Wichita philanthropic group The Grumpy Old Men, plus a $3.7 million donation from Capital One, Lovelady said they could complete the $10.7 million project with less debt.
The new facilities house 33 exam rooms (compared to only 10 they were working with before), 11 behavioral health rooms, a seven-chair dental area, a pharmacy, a physical fitness center and many more features that they and the community have not had access to.
"There is a walking path on the property and a community garden with fresh fruits and vegetables — all open to the community," said Lovelady. "We wanted to create a safe place for the community to come and walk and to be able to create an environment to teach people how to eat healthy with the resources available to them."
She also explained that one of the rooms in the new facility, the Serenity Room, is dedicated to Rose Therese Bahr, ASC — once an academic dean and professor at Newman University, and also a previous member of the clinic's board.
"She invested a lot of time, energy and effort into the clinic. She was here during a time when we were expanding and growing, and when I started as CEO, she would send notes or give me a phone call, just to provide encouragement and keep me going."
Bahr and Lovelady aren't the only ones at HealthCore with a Newman connection. The former CEO, White, worked at Newman as the vice president of institutional advancement before transitioning to the clinic as CEO in 2004. And today, HealthCore employs six Newman MSW graduates.
Richard Waller graduated from Newman in 2015 with a master's in social work.
"I do behavior health and patient coordination. Basically, we go in and do a quick 15-minute assessment of symptoms for patients who may be suffering from depression and anxiety," said Waller. "Newman has done a great job in getting me prepared, it's really helped me feel more confident in my position here at HealthCore. They prepared me on the clinical track — basically how to assess and diagnose depression and anxiety, and even regarding medication, how certain medications work with helping people with depression and anxiety."
2010 MSW graduate Vernetta Dixon said her time at Newman was great. "The classes were very informative. I didn't think I'd be working in the clinical setting. I thought I'd be working in child welfare. That was my frame of mind. So when I came here, it wasn't what I thought I would do. It (the Newman program) taught me about interacting with patients and interacting with the community, but also how to think creatively on things that we need to implement for our community to make it better."
Lovelady agreed with her co-workers, saying that her time at Newman was a phenomenal experience.
"From the first moment I stepped foot on campus and walked up that main sidewalk, it just felt like the right thing. I had great professors such as (Sue Ellen) Gardner, (Gloria) Hegge and (Kevin) Brown — who we called 'human Google.' Newman just provides wonderful and service-oriented education where they inspire you to give back."
---
Visit Newman University's Master of Science in Social Work for more information.
Tags:
ceo
,
healthcore
,
master of social work
,
Wesley Medical Center