Dear Alumni and Friends,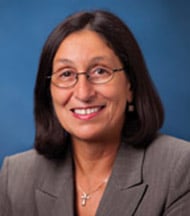 On September 12, we celebrated the 80th Anniversary of the founding of Sacred Heart Junior College, the institution that became today's Newman University. Happy Birthday to us!
Similar to our 75th Anniversary, much of this year's celebration is focused on our heritage: Our founding and sponsorship by the Adorers of the Blood of Christ. The courage and tenacity of those sisters, priests, and lay people who have worked over the years to make Newman a success. The commitment to providing a high-quality, liberal arts education. The dedication to serving others, and the devotion to our Catholic identity and ideals.
It is gratifying to know that much of what is special about Newman is as true today as it was 80 years ago. Our faculty and staff are top-notch, and give their all to help their students succeed. Our students make us proud during their time with us, and after they've graduated and made their way in the world. Our alumni and benefactors provide gracious and generous support. Our mission of empowering graduates to transform society remains steadfast and true.
Of course, much has changed in the past 80 years as well, such as our student population, our campus, our academic and athletic programs – and our university magazine.
This publication has undergone many changes over the years, from a simple, four-page, black and white newsletter to a multi-page, full-color magazine. Beginning with this issue, we're updating the publication again with a new name, a new look, and a new approach to reporting what's happening at Newman. We welcome your comments and suggestions. Please feel free to contact us at the phone number, street address or email address noted in our publication information on the facing page with your comments.
While it's important to celebrate our past and present, it's equally important to look to the many opportunities and challenges that await us in the future. I'm confident that, based on where we started – a tiny junior college trying to survive the throes of the Great Depression – and where we have come – the largest and BEST Catholic university in the state – we will continue to thrive and grow in the future, trusting as St. Maria De Mattias did throughout her life in the Providence of God – the Providence "that has provided, still provides and always will provide."
And our motive, as always, is "The Charity of Christ Urges Us" (our motto, coined by the first president, Monsignor Leon McNeill).
Sincerely,
Noreen M. Carrocci, Ph.D.
Tags:
75th Anniversary
,
Adorers of the Blood of Christ
,
Newman
,
Noreen M. Carrocci
,
Sacred Heart Junior College