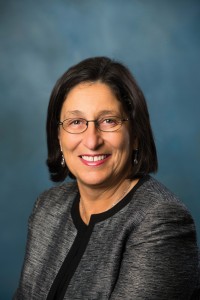 Dear Alumni and Friends,
In the eight years that I've had the great pleasure
of serving as President of Newman University, I've come to appreciate many things. The enthusiasm and excellence of Newman students. The knowledge and dedication of our faculty and staff. The high quality of our athletics programs. The beauty of our campus, and the blessings bestowed on us by our sponsors the Adorers of the Blood of Christ.
One of the things I appreciate the most is our alumni. Beginning in 1931 with the first graduating class of St. John's Academy, through the graduates of Sacred Heart Academy, Sacred Heart Junior College, Sacred Heart College, Kansas Newman College and the most recent graduating Class of 2015 of Newman University, our alumni have gone out into the world and done amazing things.
Our alumni are teachers, doctors, nurses, attorneys, counselors, priests, social workers, computer programmers, radiologic technicians – literally everything from accountants to zoologists – in places across the nation and around the world. Just as importantly, they are mothers, fathers, neighbors, brothers, sisters, friends, volunteers, people we admire and rely on, and people who, through their words and deeds, make the world a better place to live.
In June 2016, Newman will host an All-Alumni Reunion to celebrate and honor our more than 14,000 alums from every school and era. This full weekend reunion will feature campus tours, presentations, sporting events, food, drink and much more for alumni and families both young and old. You can find more details on the event inside this issue of Newman University Magazine.
I hope to see you at the reunion, or at one of the many concerts, plays, athletic contests, fundraisers, award ceremonies, lectures and other events Newman hosts each year. While I can't personally meet each of you, I want you to know that the faculty, staff and I are proud of all our alumni. After all, you are the living proof that Newman University empowers its graduates to transform society.
Thank you for everything you do for your communities and for Newman University.
With gratitude,
Noreen M. Carrocci, Ph.D.
Caritas Christi Urget Nos!