Dear Alumni and Friends,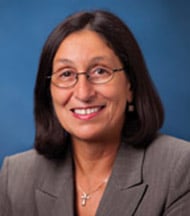 In this issue of Challenge we take a look at today's students – who they are, where they come from, what they value and why they chose Newman.
In many ways, this is not a simple task.
Every year, hundreds of surveys are produced, thousands of magazine articles and books are published, many T.V. news stories are broadcast, and an untold number of blogs, articles and essays appear online focusing on this very topic. From this media, some characteristics and trends emerge, and some conclusions can be drawn. Yet in the end we are left with generalized, aggregate portraits at best, and broadly drawn caricatures at worst.
As we all know, each individual student is unique, with his or her own talents, values, opinions and attributes. This has been true of every generation. Not every student in the '60s rebelled against the establishment, for example, any more than every student today wastes hours a day keeping up with "friends" on Facebook.
Of course, Newman students have always been different. They may share tastes in music, clothing, and amusements with their counterparts at other colleges across the country. But students at Newman and its predecessor institutions have qualities on a level not always seen at other college campuses – a commitment to service, a devotion to faith and desire to grow spiritually, a dedication to excel academically, and an eagerness to blaze new trails for the future while maintaining a heartfelt respect for the past.
Yes, the times may change for Newman students in terms of the language they use (OMG instead of "far out"), the people they choose as role models (Jay-Z rather than Roy Orbison), even the way they learn (online versus classroom). Yet the quality that sets Newman students apart – the ability and drive to transform society – is the same today as it was almost 80 years ago.
I'm willing to bet it will be the same 80 years from now, too.
Thank you for your support of Newman students and all you do for Newman University.
Sincerely,
Noreen M. Carrocci, Ph.D.
.
.
Tags:
Challenge
,
Newman University
,
Noreen M. Carrocci
,
President