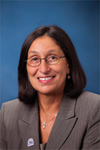 Dear Alumni and Friends,
The wisdom of planning for the future has been recognized for centuries – long before Benjamin Franklin wrote his aphorisms in Poor Richard's Almanack, longer even than Aesop wrote of the ant and the grasshopper in his Fables. Clearly, for any enterprise to become and remain successful, it must create a plan that sets goals and guides its future course of action.
The people of the Newman University community have set goals, made plans and taken a number of actions in recent years to ensure our continued growth and success. We have created partnerships with local schools and organizations that provide mutual benefits and help all entities build a stronger and more secure future. We have established new academic programs to better serve the needs of the community. We have made more programs available online to give students more flexibility as they pursue their educational goals. And we are working to bolster our endowment, and create more scholarship support to help make Newman accessible to more students. As a result of our efforts together, our enrollment for fall 2010 is the largest in school history.
In this issue of Challenge, you'll learn about another very important part of our overall strategy for future growth and development, the Campus Master Plan 2010.
The master plan outlines ways Newman will prepare for and manage expected growth over the next 15 to 20 years. Creating the plan was a year-long, collaborative process that involved everyone in the Newman community, and took into consideration every aspect of the Newman campus. The plan delineates several changes, including our top priority – building a modern facility to replace the Heimerman Science Center. We intend to create this much-needed addition to campus within five years, financed in part by a public capital campaign.
The master plan outlines several other changes, of course, as you'll read in this issue. And while those changes often include challenges, they are necessary and vital to our continued success. John Henry Cardinal Newman, who was beatified in September by Pope Benedict XVI, wrote, "To live is to change, and to be perfect is to have changed often." While we cannot expect perfection from the plan or ourselves, for the sake of our founders, donors, faculty, staff, and most of all our students, we can and must make the changes that will ensure a strong future for Newman University. I am confident it will be strong, and I invite you to be a part of it.
Thank you for all you do.
Sincerely,
Noreen M. Carrocci, Ph.D.
Tags:
Aesop
,
Benedict XVI
,
Benjamin Franklin
,
Campus Master Plan
,
Challenge Magazine
,
Fables
,
Heimerman Science Building
,
John Henry Cardinal Newman
,
Noreen M. Carrocci
,
Poor Richard's Almanack