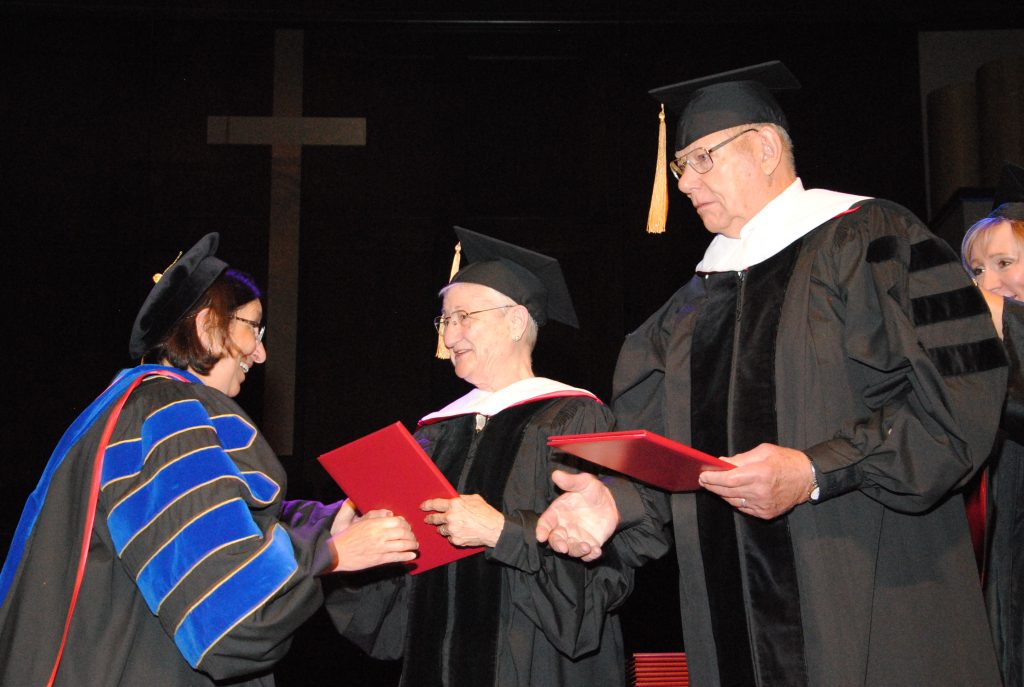 Newman University bestowed a Doctor of Humane Letters, honoris causa degree upon Robert L. and Rosalie Goebel at the Spring and Summer 2016 Undergraduate Commencement. The university awards honorary degrees to individuals whose life and work reflect exemplary dedication to one of the university's four Core Values: Catholic Identity, Culture of Service, Academic Excellence and Global Perspective. The Goebels were honored for Culture of Service.
The Goebels have been longtime supporters of Newman University and Newman University Athletics. They have also been generous donors to several capital campaigns and provide annual student scholarships.
Robert is the son of Earl Goebel, founder and former president of Star Lumber & Supply Co., Inc. Robert was chairman of the Star Lumber board of directors until January 2010 and still serves on the board.
The relationship between Newman, Goebel family members, family-owned businesses and related foundations began almost a half century ago, when Star provided materials for a removable wood basketball floor at Century II, which served as the Jets' "home court" for many years. The Goebel family and Star Lumber have provided generous financial and material support to Newman ever since, including major gifts to help build Ryan Library and O'Shaughnessy Hall, and materials to build the 8-foot fence surrounding McCarthy Baseball Field, a press box and a dugout.
In 1994, Robert and Rosalie received the Cardinal Newman Medal. Since 2001, Robert and Rosalie have provided annual student scholarships through the Robert L. and Rosalie Goebel Endowed Scholarship. They have also made a significant gift to the current Facing Forward campaign.
To read more and see video about the honorary degrees and other graduation activities, visit go.newmanu.edu/goebels