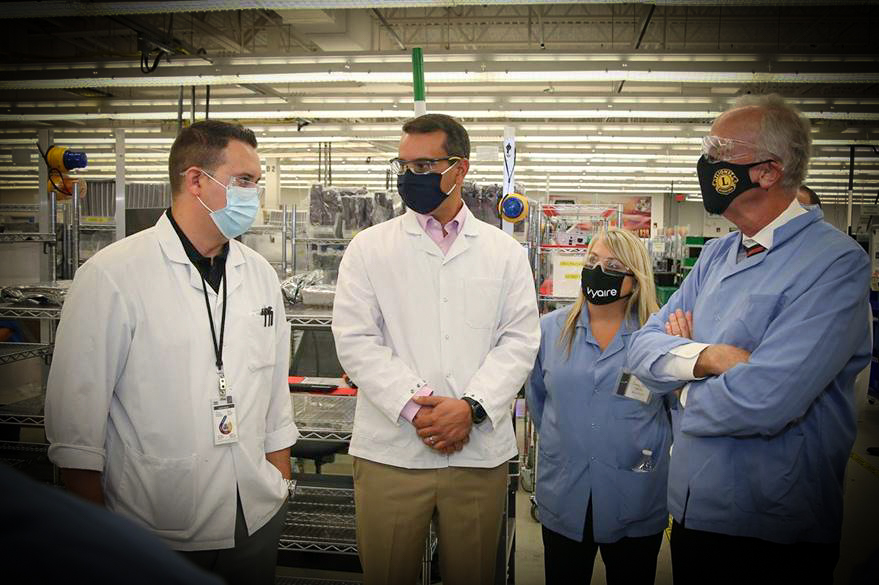 (Photo by Spirit Aerosystems) (l to r) Tim Vanwye, Spirit Assembly Manager; Pierre Harter, Spirit Director, Ventilator Program and Advanced Manufacturing Strategy; Tammy Noll, Vyaire SVP/GM Ventilator Franchise; Senator Jerry Moran
---
by Amy Geiszler-Jones
Pierre Harter '19 had the right skills for a career as an engineer in the aviation industry, having earned two aerospace engineering degrees at Wichita State University (WSU) by 2000.
As he progressed from aviation research to engineering management and then into more executive roles, he picked up a few business practices through his on-the-job experiences and interactions.
"But as I've grown more, I wanted to be sure that I was seen as and that I understood the fundamentals to be considered as a business leader," Harter said. He reached that goal in December 2019 when he earned a Master of Business Administration degree with a concentration in management from Newman University.
Not long after earning his MBA, Harter was selected to lead Spirit AeroSystems' partnership with Vyaire Medical to help meet the global demand for ventilators in response to the novel coronavirus pandemic. Vyaire is considered the world's largest health care company fully dedicated to respiratory care.
Harter, who has worked for Spirit in Wichita, Kansas, for the past five years, earned his MBA degree through a partnership program between Newman's School of Business and Spirit. Harter was in the second class of the Spirit MBA cohort program.
Harter said the program was the right fit for him.
"First of all, I liked that it offers the full MBA degree program because I wanted that full breadth." He also wanted a program that was not conducted completely online.
In the Spirit MBA program, employees go through the two-year program as a cohort group, attending a four-hour evening class one night a week with opportunities for online discussion groups. Having class just one night a week helped his work-life balance, said Harter, who is married and has four children.
The opportunity to pursue the degree with fellow Spirit employees was another feature of the program that appealed to Harter.
"We could take the coursework and apply it directly to real-world problems we were experiencing together. For some assignments, we could tailor them to an issue or an opportunity that Spirit was experiencing," he said. "That really added to the experience, since it wasn't all theory or some abstract case study."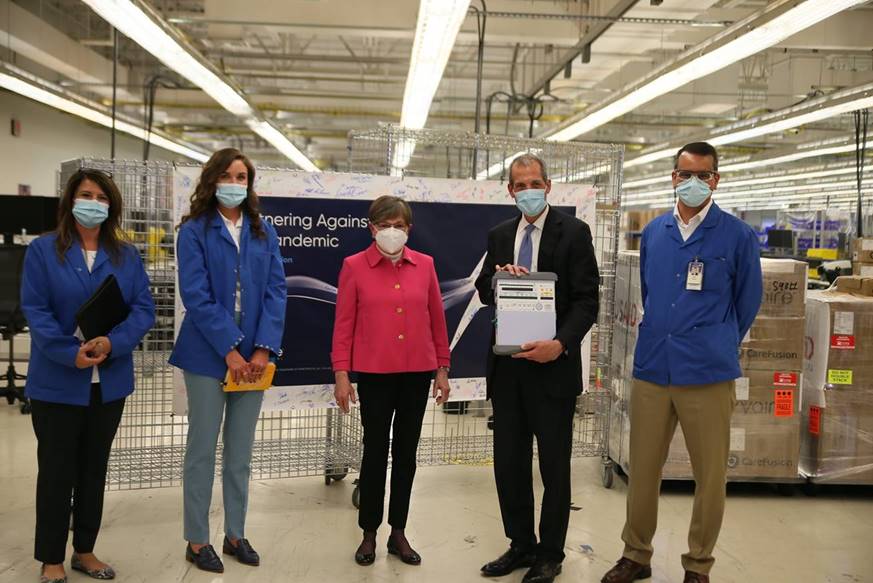 Brian Epperson, Ph.D., graduate program director for the Newman University School of Business, said collaborative learning, where students and instructors learn from one another, is another important benefit of the program.
Harter agreed.
"With everyone having careers and being professionals, it added more depth to the dialogue. In a master's program, you can get just as much learning from your cohort as you can from the instructor," Harter said. "Everybody has a variety of experiences and you can learn a lot of valuable lessons. Not everyone had worked their entire career with Spirit, which also provided valuable insights and perspectives to the learning experience."
For example, three of the more than 15 people in Harter's cohort group had former military experience.
Before being selected as the program director for the Spirit-Vyaire ventilator partnership program, Harter had been Spirit's director of advanced manufacturing strategy, working to modernize the way planes are built. He still holds that title, but his responsibilities have shifted to another person on his leadership team while he is on the special project.
In his current role, Harter oversaw the creation of a new ventilator manufacturing facility here in Wichita and the training of nearly 1,000 members of Spirit's workforce who were diverted from making airplanes to making ventilators. The result is that hundreds of Vyaire ventilators are being produced and tested daily in Wichita.
"I've certainly been applying many of the lessons I learned in the MBA program to this (Spirit-Vyaire) program," Harter said. "I have exercised a lot of those muscles that I developed while in the MBA program."
The Wichita production facility is playing an important role in the U.S. response to the pandemic. In April, the California-based Vyaire Medical was chosen by the U.S. Department of Health and Human Services to provide 22,000 of its LTV2 2200 ventilators to the U.S. Strategic National Stockpile. In addition to its federal contract, Vyaire is working with state and private hospital and health system clients to ensure delivery of ventilators to areas of greatest need, according to a news release that announced the partnership.
Harter will eventually return to his advanced manufacturing strategy role with Spirit in the aviation industry — after all, he's had flying and space on his radar ever since he was 3 and went with his parents to see "Star Wars" at a drive-in theater in Emporia, Kansas. As he grew up, he considered a career as an astronaut and knew he'd have to choose to be either a pilot or go the scientific or engineering route to accomplish that.
"I chose engineering," Harter said. In addition to earning bachelor's and master's degrees in aerospace engineering from WSU, Harter also worked for about six years at WSU's National Institute for Aviation Research. After later working for a general aviation start-up company in Colorado for nearly a decade, Harter returned to Kansas and worked for nearly six years with Bombardier Learjet before joining Spirit AeroSystems in May 2015.