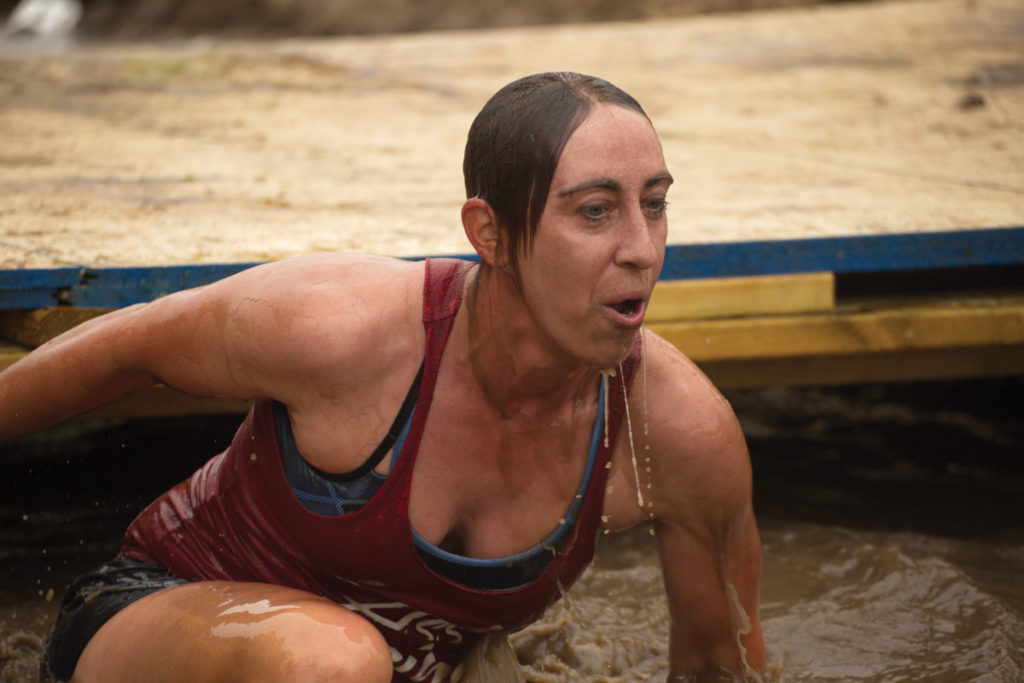 Newman Head Softball Coach Janice Esses competes in the annual Gladiator Dash.
NEWMAN HOSTED TWO MAJOR FUNDRAISING EVENTS LAST SUMMER FOR NU ATHLETICS
THE GLADIATOR DASH
On Saturday, June 10, some of Wichita's fiercest runners braved the obstacle-filled 5k race known as the Gladiator Dash, which took place at Sedgwick County Park.
The Wichita Gladiator Dash is sponsored by Red Bull, Reddi Industries, Mountain Dew and Miller Lite. All proceeds go toward the Child Advocacy Center charity and Newman University Athletics.
More than 10 types of obstacles challenged the runners that morning, including lakes, sand, mud pits and various hurdles. The soaking wet and mud-caked runners trudged through tires, giant wooden spools and even tested their strength by traveling across metal monkey bars that were suspended high above the water.
Prizes were handed out for best and slowest times — Josh White from Pretty Prairie, Kansas, won the race in 23 minutes and 31 seconds, and the last person timed came in at 1 hour and 46 minutes. The top male and top female each earned a trophy, and every runner received a dog tag that said, "I survived the Wichita Gladiator Dash."
The event raised a grand total of $53,000.
"It takes a village just to plan and prepare — and then we have to clean everything up,"Associate Athletic Director Maureen Rohleder said. "We asked Dondlinger Construction and they volunteered their time to help clean. They even bulldozed the holes that we made for obstacles, which was a really big help. We are very appreciative of the volunteers and sponsors who donated their time to putting on this event."
The 33rd annual Laurie Bell Memorial Jet Open golf tournament was once again a success, thanks to the help of staff, volunteers, golfers and sponsors.
The two-day event, which took place Aug. 6 and 7, started with the traditional kickoff party that included dinner, fun and both a silent and live auction. Attendees were greeted by Johnny Jet and some Newman cheerleaders as they walked into the brilliantly decorated Dugan-Gorges Conference Center.
Auction items at the kickoff party included one week at a condo in Mexico, a golf cart, Kansas City Chiefs tickets, dinner for 16 at Gianni Bacci's in Wichita and more. All proceeds go to Newman University Athletics to help provide scholarships for athletes, facility upgrades, uniforms and other needs.
A favorite game on the course involved a Newman golfer teeing off for the players. For a donation of $20, the college player would take the first shot. Sophomore Kaelan Hackenburg assisted the morning golfers and senior Caleb Haight had the afternoon golfers' backs.
The awards ceremony took place after the tournament on Monday night at Emerson Biggins in west Wichita and was well attended. The winning team was composed of Father Tom Welk and his three teammates, Father Daryl Befort and recently ordained Newman alumni Fathers Ed Herzog and Andrew Labenz.
The entire event raised more than $90,000.
Athletic Director Victor "Vic" Trilli said, "How we continue to be able to raise money sometimes amazes me. People often ask us, 'What do you do during the summer?' Well, we're in full mode to pull off two big events. One with 1,400 runners and then one with 50 golf teams and a banquet to put on. To me, more than anything else, it's just an appreciation of all the work and effort that my staff puts in and this community supports. That just makes it all worth it."
Tags:
"Gladiator Dash"
,
Athletic Director
,
fundraising
,
Golf
,
Jet Open