History students research, present findings at Wichita Museum
A group of Newman University history majors got some hands-on experience when they were asked to do original research on ancient artifacts and to present their findings for the Museum of World Treasures in Wichita.
The students were in the Fall 2014 Historical Method course taught by Professor of Ancient History Cheryl Golden, Ph.D. Golden was contacted by Tim Howard, curator of exhibits and research at the museum, who invited Golden to select students to conduct research on about 20 ancient vases in the museum's permanent collection.
Working under the direction of Howard, 10 students researched the vases, which came from the Apulia region of ancient Italy. The region, which includes the heel and back side of Italy's "boot," was mostly inhabited by Greeks in ancient times, who developed the vases and their decorative style several centuries before the birth of Christ.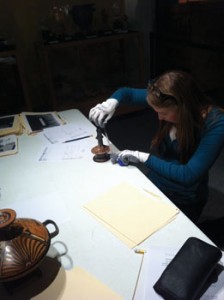 "The students got to touch and pick up the vases during their research – things people just don't get to do," said Golden. "And, by all accounts, they conducted themselves in a very professional manner and did excellent research."
Among other things, the students tried to determine exactly where the Greco-Roman vases came from, what use they served in the home, and any economic impact they may have had on the region. Golden said the students also contacted experts at other universities during their research, making contacts that may help the students later in their professional careers.
Most of the students participated in a Nov. 2 presentation of their findings, which was part of the museum's monthly "Coffee with the Curator" speaker series.