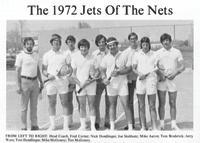 Four individuals and two teams were inducted into the Newman University Athletics Hall of Fame as the Class of 2011. The inductees were honored at the Hall of Fame Banquet and Induction Ceremony, Feb. 5 in the Dugan-Gorges Conference Center on the Newman campus.
The Newman Athletics Hall of Fame was created in 2007 to honor student-athletes, coaches, administrators, advocates and patrons who have made significant contributions to the university's athletic programs. Each year, a new class is selected for induction into the Hall of Fame. The Class of 2011 inductees are: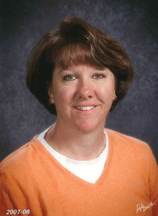 Eileen Adams (Women's Basketball, 1982-86)
A member of the Kansas Newman women's basketball team from 1982-86, Adams came to Newman after graduating from Marycrest High School in Denver, Colo. While the Jets may not have set any records for wins during Adams' time, she graduated from Newman in 1987 with 12 records, including six that still stand today. These records include career bests in points scored, field goals attempted, field goals made, free throws attempted, free throws made and free throws in a single game. Adams averaged double digits in scoring all four years, including a 17.7 point per game average as a junior. She was also named Newman's Female Athlete of the Year. In the 20 years following her graduation, Adams has worked for the Catholic Diocese of Wichita as a physical education teacher, and is currently at St. Anne's and St. Mary's in Derby. She has also coached high school volleyball at Andale, Northwest, and East High Schools.
.
.
.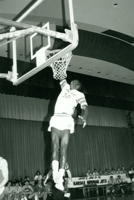 John Bailey (Men's Basketball, 1983-85)
Bailey is a 1985 Newman graduate who played basketball for the Jets from 1983-85, and averaged 21 points
and 8.5 rebounds per game during that time. Further, Bailey earned All-American status his senior season, then went on to play professionally for 10 years after leaving Wichita. Bailey and his wife, Estel, currently reside in Detroit, Mich., where he serves as the President/CEO of Bailey Telecommunications, LLC.
.
.
.
.
.
1996 Men's Soccer Team
Coached by Cliff Brown, the 1996 men's soccer team posted a 19-3-3 record, and earned Newman's first-ever trip to the NAIA National Soccer Championship. Seven players from that team went on to play professionally, and several of them were All-Americans. Gary Tucker holds Newman's career goal record with 51, and is the all-time leader in total points in a career, finishing with 130 points (51 goals, 28 assists). Also, during that same season, Kevin Law set the single-season scoring record with 25 goals, and set the single-season points record with 64 points. As a team, the 1996 squad holds the single-season marks for most goals in a season (80), most assists (78), and most points in a season (238).
Team members included: Eddie Andreo '98; Jay Bednar '98; Jamaar Boggess '00; Chris Brown '00 '04; Jose Carranza '97; Justin Cole '04; Keenan Copridge '01; Chris Creed; Ryan Cummings '00; Brian Cushing '97; Jeremy Durham '99; Chris Freeman '99; Jamie Harding; Adam Hunter '98; Larry Inlow '98; Adam Jones; Kevin Law; Kris Mabry; Alex Macias; Robert Macias; Jesse Moncivais; Andres Rodriquez '97 '03; Paul Schafer; Heath Simmons '99; Saul Souza '97; Jeromy Swearingen '98; Gary Tucker '98; Scott Wacker; Jeremy Willig '00 '05, and Steve Wing '99.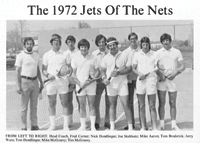 1970-72 Men's Tennis Team
Coached by Fred Corner, the 1970-72 men's tennis team was undefeated for two years, playing primarily against KCAC schools like St. Mary's of the Plains, Friends, Southwestern, St. John's, Bethel and Bethany. The Jets of the Nets' biggest win came in a win over St. Mary's, when the team won all nine matches without losing a single set.
Team members included: Nick Dondlinger '73; Joe Stuhlsatz '72; Mike Aaron '72; Tom Broderick '74; Jerry Ware '89; Tom Dondlinger '72; Mike McGreevy '77, and Tim McGreevy.
.
.
.
Patrick and Kathy O'Shaughnessy
The O'Shaughnessys were inducted into the Hall of Fame as long-time boosters of Newman and its athletics program. 
The family's lead gift for the Athletic Department sports complex ensured a campus home for the Jets, and the facility now bears the O'Shaughnessys' name. Over the years, the family has generously supported Newman University as Charter Members of the De Mattias Society, and through numerous gifts to support student scholarships. Patrick's father, along with Kathy's father, were both involved with Sacred Heart College, which sparked an interest in Patrick and Kathy to follow suit. Patrick has received the Newman Medal. The O'Shaughnessys have six grown children, and 16 grandchildren living in five different states.

Kirk Lester, a 1974 alum, was the 2011 recipient of the Thomasine Stoecklein, ASC Spirit Award. The award, named after the first recipient, was created in 2008 to honor a person or group who has demonstrated outstanding spirit, pride, support and encouragement for Newman and student-athletes at university athletic events.
.
.
.
.
.
Courtesy photos
Tags:
1970-72 Men's Tennis Team
,
1996 Men's Soccer Team
,
Athletics Hall of Fame
,
Bailey Telecommunications
,
Catholic Diocese of Wichita
,
Cliff Brown
,
De Mattias Society
,
Derby
,
Detroit
,
Dugan-Gorges Conference Center
,
Eileen Adams
,
Fred Corner
,
John Bailey
,
Kirk Lester
,
Newman University
,
Patrick and Kathy O'Shaughnessy
,
Sacred Heart College
,
Thomasine Stoecklein
,
Wichita