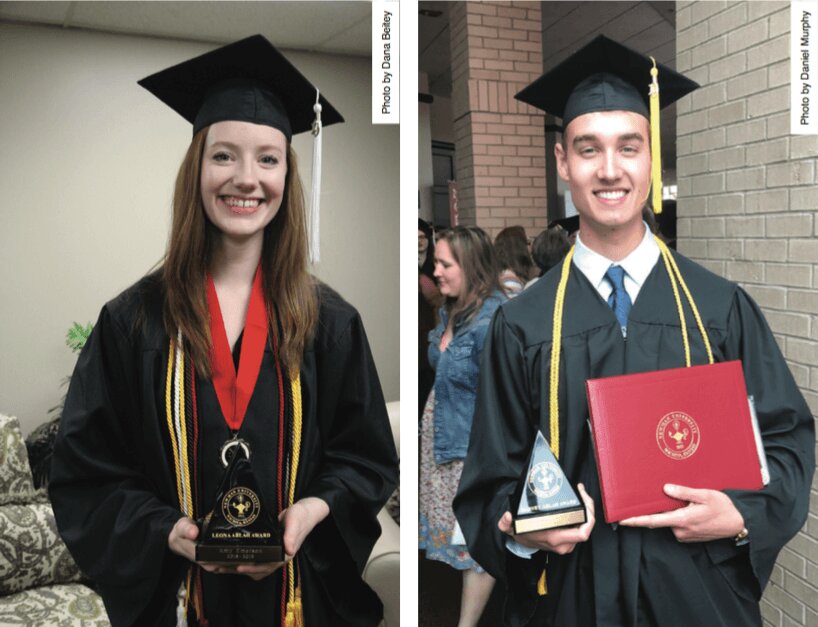 2019 Ablah Award recipients, Amy Emerson & Brandon Steiner
Commencement is a time for celebration and honoring difference makers within the Newman community. Those honors are the Ablah Awards and the Doctor of Humane Letters, honoris causa degree.
ABLAH AWARDS
The Ablah Awards, established by Fran and Geri (Ablah) Jabara to honor the memory of Geri's parents, Harvey J. and Leona J. Ablah, are bestowed on two graduates who have shown excellence during their collegiate journey.
Recipients are considered students of promise and receive a $2,500 award for their academic excellence.
The 2019 recipient of the Leona J. Ablah Award was Amy Emerson of Wichita, Kansas, and the recipient of the Harvey J. Ablah Award was Brandon Steiner of Wichita, Kansas.
Emerson, an English and communication major, was humbled by receiving the award, saying "it didn't seem fair to be singled out" because so many people are deserving of the acknowledgment.
She credited those that came before her who paved the path for her and the numerous graduates of Newman.
"I thought about how many people do so much work and invest their passion and their knowledge, money, gifts and talents to making the education of people possible.
"They built the foundation for me to be here and to be able to walk the stage and receive my education and I'm just so grateful for everybody who was part of that experience. There are just so many people to thank."
Steiner, a biology major with a concentration in pre-chiropractic and minoring in sports medicine, said he also was shocked to hear his name called and considered it an honor to be presented with the award.
He said he highly enjoyed his time at Newman and will carry with him a large number of takeaways.
"It was a fantastic time with fantastic people, friends, faculty and peers," said Steiner.
HONORARY DEGREE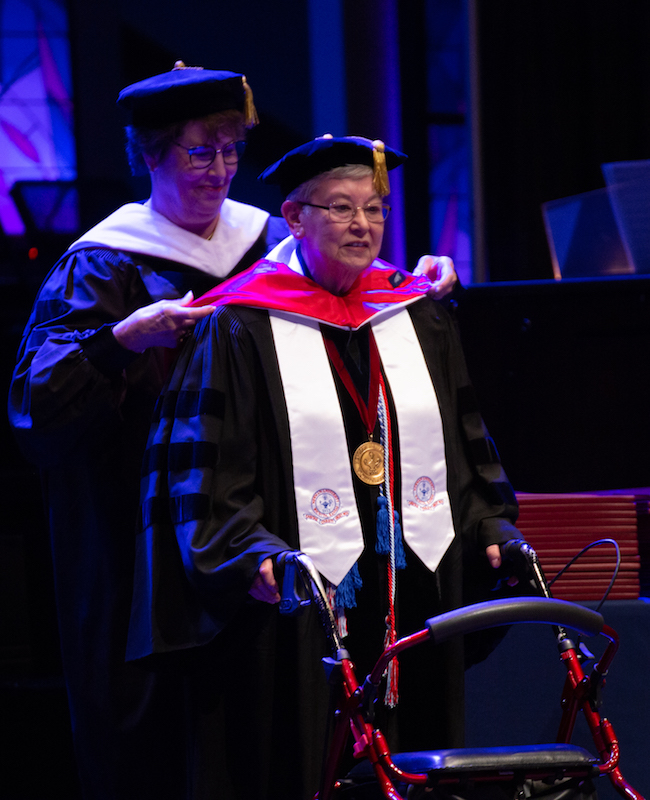 Sister Charlotte Rohrbach, ASC, was honored at commencement with a Doctor of Humane Letters, Honoris Causa degree for demonstrating the Newman University Core Value of Catholic Identity.
Her life has been strongly rooted in the Catholic faith from a young age, attending Catholic grade school, high school and finally Sacred Heart College.
As a student at Sacred Heart College, Rohrbach decided to join Newman University's founding order, the Adorers of the Blood of Christ (ASC). She entered the Adorers in 1959 and professed her first vows in 1961.
Rohrbach has continued to be involved in the Wichita, ASC and Newman communities.
"What's most meaningful to me as an ASC is how to be of service," she said. "I get up early in the morning and spend time in reflection and prayer asking, 'How can I best be of service today?'"
Rohrbach has served Newman through many different roles including history professor, academic dean, interim president and chief operating officer. She now serves as director of mission effectiveness. Within her roles, Rohrbach has strived to fulfill her duties to the best of her ability and better the Newman community along the way.