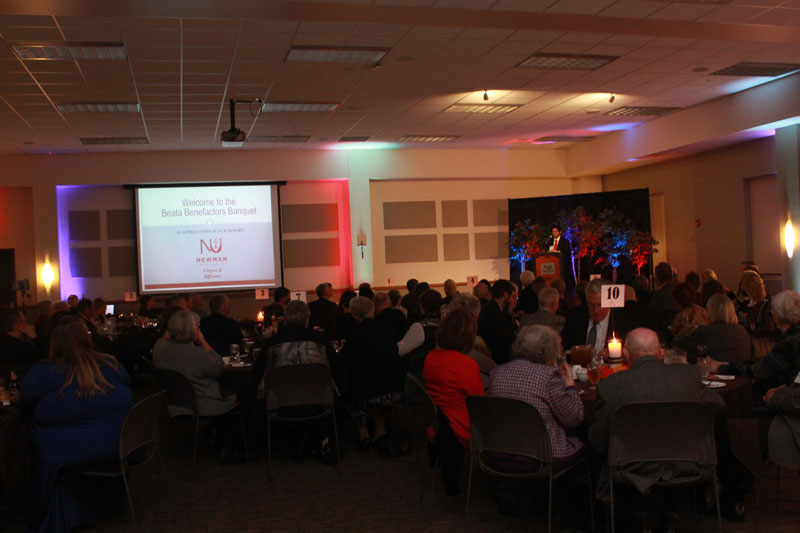 Newman University says, 'Thank you,' to individuals
and businesses who are passionate about supporting
The Newman University annual Beata Benefactors Banquet took place Nov. 16 to thank and honor those who have supported the university throughout the year.
Donors were recognized in four different societies for their cash gifts and commitment to support Newman through a planned, deferred, or perpetual gift. 
The 2017 inductees are:
Sacred Heart Society, reserved for donors who give $25,000 or more
Paul S. Bomberger Jr. Foundation Inc
Growing the Vision of Light Foundation
Brand Investments LLC
Lana and Dennis Gillen
Margy and Larry Hund
I.A. O'Shaughnessy Foundation
Mary P. Jones
Ann and Paul Konecny
Mary K. and Ralph Lanzrath
Monsignor McNeill Society, reserved for donors who give
$10,000 – $24,999
Noreen Carrocci and Robert Benson
R.M. Gouldner Memorial Trust
Gial Kaegi
Jo Ellen (Jodie) and Randy Reed
Westar Energy Foundation
Bicknell Family Foundation
Julie and Gene Cannata
Linda and Joe Davison
Elizabeth and Mike Di Silvestro
Sylvia Orozco-Do and Patrick Do
Susan Giovanni-Butts and Bryson Butts
Elizabeth and Morris Hund
INTRUST Bank
Carm and Michael Ludlow
Lubrication Engineers, Inc.
Dale Withers
De Mattias Society, reserved for donors who give $1,000 – $9,999
Fr. John Fogliasso
Kimberly and James Long
Sandra Muchka
Laura and Michael Quick
Clark and Amy Schafer
Jenifer and Richard Stone
John Weir 
Janane and Estephan Zayat
John Anderson
Janie and Frank Carney
Kristin and Matt Conrad
Margaret Ann and Carl Detmer
Rachel and Woodrow Duncan
Pam and Les Eck
Patricia and William Edison
Donna and Michael Egan
Melissa and Geoffrey French
Jeanette and Charles Green
Patricia Hamman
Geri Jabara
Kay and Norm Jones
Rodney Klausmeyer
Carla and John Lies
Ella Mae McGuire
Rebecca Martin and Brian Meredith
Eileen and William Meurer
Margaret and Donald Moe
Meliss and Mike Mullins
Lee S. Naftzger Fund
John Peterson
Mandy and John Pilla
Kenneth Plank
MaryAnn and Ronald Rabe
Julie and Mark Rome
Shirley Rueb
Mercedes and Todd Shoemaker
Ashley and Chet Schrader
Steven Schwartz
Marilyn Spohr
Mouna and Ned Todorov
James Voegeli
Margaret Weliert
Dana Winkler
Newman Society, celebrating donors who have made a commitment to support Newman through a planned, deferred, or perpetual gift
Marilyn and John Dugan
Monna J. Pinaire Trust
Joan Gerber