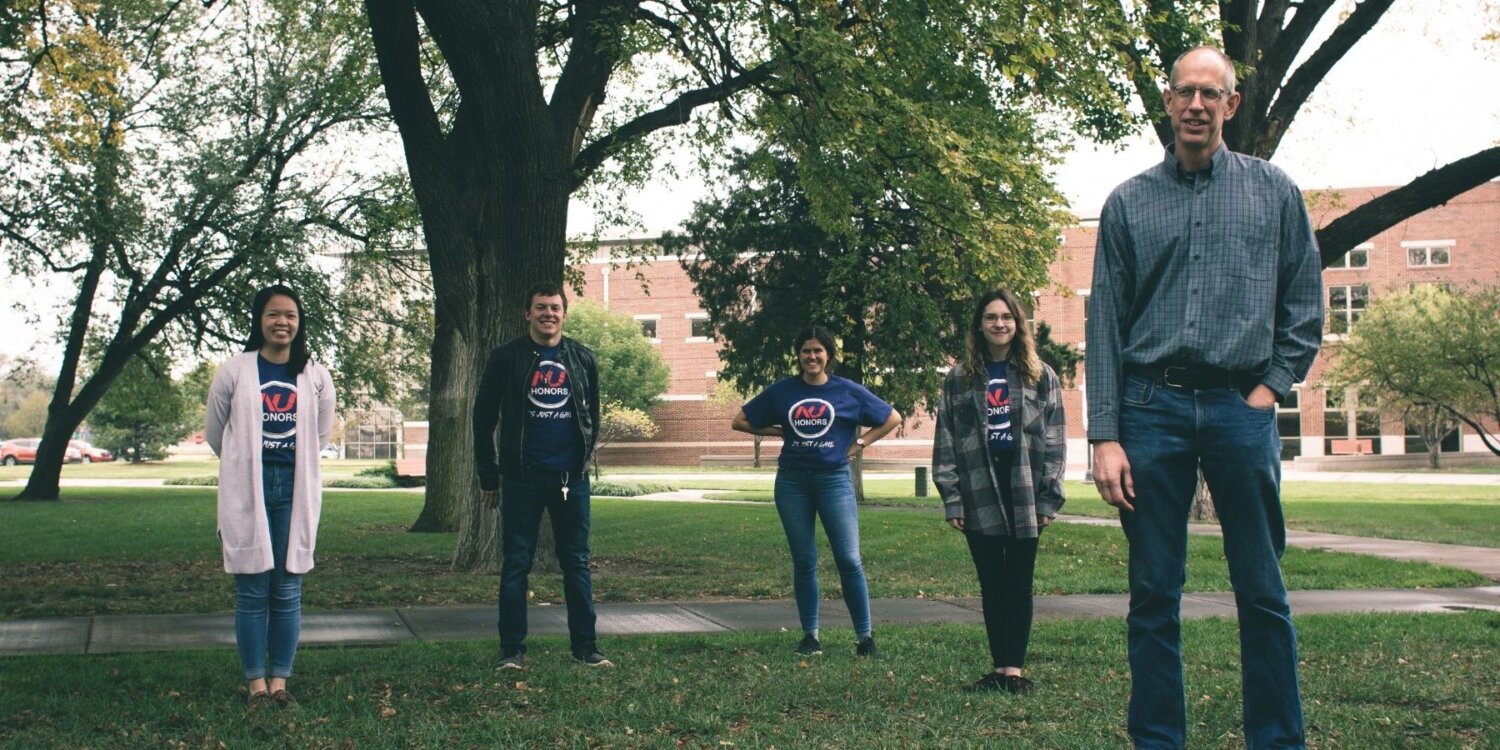 ---
Since 2008, the Newman Honors Program has continued to fulfill what it was established for.
According to Kelly McFall, Ph.D., director of the Honors Program and professor of history, that purpose is to "give high-achieving students a path toward achieving success and enabling them to change the world."
Both prongs of that mission also align with the university's general purpose: to educate the mind and inspire the spirit.
Benefits and recruitment
For students who meet the ACT and grade point average requirements, the benefits of being involved in the Newman Honors Program are many.
Emily Simon, assistant director of the Honors Program and Campus Ministry, said perhaps the top advantage is that it puts students in contact with McFall, who becomes either their main academic adviser or secondary adviser.
"That changed my entire (education) here at Newman," said Simon, who was part of the Honors Program as an undergraduate. "Because he's one of those professors who really cares about your hopes and dreams and the things that you really want to get from your education that you don't know how or you didn't even know was a possibility.
"Having him as an adviser to point out different scholarships and opportunities that you had no idea about and acting as a guide the whole way — that makes a huge difference."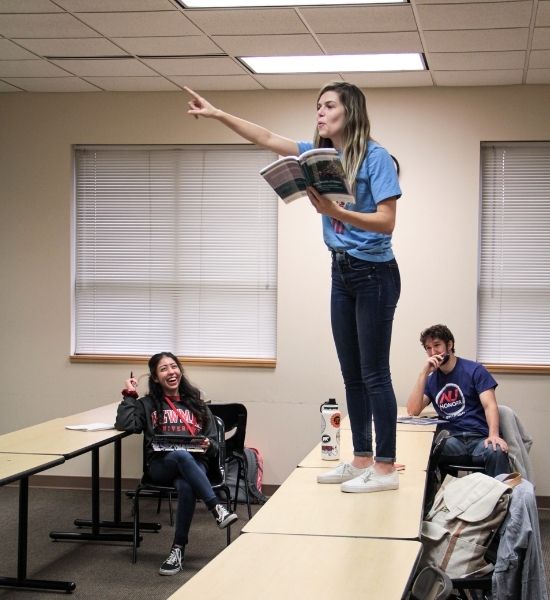 Another benefit is that the program requires students to take classes outside of their major that they might not normally enroll in. There are also honors-specific courses, like one focused on genocide and another on dystopian novels.
"Maybe you don't see a direct connection to what you're doing, what you want to do after college, but (the courses) will really be beneficial and just kind of forming us as persons," Simon said.
And then there's the travel grant, which awards students up to $400 to aid in their travel costs to perform undergraduate research somewhere, pursue a semester trip abroad or attend a conference to present a paper, among other things.
"Houses" are new to the honors program this academic year.
At any given time, the program includes 75 students, which makes it hard to do large events. McFall and Simon wanted to do a better job at connecting the students with each other, especially freshmen with upperclassmen, so they created a "house" system.
They decided on four houses of 15 to 20 students each and purposely sorted them to get a variety of majors and grades. Each house is run by a student leader, enabling students to really take ownership. In addition to overall honors program events, each house has events specific to their own group. This serves as a way to keep students invested in the program while helping them form more of a community.
As for recruitment, McFall and Simon have a number of strategies to attract students to the honors program, including a recent Facebook Live event targeted to a homeschool group. They also partner with admissions events and set up individual meetings with students who are visiting campus. In the future, Simon said they'd like to make more connections with high school teachers to help push along students they think might be a good fit.
McFall noted that the acceptance rate is relatively high since the application process is designed to encourage interested students to apply.
"What I want is people who are eager to explore the world," he said.
While there's no real deadline to apply for the program, there is a deadline for the scholarship the program provides. In order to be considered, interested candidates must apply by December of their senior year of high school.
Elevating the student experience
Besides having a richer college experience with opportunities to meet new people, students in the Honors Program are also challenged academically and encouraged to maintain focus on the kind of career they want after graduation.
"It is really easy to treat college education like a vending machine, like I put in good grades and I get my diploma and that's all I need, and I will walk out the door," Simon said. "The Honors Program forces you to really take ownership of your experiences and your education at Newman, and simply being awake to that and making intentional choices for the kind of career that you want, I think is a huge, huge benefit."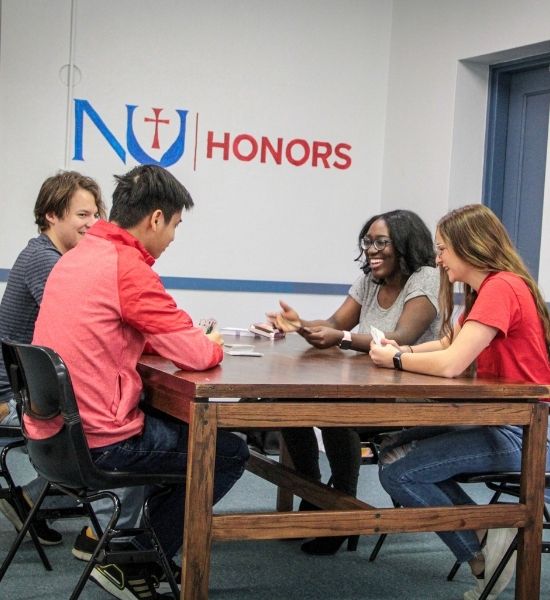 The Honors Program also directly relates to Newman University's Navigator program, which provides personalized attention to help students create a customized education plan that matches their passion and purpose, including by offering career exploration activities, job shadowing opportunities, access to a support team and more.
One of the current Navigator courses is honors-specific, and its mentors are honors alumni. The Honors Program and Navigator also relate because they're career-focused and aim to enhance the student experience at Newman.
"A good function of an honors program is recognizing that students learn differently," Simon said. "And high-achieving students as a group may need different experiences or different support to kind of get the education that they want. So the Newman program's mission, just like the rest of the university, is to empower students to transform society. However, we want to make sure that the way we do that is taking into account that student's individual personality and hopes and dreams."
Firsthand testimonial
For Simon, the Newman Honors Program has come full circle.
While she was attending registration day in summer 2012, she heard McFall talk about what the program entails. He got Simon's attention. So that fall, her first semester at the university, she applied to the program and was accepted.
Being part of the program as a student made Simon realize for the first time that learning wasn't something she was required to do, but something she was interested in. She told McFall that she was really excited to learn about Korea, and he encouraged her to study abroad. So she did, taking trips to both South Korea and Japan.
Inspired by these adventures, Simon's required honors thesis — a unique research project done over two semesters with the help of faculty members — focused on the travel journals of foreigners going to Korea at the turn of the 20th century and how they interpreted what they saw. In the end, this project turned out to be one that Simon is still incredibly proud of.
Her involvement in the program was an experience Simon thoroughly enjoyed — so much so that in 2019, she accepted her full-time position as the program's assistant director.
Simon is the first person to serve in this role and the first employee of the program other than McFall. To drive the program's purpose, she and McFall brainstormed what her professional role in the Honors Program would require of her.
In the time since she's taken the job, Simon has really found her stride.
"The thing I love about the job I'm working now is I'm working with two departments that really changed my life at Newman," she said. "Both Campus Ministry and the Honors Program were fundamental experiences that I would not be the person I am today without."