Newman names Troy Horine Vice President, University Advancement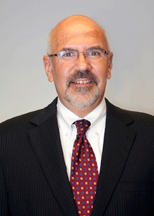 Wichita native Troy Horine was named Vice President for University Advancement at Newman University, effective July 16, 2012.
Horine oversees Newman's Advancement Department, which includes Fundraising/Development, Alumni Relations, University Relations, and Mission and Archives.
"We are thrilled to welcome Troy to Newman," said Newman President Noreen M. Carrocci, Ph.D. "He has a real track record of success, and truly glowing references from previous employers and staff."
"I was educated by the Adorers of the Blood of Christ sisters at both St. Francis of Assisi grade school and at Bishop Carroll High School, and I am delighted to return to Wichita to help them advance their mission of education, justice and service," Horine said. "I believe Newman plays a critical role in the region. It provides an intellectual and social environment that allows students to excel beyond their own expectations, and has several academic programs that are among the very best in the region. I believe that Newman University allows students to make contributions to our society that they may not have otherwise because of its nurturing and socially supportive environment.
"In addition, I believe Newman is a major contributor to Wichita's quality of life – economically, educationally, culturally and socially. The Adorers have impacted thousands of lives, as has Newman, and I am thankful for the opportunity to help continue their historic contributions to the region," Horine said.
One of Horine's earliest jobs, from 1982 to 1986, was Director of Development at then-Kansas Newman College, where he helped conduct the institution's first capital campaign. Horine's most recent position was Director of Major and Leadership Gifts at the University of Missouri – Kansas City School of Medicine. In that capacity he planned, directed and conducted all major and leadership gift solicitations for the School of Medicine, and directed a campaign that increased scholarship fund endowments by nearly $1 million in 18 months.
From 2006 to 2008, Horine served as Assistant Vice Chancellor for Major Gifts at Washington University in Saint Louis, St. Louis, Mo., where he led a nationwide network of fundraisers. Prior to that appointment, he was Assistant Vice President for Development – Health Sciences Center, at Saint Louis University in St. Louis. During his tenure there, he helped the university raise $80 million for biomedical research facilities, and directed all fundraising programs in support of several university health care schools, research centers, institutes and clinical departments.
Between 1986 and 2004, Horine worked in several positions of increasing responsibility at Creighton University in Omaha, Neb., including Director of Annual Giving, Director of Major Gifts, Director of Development, and Assistant Vice President for University Relations. In his role of Assistant Vice President for University Relations between 1999 and 2004, he raised $120 million out of what became a $320 million campaign that ended in 2007. While Director of Development at Creighton, Horine was chief architect of the university's "Creighton 2000 Campaign," which raised $127 million in the mid- to late-1990s.
Before his earlier stint at Newman, Horine was Assistant Director of Alumni Relations and Annual Giving for Butler University, Indianapolis, Ind. His career began in 1980 when he worked as Leadership Consultant for Delta Upsilon International Fraternity in Indianapolis.
Horine earned a bachelor's degree in business administration and a bachelor's degree in education, both in 1980 from Kansas State University. He also earned a master of business administration degree from Creighton in 1990. Horine is a member of several professional organizations, including the Council for the Advancement and Support of Education and the Association of Fundraising Professionals. He is a board member of the Association of Fundraising Professionals, the Kansas State University Chapter of Delta Upsilon International Fraternity, Opera Omaha Operators, and co-chair of the Consortium of Major Gift Directors (Coast to Coast Alliance of National Research Universities).
.
.