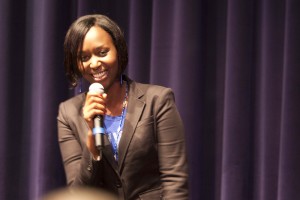 More than 700 people heard a first-hand account about the power of faith and hope, when Rwandan genocide survivor and New York Times best selling author Immaculée Ilibagiza spoke at Newman University Sept. 13. The lecture, co-sponsored by Newman, Legatus – Wichita Chapter, and The Gerber Institute for Catholic Studies, drew about 400 people to the Performance Hall to hear Ilibagiza's story, while another 300 people listened via a live video feed in the Dugan-Gorges Conference Center.
Ilibagiza's lecture – "Faith, Hope and Forgiveness" – was drawn from her experience in 1994 during the Rwanda genocide, when she and seven other women spent 91 days huddled silently together in a cramped bathroom of a local pastor's house. When Ilibagiza entered the bathroom she was a vibrant, 115-pound university student with a loving family. She emerged weighing just 65 pounds to find her entire family had been brutally murdered, with the exception of one brother who had been studying out of the country.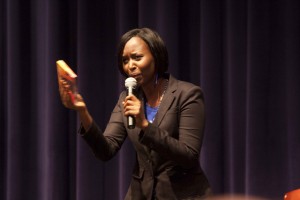 During her time in hiding, Ilibagiza overcame her anger and resentment by turning to faith. She prayed with a set of rosary beads given to her by her devout Catholic father from morning to night, and ultimately found it possible, in fact imperative, to forgive her tormentors and her family's murderers. The
strength of her faith made it possible for her to stare down a man threatening to kill her with a machete during her escape. She also later came face to face with the killer of her mother and her brother and said the unthinkable, "I forgive you."
Her first book, Left to Tell; Discovering God Amidst the Rwandan Holocaust, was released in March 2006 and quickly became a New York Times Best Seller. To date it has been translated into 17 languages. She has since written three other books: Led by Faith: Rising from the Ashes of the Rwandan Genocide; Our Lady of Kibeho, and If Only We Had Listened.
"She is a woman of incredible faith and discipline, and her message on that faith and the importance of forgiveness is powerful and compelling," said Newman President 
Noreen M. Carrocci, Ph.D. "I don't think anyone could be in the presence of this woman, hear her story, and not be moved to the very core of their being."
Ilibagiza's message was also a fitting reflection of the idea "Reconciling Differences," the inaugural theme of event co-sponsor The Gerber Institute for Catholic Studies.
"Immaculée's story dramatically illustrates a form of reconciliation that is sometimes overlooked," said Jamey Findling, Ph.D., associate professor of philosophy at Newman and director of The Gerber Institute. "Since after surviving unimaginable hardships that might
have left her broken and shattered, she has instead emerged whole and intact. This is a form of reconciliation that does not occur externally, as between former enemies, but internally, in the recesses of the heart and soul."
Members of the co-sponsoring group Legatus agreed that Ilibagiza's message was powerful.
"Immaculée's inspirational message of love and forgiveness in the face of evil is a wonderful gift for all of us," said Clem Ast, Legatus membership chair.
Legatus Program Chairman Dale Wiggins agreed.
"My wife, Alice, and I read Immaculée's book Left To Tell and we thought it was such a compelling story of courage, faith, hope and forgiveness that we decided to see if we could arrange for Immaculée to speak to our Legatus group," Wiggins said. "We then learned she had spoken at Wichita's Midwest Catholic Family Conference last year and while there had befriended Clem and Patty Ast, also Legatus members. Clem and Patty have heard her speak a number of times and they couldn't say enough good things about her presentations."
Ilibagiza has been the subject of a documentary titled The Diary of Immaculée, and has appeared in network television shows and print articles around the world. She has received several honorary degrees and been recognized with many humanitarian awards, including The Mahatma Gandhi International Award for Reconciliation and Peace 2007 and the American Legacy's Women of Strength & Courage Award.
Ilibagiza has been described as a "transcendentally spiritual woman" and "uniquely divine." She is regarded as one of the world's leading speakers on peace, faith, and forgiveness, and has shared her message with audiences ranging from world dignitaries to school children. She has also established the Left to Tell Charitable Fund to help others heal from the long-term effects of genocide and war.
Tags:
Alice Wiggins
,
American Legacy
,
Catholic
,
Clem Ast
,
Dale Wiggins
,
Dugan-Gorges Conference Center
,
Faith Hope and Forgiveness
,
Gerber Institute for Catholic Studies
,
If Only We Had Listened
,
Immaculee Ilibagiza
,
Jamey Findling
,
Led by Faith: Rising from the Ashes of the Rwandan Genocide
,
Left to Tell Charitable Fund
,
Left to Tell; Discovering God Amidst the Rwandan Holocaust
,
Legatus – Wichita Chapter
,
Midwest Catholic Family Conference
,
New York Times
,
New York Times Best Seller
,
Noreen M. Carrocci
,
Our Lady of Kibeho
,
Patty Ast
,
Performance Hall
,
Philosophy
,
Reconciling Differences
,
Rosary
,
Rwanda
,
The Diary of Immaculee
,
The Mahatma Gandhi International Award for Reconciliation and Peace 2007
,
Wichita
,
Women of Strength & Courage Award