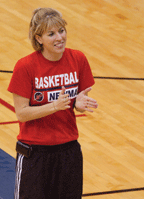 To say that the landscape of the Newman University women's basketball program has changed would be an understatement. A new coach, new players, and a new attitude have turned heads — locally, in the Heartland Conference, and at the national level.
It started last April, when Jaime Green was selected to lead the program. Green had proven herself as a winner at Labette Community College, where she led the LCC women's basketball team to an 81-21 record over three years, and a third-place finish at the 2010 National Junior College Athletic Association national championship tournament. That success caught the eye of Newman Athletic Director Vic Trilli, who hired Green April 14.
"I am thrilled to be a part of the Newman University community and family," Green said. "It is my sincere desire to take our women's basketball program to new and exciting heights."
She wasn't kidding.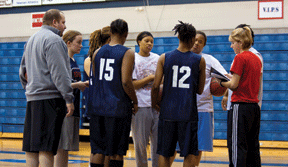 Green hit the ground running, selecting former Allen County Community College Head Coach Andy Hamilton, and former Friends University Head Coach Gayla Soyez to complete her coaching staff, and adding 13 new players to the program.
When the 2010-11 season opened, the Jets stormed out to a 5-1 record over their first six games, including wins over archrival Rockhurst and a 66-52 win over Fort Hays State that marked Newman's first women's basketball win over the Tigers.
Green's team achieved a number of other benchmarks in her first season. By Christmas break, the Jets had won eight games, one more than the 2009-10 team. A 77-61 win over Texas A&M International in Laredo gave Newman its first 10-win women's basketball season since the 2006-07 season.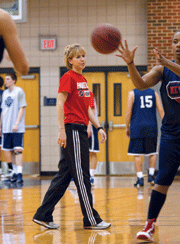 In addition, the entire nation was able to see the Jets on Jan. 22, when more than 1,000 fans packed Fugate Gymnasium to watch Newman defeat St. Edward's in a nationally televised game on the CBS College Sports Network, the first-ever national sports television broadcast to originate from Newman University.
Green said she was happy with the win, and more.
"Not only was this a great opportunity to showcase our women's basketball program but also to highlight both the strengths and talents of Newman University," she said.
The Newman women's basketball team finished the regular season at 19-7 overall, and 8-1 in the conference, earning the team the top seed in the conference championship tournament. While the Lady Jets lost in the first round of competition, there is little doubt that they — and Jaime Green — are now a force to be reckoned with in the Heartland Conference.
.
.
.
.
Photos by Courtney Johnson
Tags:
Andy Hamilton
,
CBS College Sports Network
,
Fugate Gymnasium
,
Gayla Soyez
,
Heartland Conference
,
Jaime Green
,
Jets
,
National Junior College Athletic Association
,
Newman Athletic Director Vic Trilli
,
Newman University