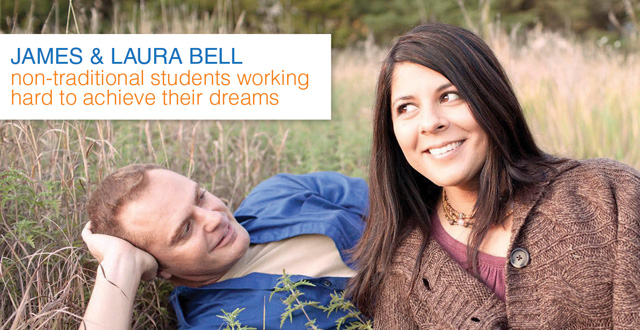 Newman University students James and Laura Bell have much in common: A love for each other and their family, a strong religious faith, a solid work ethic — and childhoods marked by domestic disputes, poverty, drug and alcohol abuse, and broken homes.
James, a biochemistry major, is 41. Growing up, his family moved often, which meant he was always in a different school. Police often came to his home to break up fights between his parents, who ultimately divorced. His father then married a woman who was cruel to James, his brother (who spent seven years in prison), and his sister (who is now homeless and a meth addict).
Laura, a nursing major, is 37. Her father sold drugs, and her mother worked long hours, leaving Laura to raise her younger brother. Her parents also divorced. Laura said of her childhood that she "hated myself, hated others, and hated life."
James and Laura became high school sweethearts at Wichita High School South, and married in 1991. They have four children. Schyler, 20, began his studies in pre-med at Newman this fall.
In the early years of his marriage, James worked in sales, a calling he didn't like, but which provided much-needed income. His career dream was medicine, but pursuing that goal would have meant immediate financial hardship, so he postponed it until last year when he enrolled at Newman.
Like many non-traditional students, life for the two is a chaotic balancing act of school, work and family. James is a paramedic for Sedgwick County, pulling 12-hour overnight shifts. He also carries 12 hours of classes. James is aiming for a summer 2014 graduation. He then plans to enter The University of Kansas Medical School, and become an emergency room doctor.
"Ever since I was 18, I dreamed of practicing medicine," he said. "For me, it's the pinnacle of achieving something."
Laura, who entered the traditional nursing program this semester, wants to work with women through delivery and newborn care, and ultimately earn a master's degree. Laura doesn't work outside the home, but is plenty busy, as she has home-schooled the couple's four children the past 14 years. With all six members of the family now full-time students, Laura has to use an Excel spreadsheet to keep track of everyone.
James and Laura said they overcame their childhood struggles through their deep faith in Christ. Given their troubled upbringings, it's little surprise that the Bells want to make life better for themselves. They also want to make it better for others, which is why they have chosen the medical field. As Laura explained, she wants to take the hurt and abuse from her past, learn from it, and make it the "fuel" for treating others with dignity and compassion.
"It's my way of making sense of the pain," she said, "and turning something negative into a positive."
.
.