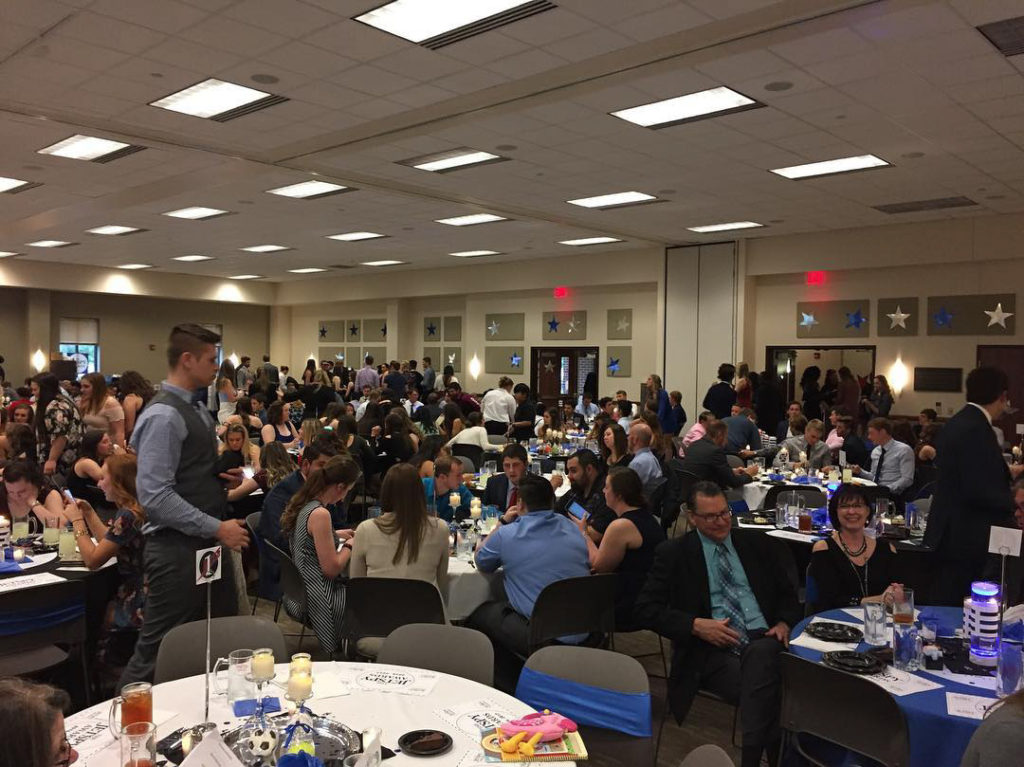 A crowd gathers at the third annual Jetspy Awards.
NEWMAN ATHLETICS CELEBRATED STUDENT-ATHLETES AT THE THIRD ANNUAL JETSPYS AWARDS
Heels and leather shoes take exciting and anxious steps — not down a court or field — but along a red carpet leading into the annual Jetspys awards show where cameras, fellow teammates and coaches gather to celebrate and congratulate each other as one team.
The Newman athletics department celebrated its student-athletes at the third annual Jetspy Awards on April 30 in the Dugan-Gorges Conference Center, putting a cap on the 2016-2017 school year. More than 300 Jet athletes attended and 25 individuals received awards for outstanding performances throughout the year.
The event was planned and funded by the Student-Athlete Advisory Committee. Sports Information Director David Rung explained, "There are two members of each of our sports teams who are representatives to the committee, and that group plans it and helps set up and tear down with the help of their advisors Shella Augspurger (tennis coach) and Destiny Clark (volleyball coach) as well as athletic administration."
The event is a banquet and awards show and is a play on the ESPYs that ESPN puts on every year. This year there were 25 categories that athletes could be nominated for. The recipients were:
Performance of the Year: Taylor Schieber, men's basketball
Female Rookie of the Year: Klair Gibson, women's cross-country
Male Rookie of the Year: Joel Beal, triathlon
Female Maverick Award: Kenzie Wills, women's cross-country
Male Maverick Award: Jamie Barkway, men's soccer
Supporting Role Award: Kelsey Riefenhauser, athletic training
Special Ops Award: Mo Floyd, Security
Ghost Rider Award: Blake Crawford, men's tennis
Female Wingman Award: Natalia Hausmann, women's basketball
Male Wingman Award: Jacob Birnbaum, men's basketball
Female Top Gun: Jensen Cromer, softball
Male Top Gun: Luca Anelli, men's soccer
Turnaround Team Award: women's soccer
Game of the Year: men's bowling vs. Wichita State
Community Outreach Award: cheer and dance
Breakthrough Athlete of the Year: Allen Wilson, men's basketball
Comeback Athlete of the Year: Mali Wright, women's basketball
Female Scholar Team: volleyball
Male Scholar Team: golf
Women's Best of the Best: bowling
Men's Best of the Best: tennis
Ms. Jet Award: Quincy Plank, women's soccer
Mr. Jet Award: Daniel Nwosu, men's basketball
Female Athlete of the Year: Emily Harvey, volleyball
Male Athlete of the Year: Dustin Reed, wrestling
Tags:
athletics
,
Awards
,
Jetspys