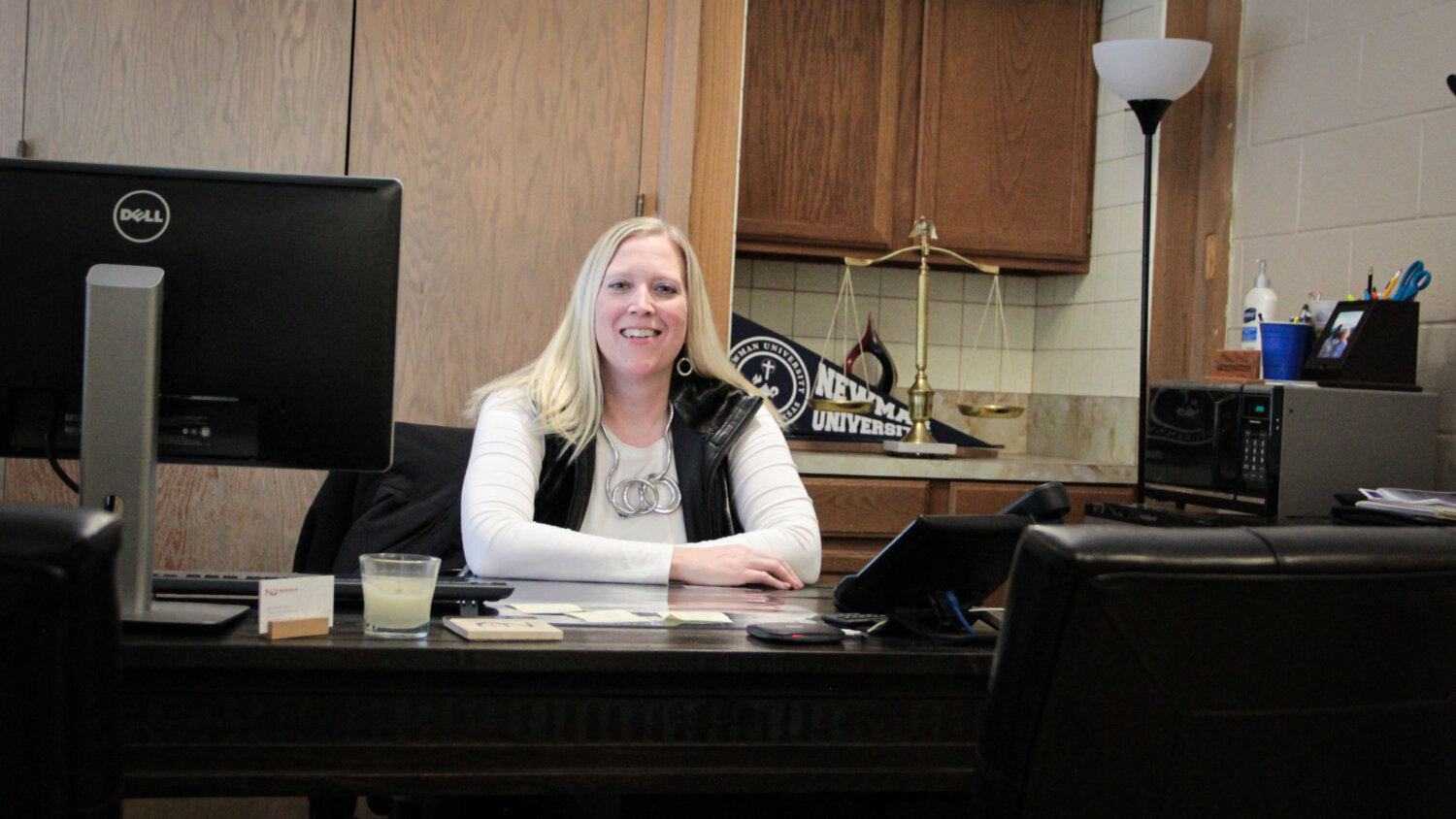 ---
by Scarlett Cannata
"The link between the business world and criminal justice is natural," said Jill Fort, recently appointed Dean of the School of Business at Newman University.
This is part of the reason why Fort, a professor of criminal justice, felt she would be a good fit for the job of dean.
Fort has worked at Newman for 15 years and prior to that had a career in law enforcement. When the dean position for the School of Business opened, she felt her history with Newman, her professional background, her leadership experience and her willingness to tackle challenges would be valuable skills she could use in the role.
"In reality, criminal justice is an enormous business that we spend billions of dollars on," she said.
"The field itself has a full business structure with management and administration, finances and accounting, even marketing and public relations. It's just that most people typically think of law enforcement officers, the courts and chasing serial killers, which is such a small aspect of what criminal justice actually entails."
Not only does her background in criminal justice give her relevant experience for the position but her many years spent at Newman are also a benefit, she said.
"Being at Newman for this long has provided me the opportunity to learn and know all of the processes associated with our systems. I can see where things are on track and where we might need to bolster some areas. I am not afraid of a challenge and like to tackle projects head-on. These are all traits that my fellow business and criminal justice colleagues have as well, so it has been a great fit thus far," she said.
Fort joked that she brings her old whistle to faculty meetings to keep order, but said she is thankful, as a leader, for her criminal justice background.
"But seriously, one of the best outcomes of working in the criminal justice field was learning how to handle challenging situations, working with a wide variety of individual personalities, developing stronger emotional intelligence and interpersonal skills, as well as gaining a macabre and sometimes sarcastic sense of humor that helps alleviate tension-filled and stressful situations," she said.
In law enforcement, individuals are encouraged to rise within the ranks. Fort said the philosophy coincides with education, where students are encouraged to further their education and knowledge base.
The School of Business recently rolled out a graduate certificate in data analytics and offers degree completion programs in organizational leadership and interdisciplinary studies. Students in degree completion programs can move into graduate degrees smoothly.
The School of Business is always eager to meet the most recent needs of its students and has several other new programs and certificates awaiting approval. One of those, a certificate in leadership program, was released in October 2020.
Her plans for success are to never stop learning. "None of us are perfect, but as long as we keep learning we are moving in a positive direction. That's about the best I can offer," she said.
A big adjustment for Fort is teaching fewer classes. There is a lot of behind-the-scenes work to be done as dean and the position doesn't allow for such a busy course schedule. Instead, she spends more time in the community and performing administrative duties.
"I really miss interacting with my students," she said. "I love teaching people about the system, how it works and sometimes how it doesn't. Being the dean, I have had to learn to teach people about Newman and what we have to offer rather than solely being able to teach students in a classroom setting. It is a little different, but I have faith that I can do well in that type of teaching too."
She most enjoys interacting with her team in the School of Business. Her colleagues are always willing to put forth effort to bring positive change and innovative ideas.
"I love the natural flow of ideas and the atmosphere that the School of Business offers and continues to offer," she said. "I look forward to coming to work every day and am so thankful that I have been selected to work with an amazing group of people."