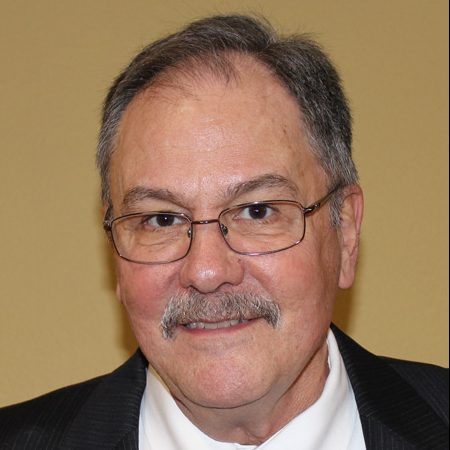 Associate Professor of Social Work John Moragues, MSSW, served as an educator and coordinator for the Master of Social Work Distance Education Program in Colorado Springs, Colo., since 2005. During his time there, he boosted enrollment, expanded program facilities and helped educate more than 300 MSW students.
Moragues said that he, of course, did not accomplish anything without the help and support of the Newman faculty and staff. But many of those people say that Moragues deserves more credit than he lets on.
"John Moragues started the Newman University MSW program practically by himself," said Associate Professor of Social Work Barry Koch, Ph.D., in his introduction of Moragues at the 2016 Colorado Springs graduation celebration. "I doubt that anyone in Wichita could have ever foreseen that, 11 years later, the MSW program in Colorado Springs would be the thriving entity it has become. The vast majority of credit for that growth is directly attributable to John Moragues."
Moragues, who officially retired from Newman July 1, spent much of his adult life as a social worker. He received his MSW in 1975, was a social worker in the U.S. Air Force for over 20 years, and managed behavioral health care programs in the private sector. Moragues had not, however, worked as an educator when he was first approached in 2005 about starting the Colorado MSW program by former Air Force buddy and then Newman Director of the Social Work Program Michael Smith.
At the time, Moragues said, he expected the program to be successful, though he had no reason to believe it.
"I learned quickly that other programs had come to this area and had folded up within two years," Moragues said.
Still, he took the job and immediately began recruiting students.
"In that first summer, I also spent a lot of time in church," he said. "Our official partner in this project was the Catholic Charities office, so I went around town meeting with each of the pastors of the Catholic churches and asking them if I could stand out back after the Masses handing out brochures."
Moragues' colleagues often point to his gregarious and engaging nature as the source of his talent for recruitment and, by extension, the growth of the Colorado Springs MSW program.
"He has a relentless approach to recruiting that has resulted in the program growth from a first-year enrollment of 22 students to our current enrollment of over 100 students," Koch said. "Newman University could not have hired a person more suited to the task of growing a program than John."
Moragues said he believes the program has been successful because the faculty are excellent, the need for qualified social workers is high, and the program is responding to that need. It seems likely, however, that at least some of that success can be attributed to Moragues' care for his students and the social work profession.
"Many of our students come here with their own history of significant, painful life experiences," he said. "Students learn to embrace the idea that part of their responsibility in social work is to help other people perhaps to not suffer so much. Students learn to take their own suffering and transform it into hope that they will leave our program with the ability to help others suffer a bit less."
John Moragues now lives in north Texas with his wife, Dena.