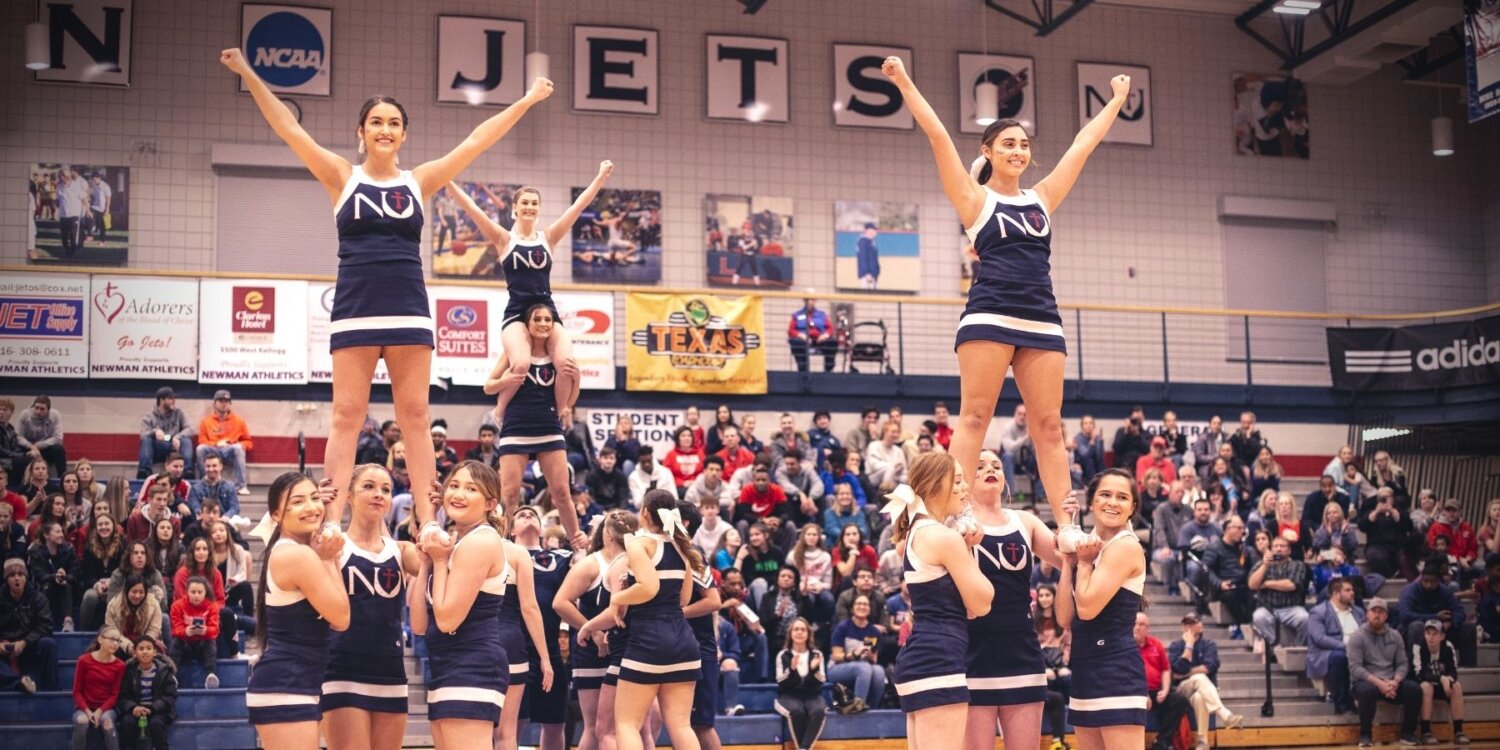 ---
Practicing at 6 a.m. is not something most members of the cheer and dance team look forward to.
Brandy Muncy took on the responsibility of coaching the Newman University cheer and dance team in 2014 and said early morning practice is one thing that hasn't changed during her eight years leading the team. Nearly everything else, however, looks a little different.
When Muncy started at Newman, her team was relatively small with only 24 athletes. She's been grateful to see growth each year and started in the fall of 2020 with 38 members.
"I have genuinely enjoyed my time at Newman," she said. "I love seeing my students mature and grow year to year, not only as athletes, but as young adults. I love how family oriented Newman is. I've been able to have my family take part in numerous events."
She said her young son, Carter, gets to begin most of his mornings at practice with the team before heading to kindergarten.
"I did become a mom here," said Muncy. She has had all three of her children in the time she's worked as head coach of the team.
"My family and the team kind of meshed because the kids come at the end of practice and they're excited to see them. My kids love all of the girls, they'll even send them Snapchats and stuff."
When Muncy started, she said she was far less flexible with her time but after a few years on the job, and after becoming a mom, she can tell she has softened.
"I feel like I've become more flexible for sure — more flexible when it comes to being able to change a routine. Somebody's always sick or something happens with an injury and now I'm able to change routines accordingly," she said.
As a coach, she has also become a mentor, leader and mom-like figure to the girls on her team.
"I like connecting with the students, seeing their growth from the beginning of the year to the end of the year. Not just their technique on the floor, but their growth in general as a student. I like seeing them grow up and change and change for the better, especially freshmen and all of the ways they change up until they graduate."
Many times, she has lent an ear to listen to her athletes who are struggling with classes, relationships or life.
"I feel like being in your young 20s is hard, so just telling them they're going to get through whatever they're going through and being there for them is important," she said. "I just think they feel better after they get stuff off their chest — it's different than telling somebody their age or their parents. So I'm in between, kind of like a big sister, I guess."
However, Muncy makes sure her job as coach comes first and her team knows it.
Athletes at Newman University are known to have tight schedules full of practices, games, community service and, of course, classes. Student-athletes on the cheer and dance team are no different.
The team practices from August through March starting at 6 a.m. every morning, something Muncy said they eventually begin to appreciate. During the summer months, the athletes do workouts and learn cheers and sideline routines from videos on their own.
Basketball season is their busiest time of year because they perform at all home games. They also perform at volleyball games and do a halftime show at a soccer game each year.
The team also spends time off campus cheering in the community at Wichita Thunder games, Open Streets ICT, Wichita Force games and more.
The list of community involvement activities for the cheer and dance team is pages long, bringing Jet spirit to signings, marathons, local schools, festivals, community events and campus events. In a typical year, the athletes are expected to attend around 25 events.
Sophomore Rae Gabrielle Cruz said attending so many events has been a challenge for her on the team.
"In high school we weren't expected to do that so it stressed me out a little bit in the beginning," said Cruz. "But the events are really fun. I went back to my high school, Wichita East, to promote Newman and it was really fun having my high school friends see me in my cheer outfit."
Senior Katie Sullivan said she's learned a lot from being so involved in events on campus but especially the ones off campus.
Sullivan said, "They give you a heightened level of responsibility because coach doesn't go to every one, it would be crazy if she did go to them, sometimes we have two at the same time. So you have groups where you have to hold yourself responsible and you have to hold your teammates accountable for showing up and representing our team."
Out of all the community events, Sullivan enjoys judging local tryouts and attending cheer and dance shows the most.
"There's the North High Dance Show and Rally in the Valley. Just getting out to see what's coming up from the high schools in the area is a lot of fun. And it kind of takes me back to when I was in high school and doing those things," she said.
Muncy said, "It's good for the girls individually to give back to their community. And so if we're doing it now on the team, they're going to be more likely to do that after they leave here. I feel like it's also good for them to be out in the community representing the university in a positive manner, even if it's just smiling at the finish line, shaking their poms, giving back or just making somebody's day better."
Not only do the athletes form relationships with the Wichita community but they also find community between themselves, bonding over challenges they face as a team.
Cruz and Sullivan are two of the few on the team that do both cheer and dance. Muncy recognizes the challenges those athletes face. "It's just demanding knowing both because you have to be able to bounce back and forth."
Those athletes have to know multiple routines for both the cheer squad and the dance team on top of oftentimes having to switch shoes or even outfits in less than a minute between performances.
"They have to be on it, not tired, not slacking. It's a big thing to do both," said Muncy.
Challenges such as this were beneficial for Cruz, who found herself at Newman without any of her high school friends. The small group of athletes who do both cheer and dance became her family at Newman very quickly.
"The girls on the team were some of my first friends at Newman," said Cruz. "Coming from a public school, I didn't really have any of my friends coming with me to Newman so they just became my first friends and then we have classes together and we're on the team together and they kind of became my support system."
It felt good for Cruz to realize that she wasn't the only one struggling to go back and forth between the two tasks. Attending on-campus events helped Cruz adapt to life at Newman and make more connections throughout campus as well.
"I think being on the team has made me become closer with my professors and the staff here at Newman because everyone knows that I'm on the team and they're like, 'Oh yeah, I saw you at the game, you did awesome.' And I don't feel like I would've had that connection without it."
Muncy gives the girls challenges to help them assimilate on campus. One of the challenges this year was for the girls to send a video of them and their professors, most chose to do a dance.
"She (Muncy) takes you out of your comfort zone and then you're able to just do it without hesitating," said Cruz.
The team atmosphere is driven by the upperclassmen, said Muncy. "The upperclassmen help set the environment of what the team's going to be like."
When Muncy recruits new team members, she's very real about what being on the team entails. The expectations and physical demands are not a surprise for newcomers but she does hope they find a good fit in the university.
"I just sell what we do and I don't sugar coat it because I want them to come here because of the university. So whenever they come, I tell them the team part is easy, that's the fun."