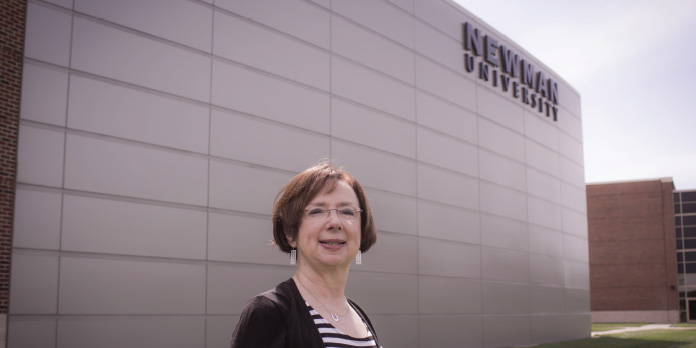 Gerry Killeen has had only two jobs in her life – working for a large, highly successful New York advertising agency, and co-founding what would become a large, highly successful New York advertising agency.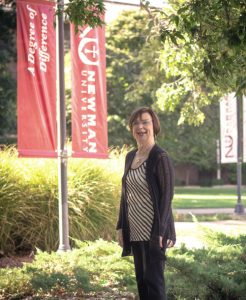 Now the 1965 Sacred Heart Academy and 1969 Sacred Heart College graduate is bringing her vast experience in the advertising/marketing field back to the place where it all began, to help Newman University in its marketing and image branding efforts.
"For me, the best part of being involved in this is that I am able to share my advertising and marketing experience and give back to the college that helped make my career successful and fulfilling," she said.
FROM NEW YORK TO KANSAS, AND BACK AGAIN
Killeen was born in New Jersey, grew up in Long Island, N.Y., and moved to Wichita, Kan., in 1960 when her father's employer, the Pittston Oil Co., transferred him to Kansas. After finishing middle school at Magdalen Catholic School, Killeen said she was drawn to attend Sacred Heart Academy, where she earned her diploma. She added that she was also drawn to Sacred Heart College, which shared the campus with the academy.
"Over my four years of high school, I could see that the [SHC] professors really cared about the students," Killeen said. "Sacred Heart offered the degree I wanted, and my parents wanted me to stay in Wichita for at least part of my college years, so I applied and won a scholarship."
"I liked everything about the college," she added, "its professors, the classes, the friends I made, the education I was getting, the values I was learning – and I stayed for all four years."
Killeen especially enjoyed speech and drama at the college, but her primary focus was writing.
She honed her writing skills as editor of the Sacred Heart College Pacemaker newspaper, but it wasn't until she took a course named Principles of Advertising her senior year that she discovered her passion.
"I knew immediately that was what I wanted to do, that was the kind of writing I wanted to do," she said. "I also wanted to go back to New York, and since advertising agencies were dominant there, it seemed like the best of both worlds."
Killeen graduated from the college in May 1969 with a Bachelor of Arts in English and a  minor in speech and drama. In October of the same year, she moved to New York City with the goal of becoming a copywriter at J. Walter Thompson, a pioneering advertising agency.
A LUCKY DUCK
Killeen began as an administrative assistant in the Creative Department, and in January 1970 placed first in the agency's Writers' Workshop, winning her a position as a junior copywriter.
Over the next 27 years, she worked her way up to become a senior partner, senior vice president and creative director at J. Walter Thompson, writing TV and radio commercials and print ads for Kodak, Northwest Airlines, Burger King and more.
In 1997, Killeen resigned from her position and became a founding partner, executive vice president and the managing director of creative services in the Kaplan Thaler Group advertising agency.
"Five colleagues and I started the agency in the third-floor apartment in Linda Kaplan Thaler's brownstone, with Herbal Essences shampoo as our first client," she said.
The company got its first big break in 1999, when it landed Aflac Insurance as a client, and developed and launched the Aflac duck commercials, which opened the door to many new accounts.
As the agency continued to grow (eventually merging in 2012 with a sister agency of Publicis, their new parent company), Killeen continued her relationship with Newman University. In addition to staying in touch with academy and college friends, she served on the Newman National Alumni Committee, the Alumni Board of Directors, and recently completed a maximum nine-year term on the Newman Board of Trustees.
BRANDING
In March 2016, Killeen retired, after witnessing the agency she helped create grow from five employees to around 650, with a creative staff of 200 answering to her.
Now, Killeen has brought her talents back to Kansas. This year, she joined the Newman Marketing Committee and became a complimentary consultant to a new initiative to rebrand the university.
"When I came back to the campus and saw so many of my college friends and former professors, and saw how the campus had grown, I knew I wanted to be part of the college moving forward," she said.
Killeen added that she was more than happy to donate her services for the Newman branding campaign.
"I believe Newman has a lot to offer to future students – a caring faculty and staff, a challenging curriculum that will prepare students for their adult careers and lives, and a campus which is at once peaceful and exciting," she said. "Sacred Heart College prepared me for my adult life by instilling not just education, but a strong sense of ethics and values, which I still adhere to. My hope is that I can continue to work with Newman to help achieve its goals in the future."