.
By Michael Austin, Ph.D.
Provost and Vice President for
Academic Affairs
Last fall, students in a World Civilizations class learned about Oriental history by reenacting the Chinese succession crisis of 1587. The same students studied cross-cultural persuasion in their Oral Communication class as they prepared to make speeches before the Chinese Academy. Another group of students learned about Catholic social teaching in a theology class while their English teacher sent them to a homeless shelter to write about the people they met there.
These students, and many more, were part of Newman University's Learning Community Initiative for first-year students.
A learning community is a group of students who enroll in two or three courses that have been designed to complement each other's subject matter. They start to see how different fields of study relate to one another and how different frames of reference can combine to help solve common problems. And in the process, they form deeper relationships with each other and with their faculty members, making them more likely to stay in school and persist to graduation.
Newman University began offering learning communities to first-year students in the fall of 2008. One of the early leaders of the learning community effort, Associate Vice President Rosemary Niedens, recalls that "learning communities seemed a perfect fit for Newman as one outcome is the development of strong faculty-student relationships—something that we excel at!"
Turning ordinary to unique
Niedens and Audrey Curtis Hane, Ph.D., who is now the Dean of Graduate Studies, began organizing learning communities around high-demand freshman courses. They worked with faculty to come up with engaging, interdisciplinary topics that turned "ordinary" general education courses into unique learning experiences. In the fall of 2010, Newman offered four scheduled learning communities as well as three other concurrent enrollment tracks.
At the same time that Newman was developing learning communities, the faculty was hard at work redesigning the entire core curriculum by turning to our namesake, Blessed John Henry Cardinal Newman. In the fall of 2012, we unveiled the Newman Studies Program—a new model for general education based on four principles found in Newman's The Idea of a University: Active Learning, Critical Thinking, Interdisciplinarity, and Connectivity.
According to Kelly McFall, Ph.D., Newman history professor, honors program director, and chair of the Core Curriculum Committee, learning communities are a natural fit for the Newman Studies program.
"We want students to see how things fit together," McFall said. "We want them to understand that the ideas they are learning about in one course fit with everything they are learning in their other courses. To a great extent, this is what it means to be a deep thinker."
McFall himself was one of the first adopters of the learning-community model at Newman. Since 2009, he and Audrey Curtis Hane have offered a learning community called "Reacting to the Past," which uses a series of historical reenactment games also called "Reacting to the Past." In each World Civilizations course, McFall explains, "students participate in three reenactment scenarios each lasting between two and three weeks. The first is set in 16th century China, the second during the American Revolution, and the third in India on the eve of independence. Students adopt the roles of real historical figures, read substantial primary texts from the period they are studying, and interact with each other in situations requiring deliberation, debate, and compromise."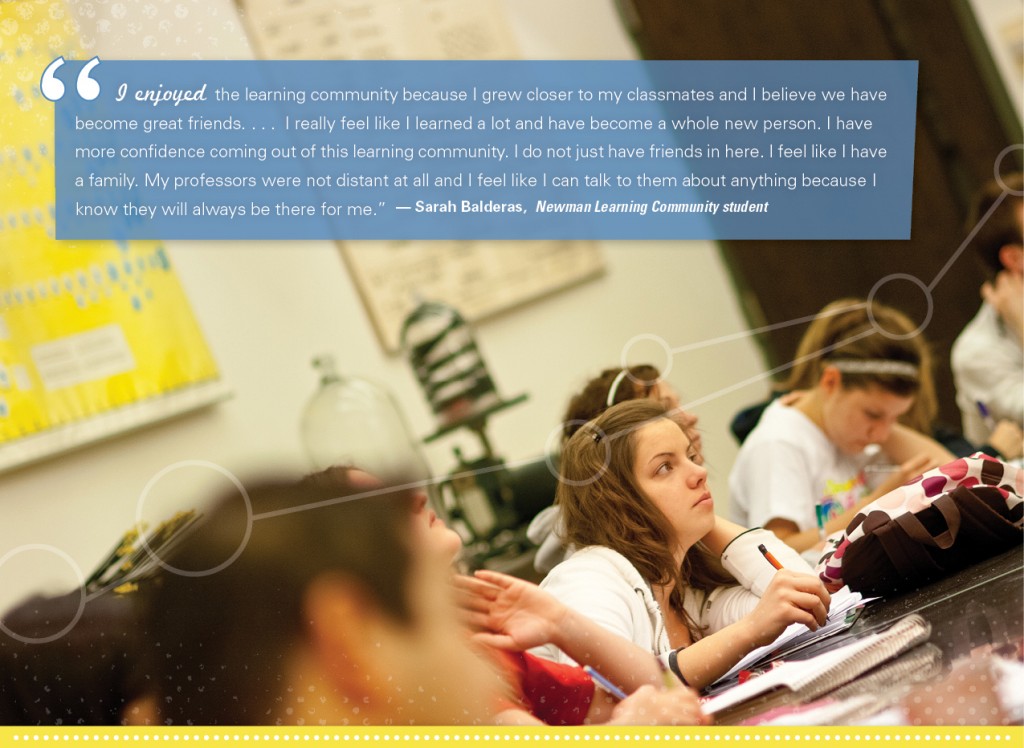 The Reacting to the Past pedagogy, as Curtis Hane explains, is a natural companion to Newman's required Oral Communication class. "The games are all about reading rhetorical situations, making speeches, and persuading others to adopt your point of view," Curtis Hane says. "When we discuss something in my class on Wednesday afternoon, they are usually using it in their history class by Friday morning. The two classes reinforce each other almost every day. It just doesn't get better than that."
Deep human connections
Conceptual integration is just one of the things that learning communities do. Even more important, experts say, is the formation of connections between students involved in a common academic experience. Studies show that deep human connections are more important to the success of a first-year student than any other factor. Students who form meaningful relationships with other students have a better social experience—and students who get to know faculty members have a better academic experience—than students who form only shallow relationships with peers and professors.
Newman's learning communities have been designed to encourage connections. By sharing two or three courses with 20-25 other students, freshmen have more contact with—and therefore more opportunities to form friendships with—their peers. And when they see the same professors in different roles, they are more likely to interact with, and seek advice from those professors.
As McFall reports, "one of the things learning communities have done at Newman is provide the university an opportunity to discover students who are having social, financial and academic difficulties and to help these students find resources to address these difficulties." The learning community, he concludes, "provides a point of contact where students can learn about and access the many resources Newman provides to achieve academic and personal success.
High satisfaction
Students in learning communities at Newman report a high degree of satisfaction with the relationships that they form. "When I first arrived here, I was lost," wrote one student. "I do not make friends extremely quickly and I found myself with no one to talk to. This learning community gave me a sense of belonging and a great group of people that I'm proud to say I was a part of."
According to another student, "The learning community brought me a Newman family. I have met some of my dearest friends in this class. I think it has helped tremendously with my transition into college."
Cardinal Newman spoke frequently of the importance of educating "the whole person." Education, he knew, is a complicated process that involves intellectual, physical, social, and spiritual dimensions. The more we study that process, the better we understand that it is all about connections—connections between ideas, between fellow students, between students and professors, and between community members and the institution that they constitute.
These connections make education possible, and they also make learning a joy. The Learning Community Initiative has become a highly successful instrument in the hands of educators trying to create the connections that matter.
.
.