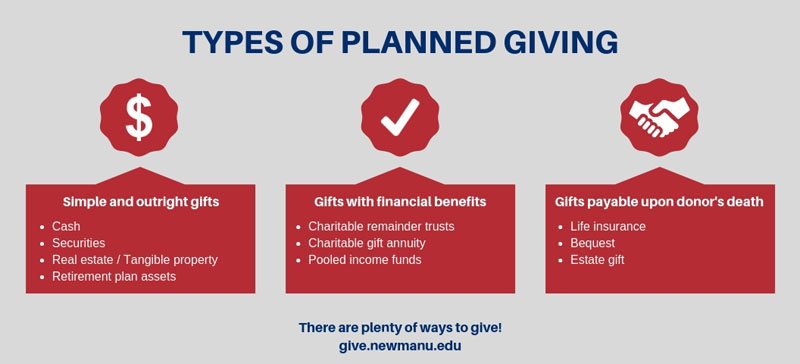 Planned giving is something Bart and Melissa Grelinger have built into their life with the desired outcome to plan for the aid of future generations to come.
The phrase "planning to give" is something many have uttered. After all, planning to give is important. But what if those words were reversed?
Giving to plan. That's what planned giving is all about. Planning for the future of the community by investing in that future.
Melissa Grelinger and her husband, Bart, said giving back is something they are blessed to be able to do in this stage of their lives — and when they give, they plan for that giving to help others even after they have left this earth.
Bart and Melissa are both alumni of Newman University but they aren't the only ones in their family to call Newman their alma mater. Their children, Katie and Adam, earned degrees at Newman. Both Bart's and Melissa's mothers are graduates of Sacred Heart Academy and Bart's sister and niece earned Newman degrees as well.
Melissa said giving back to the school in order to plan for the future was an easy decision to make.
Giving back to the community as a whole is important to the couple, Melissa said. They have arranged gifts to several community nonprofits that are important to their values.
Melissa explained, "We've been very blessed through Newman and the other entities that we've chosen for our estate gifts in that somebody paid it forward for us, so this is our opportunity to pay it forward.
"We feel like Wichita is a strong community, and every strong community needs investment and renewed investment," she added. "Our faith is very important to us and we believe that the Catholic entities and communities are very important — and this community has benefited tremendously from the Catholic community."
Setting a strong example for future generations is also a big reason why the Grelingers choose to give. Melissa said she hopes future generations understand that "life is bigger than ourselves" and by giving back to community organizations, donors can help ensure services and education are available for years to come.
Referencing Matthew 6:21, "For where your treasure is, there will your heart be also," Melissa said she truly believes sharing their treasure with the community is something they are called to do.
"I think we all have a responsibility to pay it forward. If you have been blessed in your life, you have very likely benefited from someone that's gone ahead of you — so pay it forward to do that for the next generation to come. 
"Hopefully, we can make a difference and help those generations to come."