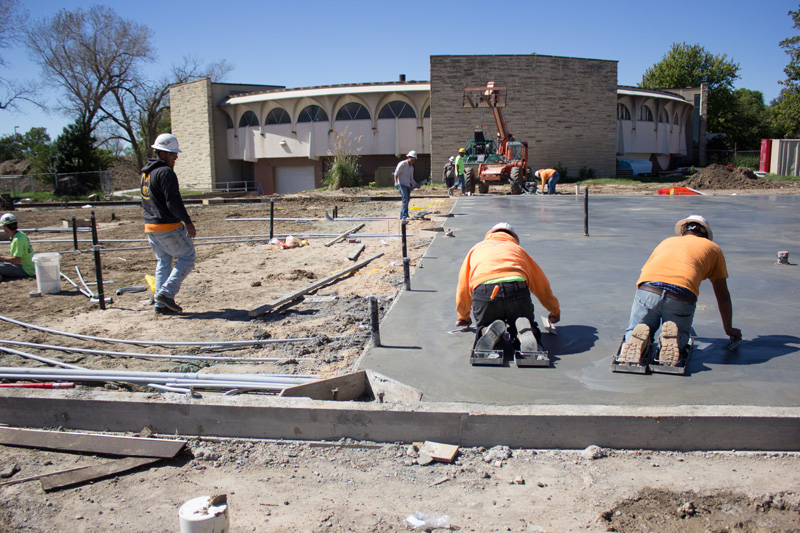 In August 2017, the Newman University campus will be transformed by the presence of a new building and another one featuring major updates, thanks to the success of Facing Forward – A Campaign for Newman University.
The $30 million campaign was created to upgrade nursing and health science program facilities in Eck Hall and to build the Bishop Gerber Science Center, a 51,400-square-foot, two-story building to house state-of-the-art equipment and classrooms for science and math programs. Facing Forward is also raising funds to provide for student scholarships and the university's endowment.
Having received a number of generous gifts and grants by companies, foundations and individuals, Newman is well on its way to raising the funds needed to provide these world-class facilities to students for generations to come.
"We are extremely pleased and immensely grateful that our donors have helped us take this important step forward in the development of Newman University," said Newman President Noreen M. Carrocci, Ph.D. "Both of these facilities represent a major improvement in science and health care education for the university. They will increase greatly our ability to provide an excellent education for Newman students and bring better-trained health care providers to people in the community and across the region."
SUCCESSFUL FUNDRAISING EFFORTS
Funds raised during the Facing Forward campaign have increased steadily as the campaign has moved forward.
During the silent phase of Facing Forward, which began more than four years ago, Newman received many substantial gifts from major donors, including the Adorers of the Blood of Christ, the Goebel Family Star Lumber Charitable Foundation and others. By the time Newman officials announced the public phase of the campaign in early February, Newman had raised close to $25 million of the $30 million total goal. Funds needed for renovating Eck Hall and building the Bishop Gerber Science Center alone are $24.5 million. In February, $20 million had been raised for the construction projects.
In April, Newman officials announced a $1 million challenge grant from the J.E. and L.E. Mabee Foundation of Tulsa, Okla. Newman will receive the $1 million if the remaining amount needed to build the Bishop Gerber Science Center is met by Jan. 12, 2017.
CONSTRUCTION MOVES AT RAPID PACE
The physical work relating to the projects has moved forward at an equally impressive rate. As the university began the fall 2016 semester, workers were putting the finishing touches on renovations to Eck Hall, and construction had begun on the Bishop Gerber Science Center.
The Bishop Gerber Science Center will replace the Heimerman Science Center, which was constructed in 1966. Professor of Chemistry and Dean of the College of Undergraduate Studies David Shubert, Ph.D., noted that the new building, named in honor of the Most Rev. Eugene J. Gerber, Bishop Emeritus of the Diocese of Wichita, will fill a gap that has been missing for many years.
"We have a very dedicated and talented faculty. We have a very motivated and hard- working group of students. There's a real synergy in the kinds of environments that are created here. What the building will do will be a platform to let those kinds of interactions grow and become even better than they are," he said.
Beginning in April, construction crews relocated utilities as needed, and in July they performed work on the soil and made other preparations to the site. By August, crews had completed preliminary steps and begun working on the foundation. In September, the site was being prepared for framing and brick-and-mortar construction.
When completed, the Bishop Gerber Science Center will feature a 48-seat active learning classroom and an 80-seat classroom. The building will also have a physics lab/classroom, a general purpose biology classroom and lab, a microbiology and genetics lab, a human anatomy lab, faculty and student research labs, general and organic chemistry labs and classrooms, a physiology lab, a cell/molecular/ biochemistry lab, faculty offices and gathering spaces for students.
The building is on schedule to be completed by the opening of the fall 2017 semester.