Margaret Knoeber, ASC to receive Cardinal Newman Medal in 2014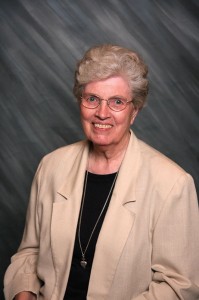 Cardinal Newman Week, Feb. 16-22, 2014
Margaret Knoeber, ASC will receive the Cardinal Newman Medal in 2014 for her distinguished service and significant contributions to the development of Newman University.
Knoeber is a 1949 graduate of Sacred Heart Academy. She worked as an elementary school and music teacher in rural parochial schools for nine years while taking classes in the summers in education and science. She received a bachelor's degree in natural sciences from Sacred Heart College in 1961. After discovering that she had a knack for chemical research, she earned a doctorate in organic chemistry from Notre Dame in 1967.
Over the following 11 years Sister Margaret in effect created the Chemistry Department at Sacred Heart, working as instructor and associate professor of chemistry. She served as alumni director from 1983 to 1990, during which time she led the college's 50-Year Anniversary celebrations. She later helped pioneer interactive television technology (ITT) in western Kansas while working with Newman to launch a pastoral ministry program in the Diocese of Dodge City.
Sister Margaret has also served the ASC through a term as provincial counselor and as community archivist at the ASC Wichita Center. She was also a member of the Newman Alumni Board of Directors.
Cardinal Newman Week activities
Knoeber will receive the medal at the Cardinal Newman Banquet and Alumni Awards Ceremony set for Feb. 22, 2014.
Other events scheduled for Cardinal Newman Week include a Mass on Feb. 16, the Cardinal Newman Lecture featuring Alvernia University Associate Professor of Theology Kevin Godfrey, Ph.D. on Feb. 18, High Tea on Feb. 19, and the Cardinal Newman Mass on Feb. 20.
Watch your mailbox or check www.newmanu.edu frequently for more details and to reserve tickets for the Cardinal Newman Banquet and Alumni Awards Ceremony.
Tags:
ASC
,
Cardinal Newman Banquet
,
Cardinal Newman Medal
,
Margaret Knoeber
,
Sacred Heart Academy
,
Sacred Heart College