Marj Chance – A love for nursing and community involvement helped set new direction for Newman University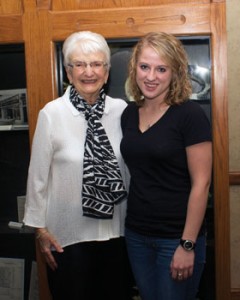 Marjorie (Westwood) Chance does not have what you might consider a traditional connection to Newman University.
She's not an alumna. She never took classes here. She's not on the faculty or staff. You don't often see her on campus, and relatively few students know her name.
Yet "Marj" Chance plays a vital role in the history, growth, present and future of Newman University. Had it not been for Chance, her desire to help others and the community, and her relationships with Newman and other Wichita organizations, Newman University would be a very different place today.
While pre-nursing, first-aid and – briefly – nursing, had been taught at Sacred Heart Junior College in the 1930s and 40s, the programs slowly phased out and were discontinued by the early 1950s. It wasn't until the late 1970s that nursing came back to Newman, thanks in large part to Chance.
Chance is a Wichita native, who entered the St. Francis Hospital School of Nursing in February 1943 and graduated in January 1946 as a Registered Nurse. Shortly after that, she met a man named Harold Chance, also a Wichita native who would later found Chance Manufacturing Co., Inc., which became the largest manufacturer of amusement rides in America. They were married on Oct. 4, 1946.
Marj Chance worked briefly as a nurse, but soon left the profession to devote her time to her husband and family. Occasionally, she also helped out when the company went to conventions and trade shows. Chance said she enjoyed raising her children, but also missed working as a nurse.
"I loved being a nurse; it was a great thing in my life," Chance said. "I think going to nursing school was the best thing that ever happened to me."
Later, Chance also developed a love of serving the community, which took many forms over the course of her life. She volunteered for the Campfire Girls, the Cub Scouts, and St. Francis Hospital. She was a member of and served terms as president of the PTA membership for Willard School, the St. Francis Hospital Auxiliary (two terms), the Hospital Auxiliaries of Kansas, and the Ladies Board of Rolling Hills Country Club.
It was her membership on two other boards, however, that led to her playing a key role in the history of Newman University. Chance was the first woman to serve on the Lay Advisory Board of St. Francis Hospital (now part of the Via Christi system), where she served three terms between 1977 and 1986. She was also the first lay woman to serve on what was then the Board of Directors of Kansas Newman College.
A Bridge
At that time, changes were occurring in nursing education. Nursing schools had for many years been diploma programs operated by independent hospitals and other groups. In the 1970s, however, state nursing boards began requiring more advanced education to certify nurses. A movement began to move nursing schools from a hospital to a collegiate setting, where nurses could earn two-year associate's degrees or four-year bachelor's degrees.
Some schools and hospitals, including the St. Francis School of Nursing, initially responded by providing tuition assistance to their nursing students to help them meet the state requirements. St. Francis also reimbursed employed nurses 75 percent of their tuition costs.
Ultimately, the cost of such programs became prohibitive, and St. Francis
looked to other ways to supply the
hospital with adequately trained nurses. Because Chance was on both the St. Francis and the Newman boards, she became the bridge that connected the two and led to
the establishment of the nursing program at the university.
From that beginning in 1979, the Newman School of Nursing and Allied Health has grown to include some of the university's most sought-after programs, including Nursing, Nurse Anesthesia, Healthcare Science, Occupational Therapy Assistant, Radiologic Technology, Respiratory Care, and Sonography.
"She enjoys meeting the scholarship recipients and gives them her views on nursing," said President Noreen M. Carrocci, Ph.D. "She's proud of the nurses from Newman, because they provide care for the whole person."
"Nursing has become one of our most successful programs, and spawned a very popular and successful nurse anesthesia master's program and other allied health programs," said Newman University President Noreen M. Carrocci, Ph.D. "One-third of our undergraduate student body today is enrolled in nursing or allied health programs."
"It's Very Important"
The Chances continued to support nursing, and Newman as a whole, for many years after. They sponsored the annual Laurie Bell Memorial Jet Open Charity Golf Tournament for many years, and were generous donors to the Beyond the Renaissance 2000 and Dugan Library and Campus Center capital campaigns. They also created a scholarship fund for the children of Chance Manufacturing employees.
In the late 1970s, Chance said she and her husband began visiting the Bahamas in the winters. In the 1980s they bought a villa there.
"First we started going for three months for the winter, then it became four, then six," Chance said. "It's a great place and has great people, from everywhere in the world."
As she began making extended stays in the Bahamas, she cut back and eventually stopped her volunteer and community service work in Wichita. Still, she continues to support Newman through gifts and nursing scholarships.
In 2011, she established two scholarships for students seeking degrees in nursing: The Marjorie W. Chance Annual Nursing Scholarship and The Marjorie W. Chance Endowed Nursing Scholarship. Each program awards scholarships each year to qualified nursing students, with regard for the students' financial need.
Chance said the reason she continues to support nursing education at Newman is simple, and hasn't really changed since her early days as a nurse.
"I think it's very important to have good nurses," she said. "I loved being a nurse, and I like others to have the opportunity to do the same."
In 2010, after 63 years of marriage, Harold Chance passed away. Marj Chance's family now includes a son, three daughters and numerous grandchildren.
For her dedication to the university, Newman awarded Chance an honorary degree – the Doctor of Humane Letters, honoris causa – at the Spring 2011 Commencement ceremony.