The Math and Writing Center: 'We should change the name of this place'
By Stephen V. Poulter, Ph.D. Assistant Professor of English/Composition, Director of the Math and Writing Center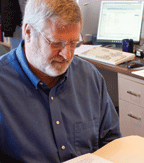 In each of the five writing or learning centers with which I have worked closely, many tutors, students, and teachers alike have made this comment: We should change the name of this place.
Here at Newman, many have suggested changing the name of the Math and Writing Center to something more accurately descriptive, like The Study Place or The Center for Student Learning. Other suggestions include Academic Learning Center, Tutoring Center, Homework Support Lab, Literacy Center, Center for Learning Studies, Safe Learning Zone, and Academic Outreach Program. More recently, I have heard Center for Teaching and Learning Excellence, Academic Skills Center, and Academic Support Center.
The trouble is, none of these monikers accurately describes what happens in the center.
Sure, we have tutors: traditional tutors who schedule regular hours inside the center and handle appointments and walk-ins; tutors who work "on call" outside regular hours; tutors for math or writing; tutors who work with specific courses or disciplines; ESL tutors; tutors who work with classes or study halls, and tutors who do all of the above. All of our tutors are outstanding Newman students.
Yes, we have resources. We developed a popular online plagiarism tutorial used by many other schools. We have access to BlackBoard and online scheduling. We keep current textbooks and reference books on file for student use. We have calculators. We have software to accommodate different learning styles and online tutorials and printed handouts for discipline-specific writing styles. We even have comfy couches and apples for healthy snacking.
Like any progressive center, we have a number of outreach services as well. For example, students may send in papers by e-mail for review and faculty and staff may request professional editing for letters, articles, book chapters, or anything they wish to be proofread. At various places around campus, tutors regularly conduct study sessions for individual classes, groups, and labs. We are now "embedding" tutors in classes for instructors who request them so that they may conduct regular study sessions outside the class.
Tutors also provide presentations to classes about what is available in the center, help sponsor faculty workshops on teaching and learning, and participate in training to improve tutoring techniques. And all of this is free to Newman students, staff, and faculty.
The trouble is, there is no title that describes all of the above. Nor does any title describe what happens to students on a personal level at our center.
Some improve skills dramatically; others just come to ask questions in an accepting environment or do homework in a quiet place with help available; some meet their future mates; quite a few students come desperate and harried, but leave comforted and wiser; some choose to use the center as a way to volunteer their own services; some even claim to have found attending or working in the center to be a life-changing experience. Many students later become one of our 25 tutors themselves when they discover skills of their own to share.
From my observations, I would describe the center as a real and virtual space within the Newman community that integrates learning, teaching, curriculum, and co-curricular activities, and that for many students becomes the academic heart of an institution dedicated to equipping them with the tools, the desire, and the wisdom to transform the world as they know it. Maybe we should change the name of the place to that description, starting with "A Real and Virtual Space within the Newman Community…"
Or maybe we should call it, simply, the Center.
Tags:
Math and Writing Center
,
Newman University
,
Stephen V. Poulter