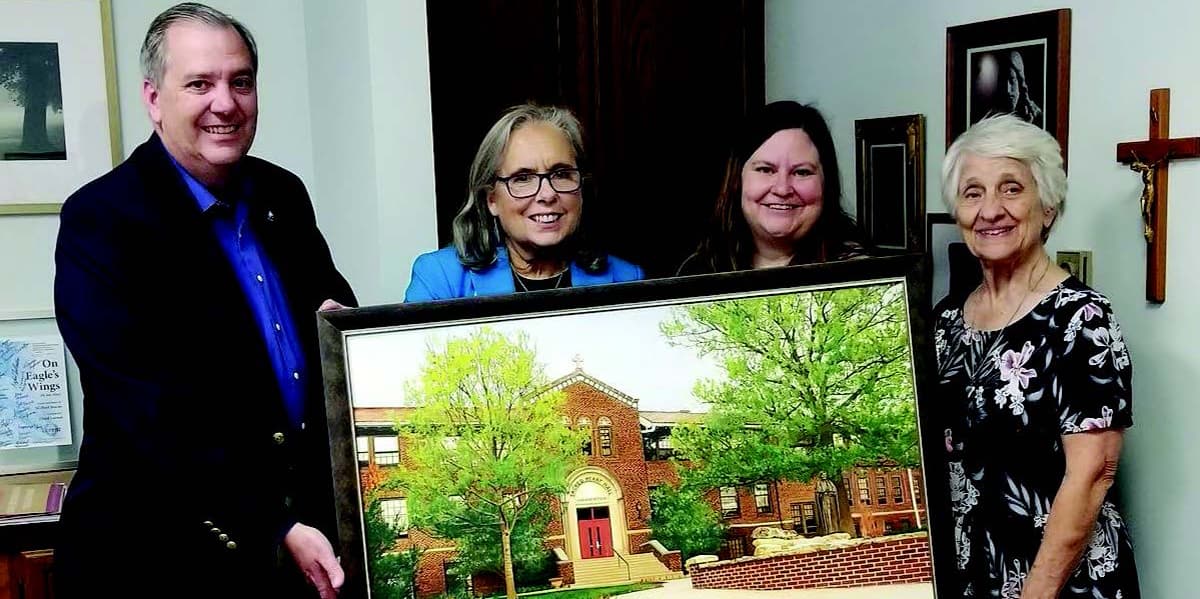 Michelle Garvert presents her painting of Sacred Heart Hall. (fr-l-r: Bob Beumer, Dr. Kathleen Jagger, Michelle Garvert, Sr. Therese Wetta, ASC.)
A picture may be worth a thousand words but an oil painting of a beloved, 100-year-old building on campus represents much more.
Newman University commissioned artist Michele Garvert, who specializes in hand-painted portraits, to create an oil painting commemorating the centennial anniversary of Sacred Heart Hall.
She was both "happy and honored" when called upon by Director of Mission Effectiveness Sister Therese Wetta, ASC, to take on the challenge of creating the historical painting.
"My objective was to capture the beauty of the 100-year-old building and inviting landscape," Garvert said. "Being the artist commissioned to paint it was an honor, especially knowing it was being celebrated for its history."
With each painting she creates; Garvert's goal is to capture the most lifelike representation of the subject by using photographs for reference.
A patient process
She began the painting with a stretched and gessoed canvas. Garvert applied a very light underpainting of light blue for the sky and used a warm yellow color for the remaining space on the canvas. She then transferred a drawing of the image and used a fine-tip brush to paint in sections as the oil dried.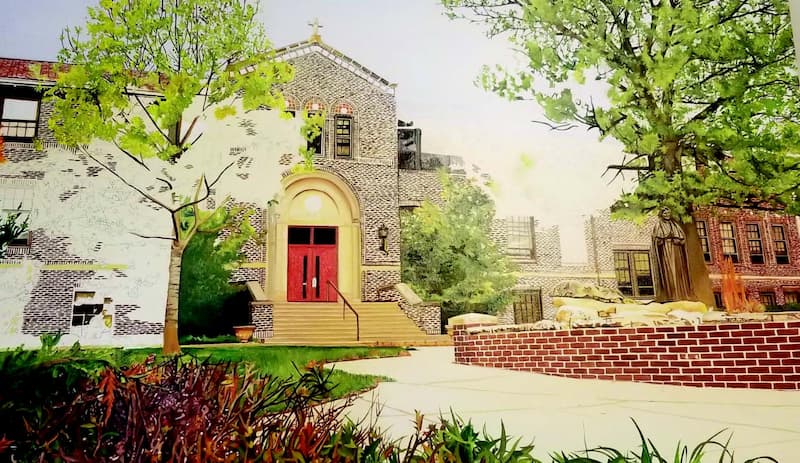 "I rotated the canvas as needed," she described. "After the tiniest details were done on the bricks, I brushed over a translucent wash to unify the bricks and obtain the desired values in the shadows. I then added varnish and frame."
Between her part-time jobs, town festivals and kid's activities, the painting of Sacred Heart Hall took Garvert four weeks to complete. She used Linseed oil and thin strokes to save on drying time, but the amount of detail and size of the canvas required many hours' worth of work, she said. She spent many evenings painting, sometimes until as late as 2 a.m.
Garvert's painting was auctioned off at Party on the Plaza Sept. 17, and generated a grand total of $2,500 for student scholarships. She hopes her work captured the "inviting beauty of Sacred Heart Hall on the campus of Newman University, becoming even lovelier over time."
"Thank you to Newman for commissioning me to do this painting and all of those who made it possible, especially Sister Therese Wetta, ASC, Clark Schafer and my supporting family and friends," Garvert said. "It has become a reminder of being blessed with a talent which is appreciated and treasured."
A personal connection
Garvert remembers the first day when she and her daughter Kayla (Garvert) Creed '22 stepped foot on the Newman campus. Both mother and daughter were struck by Sacred Heart Hall's warmth and sense of charm.
"I recall being impressed by the attractive landscape with the St. Newman statue greeting you on the university campus," Garvert said. "I think it's become even lovelier over time, especially knowing how special St. John's Chapel was to Kayla during her years as a student."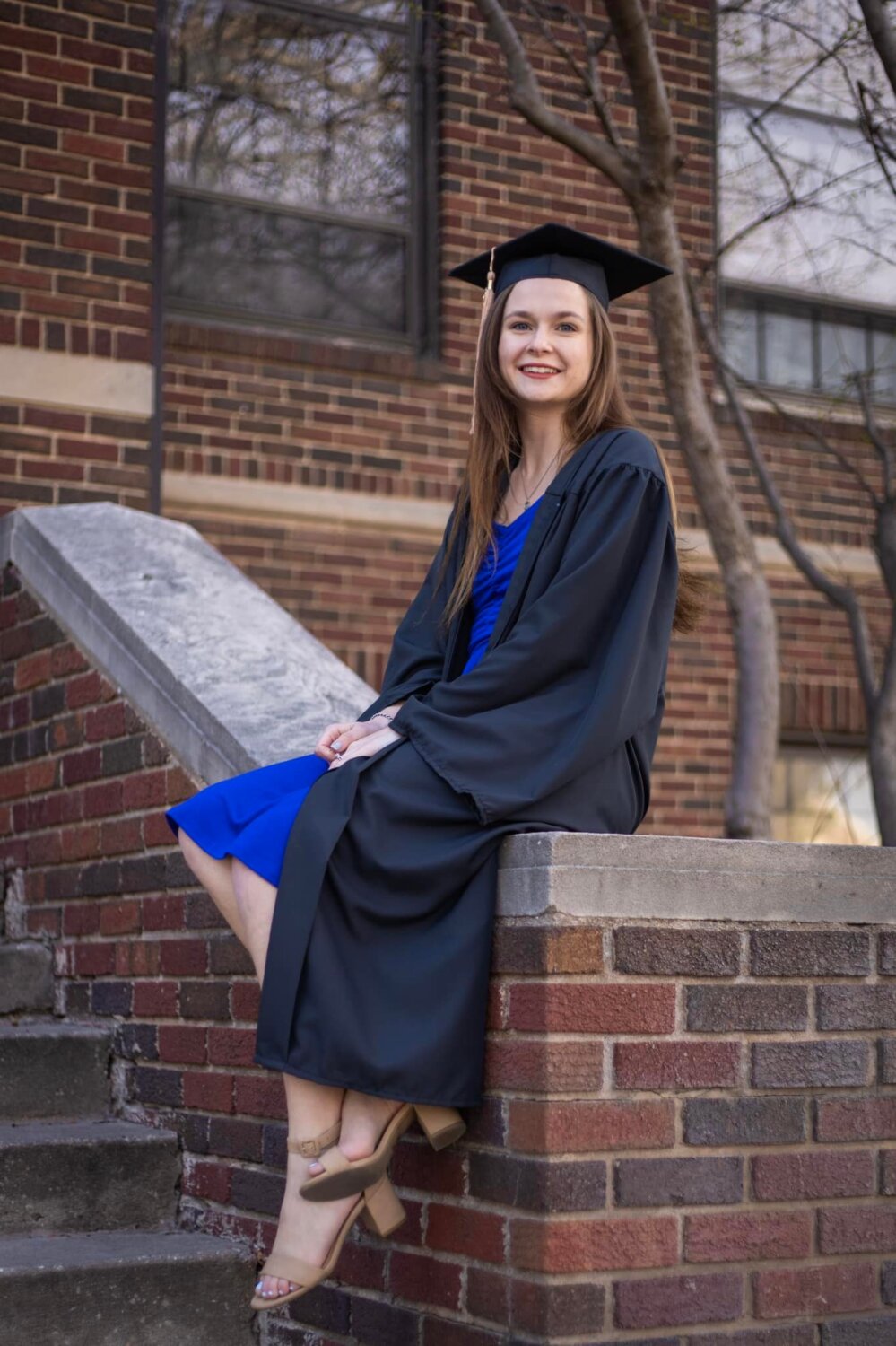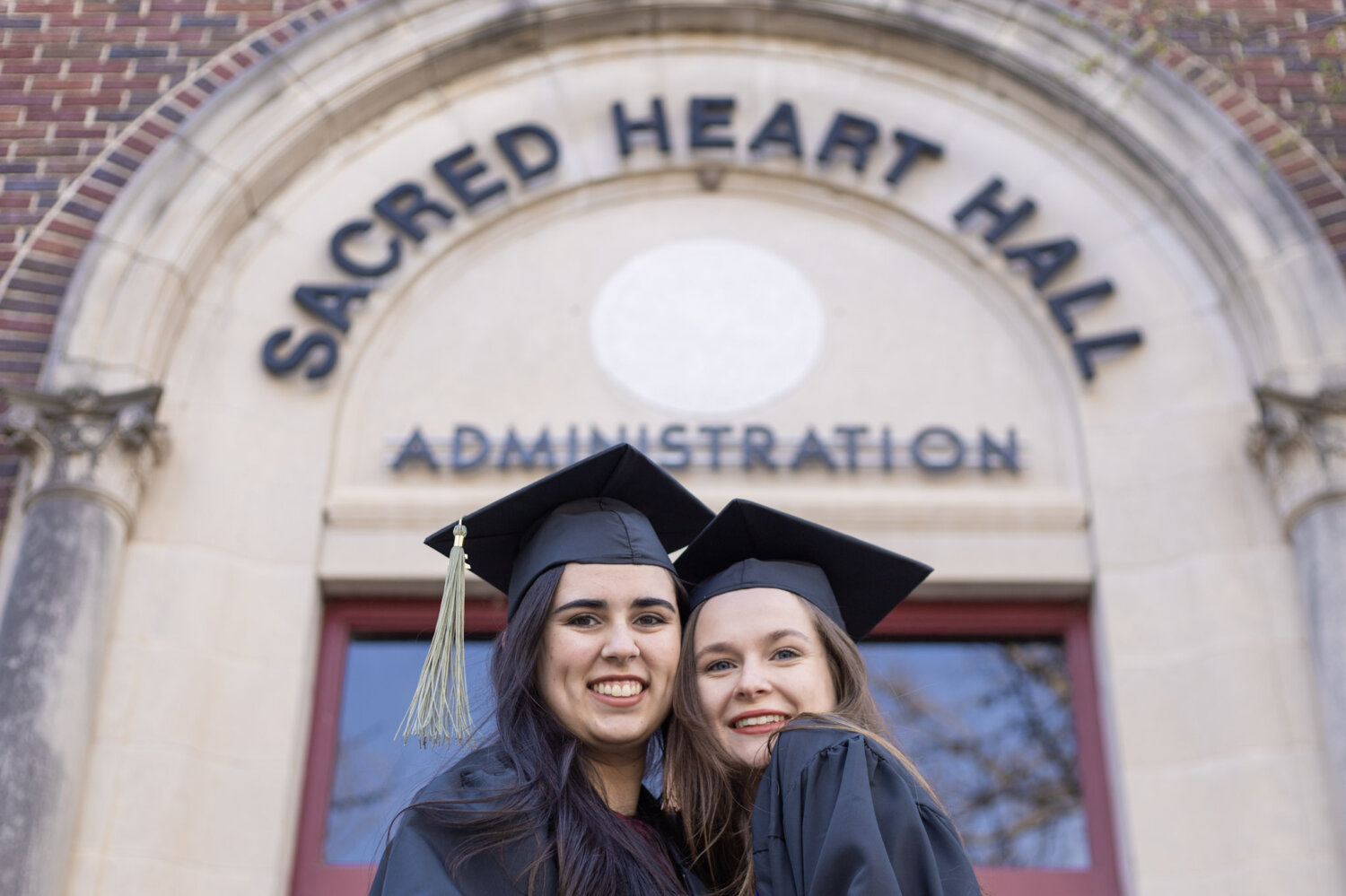 Though her artwork is regularly requested and exists all over the country through commissions she's received online, Garvert considers her four children to be her "greatest works of art."
"I cherish being able to spend time with them and extended family," she said.
Garvert's interest in all forms of artistic expression stems from her parents, who owned an art shop in Atwood, Kansas. Her mother, Trudy Deges, held ceramic and porcelain workshops and her father, Virgil Deges, was a K-12 art teacher, landscape painter and framer.
"My father always provided me with art supplies, encouragement and suggestions," she said. "I was inspired by his artwork, other artists' work, the country landscapes and the uniqueness of people's faces."
Garvert earned her Bachelor of Arts degree from Fort Hays State University. Visit Garvert's Facebook page, "Portraits by Michele Garvert," to see her latest projects, a gallery of her commissioned work or find contact information.
---