MOOCs – A blessing or a curse?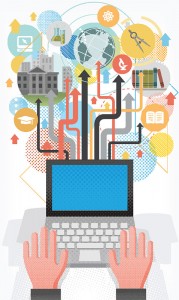 A near-universal goal of educators is to bring knowledge to as many people as possible.
Perhaps that explains the allure of one of the fastest-growing trends in higher education today: MOOCs.
The catchy acronym, coined in 2008, stands for Massive Open Online Courses. As advertised, it's massive, with classes available to almost anyone with an Internet connection. A MOOC offered by Stanford University last fall enrolled 160,000 students in 190 countries.
MOOCs advocates point to such figures as prime examples of the democratization of higher education, with advanced learning open to everyone. But MOOCs are not without controversy.
Some officials, such as Roy Weiss, deputy provost for research at the University of Chicago, say colleges and universities have a commitment to allow people, no matter where they live, the benefit of a higher education.
Others, however, see MOOCs as a system that degrades the college experience and cheapens education. Jonathan Rees, professor of history at Colorado State University-Pueblo, questions how tens of thousands of students can all be taught at once. He contends that MOOCs merely deliver information but don't teach students what to do with it, or how to find more.
Others question how MOOCs affect employment, and possibly revenue, within academia. Typically, MOOCs are offered by third parties such as Coursera, Udacity, or edX, but they also can be created by institutions. Universities with MOOCs don't usually charge tuition, nor offer academic credit. However, one well-known southeastern university is poised to offer a master's degree in computer science through MOOCs for $6,600, substantially less than its $45,000 on-campus cost.
That approach would be a sea change, as most universities charge the same for online or on-site classes. Some officials believe they can make up the loss through volume enrollment, but others worry about quality dropping and students suffering the consequences. One study found much to be concerned about, as cheating can be a problem and the MOOC completion rate is less than 10 percent.
Some academic officials, such as Michael Austin, Newman provost and vice president for academic affairs, take a centralist approach, saying MOOCs present advantages along with disadvantages. Not every student learns well by simply reading, he said. Some do better with a more enhanced presentation that MOOCs — which typically present textbook material with voice and PowerPoint aspects — offer. "It's another way to bring content to students," he said.
As for the argument that online education lessens the learning experience, Austin has a quick reply: "Just because it's online, it doesn't mean it's inferior." Like in-class learning, he said, online education can be done well, or poorly.
Newman offers several online courses, including continuing education designed to help working teachers prepare for new Common Core education standards (see related story, page 26). The university also offers courses that are an excellent blend of primarily online instruction, with some face-to-face classroom or clinical element. These include the RN-to-BSN program designed for nurses with a two-year degree to earn a bachelor of nursing degree while they continue to work, and two graduate degree programs in theology.
Austin noted that these programs are not MOOCs because they are closed enrollment courses requiring fees. Still, he said, these programs can fill an important need for students, and the university. "It has expanded our reach, and we get to places we can't easily get to physically."
– David Dinell
Tags:
Colorado State University
,
Michael Austin
,
MOOC's
,
Newman University
,
Stanford University