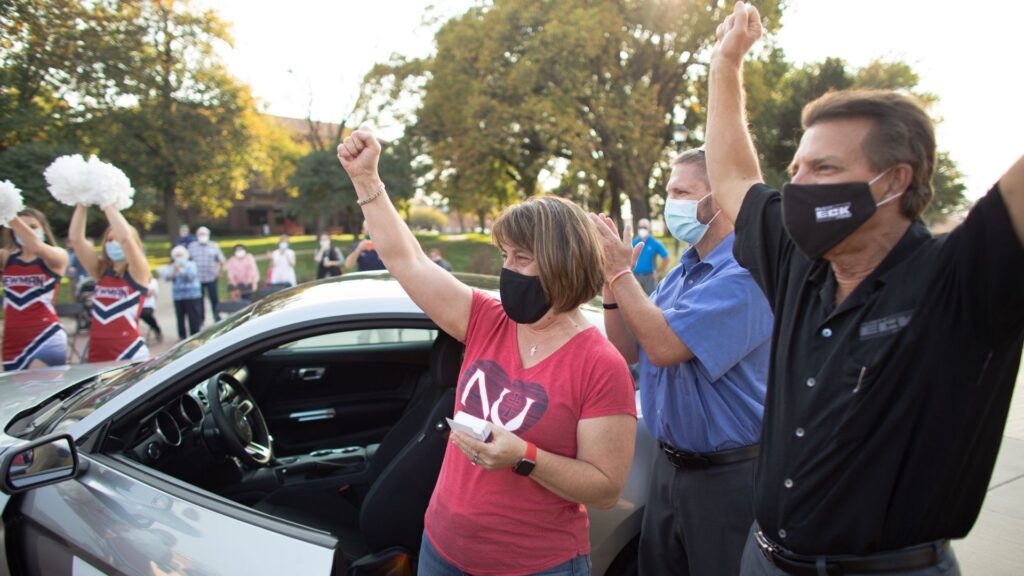 ---
by Scarlett Cannata
In lieu of the annual Party on the Plaza, Newman University raised money for student scholarships by raffling off a brand new 2020 Ford Mustang, courtesy of Rusty Eck Ford.
Friend of the university and longtime supporter Les Eck donated the 2020 Ford Mustang EcoBoost Coup, valued at $30,355, to the university.
The Eck family have been longtime supporters including helping fund construction of one of the university's main classroom buildings, Eck Hall, which features state-of-the-art nursing and allied health labs.
Fundraising this year was more difficult than ever before and more important than ever before.
University President Kathleen S. Jagger, Ph.D., said student funding, especially during times of a pandemic, can help the most vulnerable students adapt and remove some stress, allowing them to focus on their studies and extracurricular activities.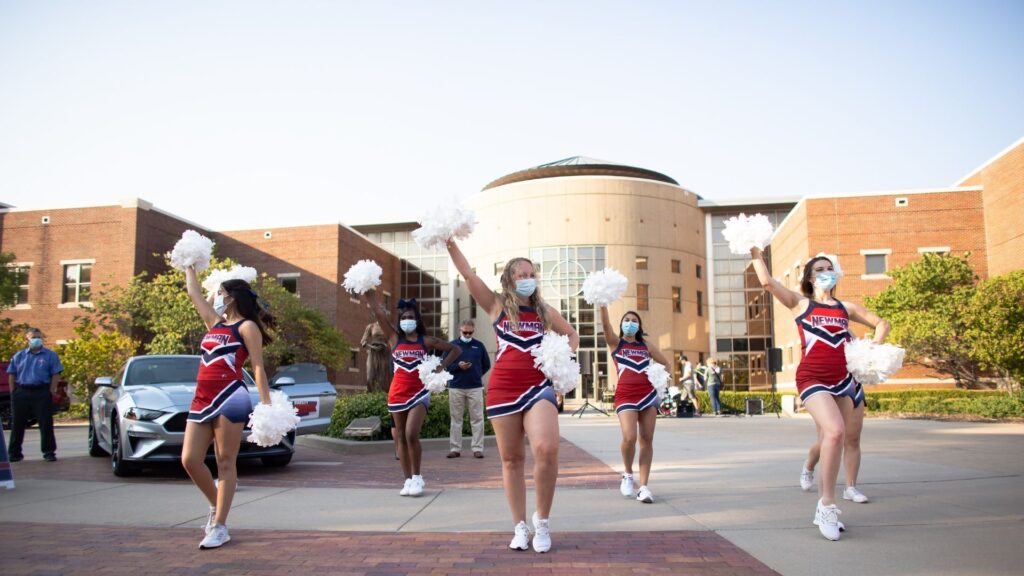 "Many students have lost their part-time jobs or have had their hours cut back due to the COVID-19 pandemic," she explained. "As for student support services, the university will have to find new and creative methods for tutoring and internship opportunities, which will take extra funding."
Money raised from the raffle will go directly toward these needs.
Five finalists for the raffle were randomly drawn Oct. 2. The finalists were Pat Do, Gene Klaus, Kim Lee, John Burke and Kevin Christopherson.
On Oct. 9, the Feast Day of St. John Henry Newman, each of the finalists chose a key fob and took their turn attempting to start the Mustang, ultimately revealing the winner.
Kim Lee of Pratt, Kansas, was only the second finalist to try her fob and was the lucky winner.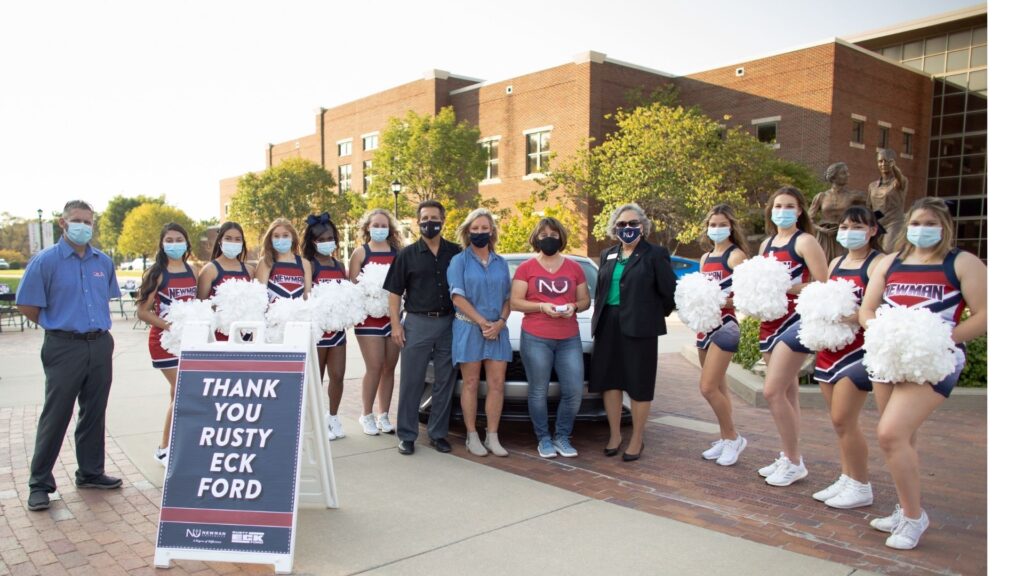 She said when the engine started, she went into a moment of shock.
"I just couldn't believe it," she exclaimed. "I really had to think, 'OK, the other guy's (fob) didn't do this. I think this is real.' And that's when the tears kind of came a little bit."
Lee has two children who graduated from Newman and both were lucky enough to be recipients of scholarships, she said. She and her husband were highly disappointed that they couldn't be involved in this year's Party on the Plaza so when they heard about the raffle, they didn't think twice about buying a ticket.
She added how thankful she is that Rusty Eck Ford donated the Mustang for this cause. "I've never owned a Mustang before," she said. "This is super exciting, thank you so much."
Newman University Board Chair J.T. Klaus said that the Newman community is beyond grateful for the generosity of Rusty Eck Ford for making this possible.
"We hold the highest amount of appreciation for Rusty Eck Ford and the way they have stepped up to aid in raising funds for our students," said Klaus. "I like a good party. The next Party on the Plaza will be epic. We just can't have it right now.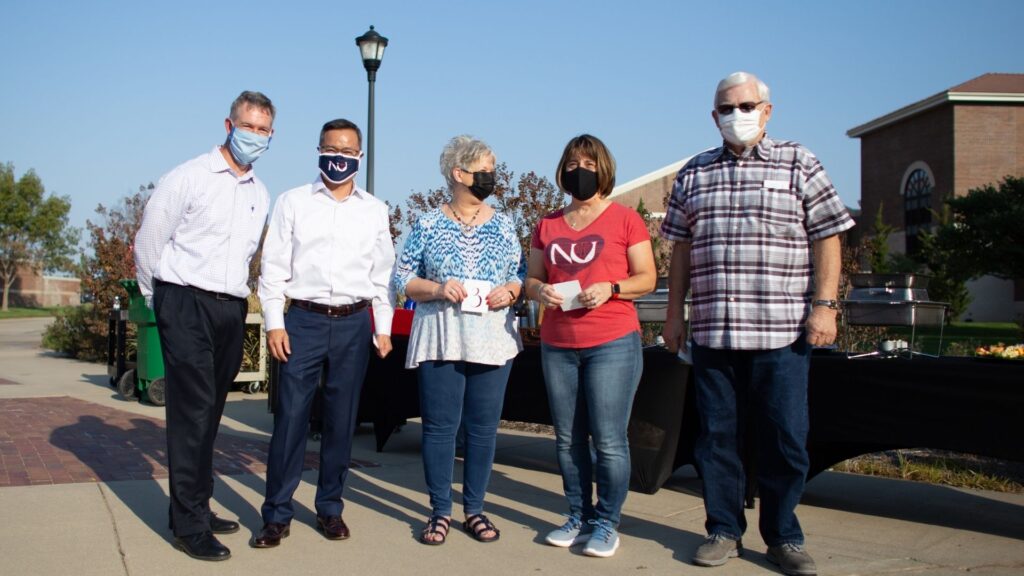 Les Eck said his favorite thing to do is give back to the community and when he was approached by Newman for the gift, he was happy to be able to help.
"It's just a good cause. Good university," said Eck. "Newman University is a hidden gem amongst the hustle and bustle of the world."
Overall, the efforts raised nearly $80,000 for student scholarships.
"When you're buying T-shirts, you can have a bake sale. When you're educating the future of Kansas to transform society, sometimes you need Rusty Eck Ford. This is a way to do something really exciting for the greatest cause ever," said Klaus.
Click here to learn more about the Newman Fund or to donate.