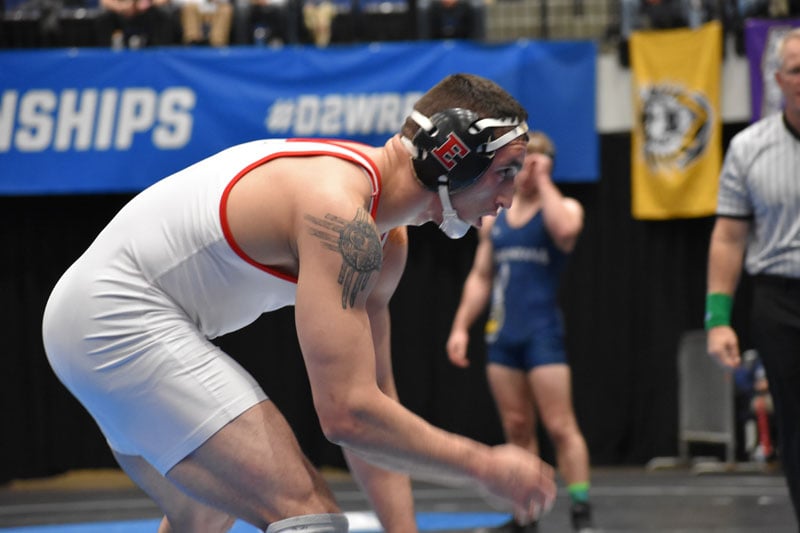 Noel Torres competes at the March 10 national competition.
Storybook Ending For Noel Torres Started By Writing The First Chapter
A simple suggestion from his coach before the season ever started led Newman's redshirt senior Noel Torres to start a journal. He decided to write the story of his final collegiate career as it was happening, and the opening chapter was simple:
"My name is Noel Torres and I am a redshirt senior at Newman University, pursuing a national title. Yes, you read that right, I am shooting for gold. The funny part is that I have not qualified for nationals once. Sad, right? To me it's not. I learned from it and have done what it takes to get it done. Don't believe me? Keep reading to find out."
Torres didn't write that with the intention of showing anyone, but simply as a way to keep himself accountable as he worked his way through the grueling course of a wrestling season.
As it turns out, he created a self-fulfilling prophecy, capping his career by getting his hand raised as the 184-pound NCAA Division II national champion.
"Coach Smith talked about putting your goals down in a journal at the beginning of the season," said Torres, who became Newman's first NCAA champion on March 10 in Cedar Rapids, Iowa. "I started mine like a book. The intro was a background of myself, my previous seasons, and how I'd never qualified, but that I was going to win it. That's how confident I was in myself."
Early setbacks
Torres came to Newman as a four-time Kansas state qualifier, fresh off a 5A state title for Emporia High School in 2013.
Like any young athlete moving to the next level, he had lofty goals of wins, pins and championships, and even on the recruiting trail, Newman coach Ryan Smith didn't see any reason he couldn't accomplish them.
"I told Noel when he came on his recruiting visit, 'We're going to put Newman on the map,'" Smith said. "He's always been the most responsible, accountable kid. That's just his personality, and you could tell early on that there would never be a lack of effort on his part."
However, that effort only works when one is able to be on the mat, and injuries kept that from happening for much of the early part of his career.
Torres underwent knee surgeries after each of his first three college seasons, derailing a chance to put in the all-important offseason work to build on in-season success. He won a starting spot for the Jets in each of those years, compiling 37 wins — including a 21-16 mark as a sophomore — but with summers spent rehabbing instead of training, it felt like he was starting from scratch each October.
Another operation in 2016 was set to derail the start of his senior year, as he wouldn't be cleared until the season was already underway. A decision on how to proceed was in order.
The Redshirt Year
The dynamics of eligibility, scholarships and budgets meant it wasn't going to be a simple process. Torres hadn't planned on immediately pursuing a graduate degree, and Smith hadn't planned on a roster spot and financial aid to be taken up for a second year.
"I sat down with the coaches and made them believe, 'Hey, this is going to be worth it,'" Torres said of taking a redshirt for the 2016-17 season. "I had to do some convincing, because it's not always easy to make a redshirt work, but I think I did a good job of it."
The bonus year took the pressure off Torres. With an extra 12 months, he didn't need to rush his rehab to get back on the mat, and he could set a few more long-term goals to work toward when he got back to competition.
"That redshirt year, coming back from surgery, he just did everything right," Smith said. "When he came back, he was roaring, ready to go. He was a different person with a different mindset. After he didn't qualify for nationals his junior year, he just said, 'I'm not going miss that chance again.'"
When he finally did return to the mat, it didn't take long to see what he was capable of. He entered himself in a pair of open tournaments, culminating in a blitz through the Missouri Valley Open at 184 pounds in February, going 4-0 with three major decisions and a first-period pin.
Eight bouts in those two tournaments was all the action Torres would see that season, and a month after his title in Missouri, a trip to Alabama cemented his goal in his mind.
"It really set in when I went to watch Dustin (Reed) at nationals," he said. "I watched everyone in my weight class, and realized how close I was to those guys and what I needed to do to get to that level. Just being there and knowing I could compete with those guys, it made me believe in it."
Back in action
With his first healthy collegiate offseason to work with, Torres didn't let a moment go to waste, spending his time drilling and conditioning instead of willing a knee to get its strength back.
"He had a fantastic summer," Smith said. "That's the biggest thing that separates him and the rest of the field, he put in the work when he wasn't being forced to. That's what makes him special. He was willing to sacrifice a year and half to give everything to the sport."
Then came the time to write down that crazy thought that had been bouncing around his head since nationals, since he decided to redshirt, since he came to Newman.
"Keep reading …"
Torres came out on a tear, winning his first 18 matches of the season to earn titles at the Swede Open, the Bob Smith Open and the Reece Wright-Conklin Jet Invitational.
In what may have come as a surprise to those outside of the Newman wrestling room, he went 5-2 at the prestigious Midwest Classic in December, placing fourth and earning himself a spot in the national rankings.
Another 10-match winning streak started the new year before a tight two-point loss in his final regular season match.
Then, a postseason to remember, ripping off wins in 10 of his final 11 matches and surrendering only one takedown on his way to MIAA and NCAA titles.
One last shot
An MIAA championship was nice, but Torres knew the real test came two weeks later at the NCAA West Super Regional, an event at which he was 0-6 in his career.
A 10-3 win in the first round got the winless monkey off his back, but a 3-2 setback in the quarterfinals to Fort Hays State's Micah Felton — whom Torres had beaten earlier in the season — suddenly put the pressure on and brought out a new intensity in Torres.
"It really lit a fire," he said. "You just lost to a guy who you already beat. I just reminded myself of the goal, and I was a man on a mission. It's regionals, the goal is to qualify for nationals, and I did that."
A dominant tech fall greeted his first opponent in the consolation bracket, and Torres rolled up two more wins to finish third and continue the story.
Just time for a quick nap
Whatever kind of pressure there is on a wrestler making his first appearance at nationals, or competing in the final event of his career, Torres felt none.
Wrestling at 184 pounds, there's nearly an hour that needs to pass between the beginning of a session and the time he would step on the mat. That's a lot of time to overthink and overwork, but Torres would not let that seep into his mind.
"Torres, he was relaxed all weekend," Smith said. "He was playing games on his phone one match before he was getting ready to wrestle for the national championship Saturday night. A lot of guys, they get into that situation and they're all over the place, and he didn't let that happen to him."
Close matches throughout — wins of 3-1 and 2-1 in a tiebreaker on Friday, a late move to secure a 5-1 win in the semifinals — had little bearing on his thoughts for Saturday night. In fact, they may have made him more at ease.
The thought of facing top-ranked JaVaughn Perkins of Colorado State-Pueblo on the stage in the center of the arena brought up the same feelings as taking on a first-round opponent on a dreary November Saturday.
"I'd take a nap before every match, wake up, stretch a little bit and just head to the mat," Torres said. "I didn't really think any differently before the last match. I just knew I was going to win it. I didn't know how, but I just knew."
An impenetrable defense against his opponent's shots was how, and a counter for a takedown of his own midway through the third period clinched a 3-1 victory, Newman's first NCAA title and — along with Tyler Mies' All-America sixth-place finish — a 12th-place spot in the team standings.
The next day
The reward Torres gave himself for accomplishing the goal all college wrestlers set out to achieve?
One day off.
Monday afternoon he was back at it with his team in the wrestling room on Newman's campus, showcasing not just the technique and skills that helps one become a national champion, but the dedication that is required to achieve that goal.
That workout came just a few hours after Torres shared the first page of his story with the team in a group text.
The first page of the first chapter of a book that has a pretty good ending.
"I wasn't really planning on releasing it, but hopefully showing it to the younger guys can prove that it's never too late," Torres said. "If you really dedicate yourself and work hard, it's possible.
"I'm still writing in it now. I still have work to do."
Tags:
athletics
,
Noel Torres
,
Sports
,
Wrestling