National Survey: Newman students are engaged, satisfied
Newman University offers a liberal arts education where students are challenged to do their best work, have multiple opportunities to participate in service-learning activities, and enjoy a safe, supportive campus and student-life environment.
Newman University is also a place where students rate their experience highly and would recommend the university to prospective students.
Those are just some of the findings of the 2016 National Survey of Student Engagement (NSSE).
The NSSE is an annual survey of university freshman and senior students at hundreds of four-year colleges and universities, that is designed to measure students' engagement with activities that promote effective learning and personal development. Students who participate in the survey are asked to reflect on the time and effort they devote to various learning activities, and on the resources, courses and other learning opportunities the institution they attend provides that facilitate participation and learning.
For the 2016 survey, 147 first-year and senior Newman students responded to questions related to Academic Challenge, Learning with Peers, Experiences with Faculty and Campus Environment. Studies have shown that high levels of engagement in these areas typically lead to high levels of student learning, satisfaction and graduation rates.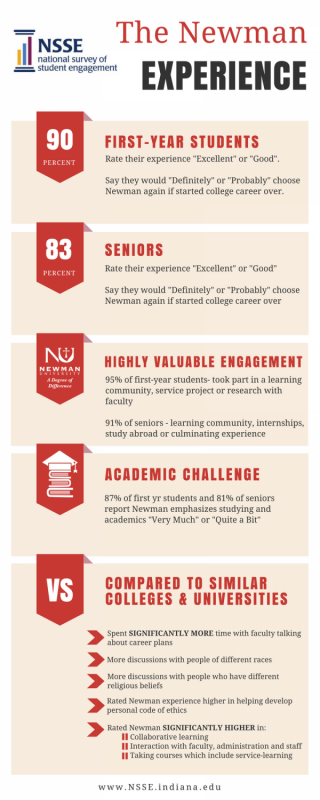 According to the survey, 90 percent of first-year Newman students and 83 percent of senior Newman students rate their experience at Newman as "Excellent" or "Good." Additionally, 90 percent of first-year students and 83 percent of seniors would "Definitely" or "Probably" choose Newman again if they could start their college career over.
Learning communities, a unique opportunity offered at Newman, were popular, with 95 percent of first-year students participating last year. Similarly, 91 percent of seniors participated in comparable learning activities, internships, study abroad programs and culminating senior experiences.
"We're very pleased with the results of the 2016 survey," said Newman Provost and Vice President for Academic Affairs Kimberly Long, Ph.D. "Students come to Newman with high expectations. They want to go on to graduate schools and medical schools, and feel that Newman prepares them academically to succeed."
Newman students' results are also compared to those of a consortium of Catholic colleges and universities, a group of schools that are similar in size and location as Newman, as well as all NSSE 2015 and 2016 participants in the United States.
The survey showed that Newman first-year and senior students spent significantly more time talking about career plans with faculty, and reported "Excellent" or "Good" experiences with faculty and high-quality interaction with administrative staff and offices.
Compared to other schools, senior students also said they developed a personal code of ethics because of their experience at Newman.
For more information on survey results, visit: http://go.newmanu.edu/16nsse.