Neidhart is 2014 top male scholar-athlete
Newman University cross-country runner Peter Neidhart was named the 2014 Heartland Conference Male Scholar-Athlete, with a GPA of 3.95 in mathematics. He was a four-time selection to the United States Track & Field and Cross Country Coaches Association All-Academic Team.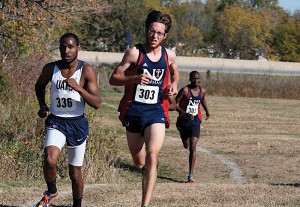 In his senior season Neidhart led his team to a highest total team GPA of 3.80– the top GPA in all three NCAA divisions nationwide. Neidhart was also named in the All-Heartland Conference in three of his four seasons and won a team Heartland Conference Championship.
AD Vic Trilli among most influential people in sports
Newman University Athletic Director Vic Trilli has been named to the Wichita Sports Hall of Fame's Top 25 Most Influential People in Wichita Sports for 2014. Trilli, who ranked No. 16 on the list, enters his seventh season at the head of the Jets and has seen 134 NU student-athletes named to the Heartland Conference honor roll, in addition to other honors.
Taylor, Anderson named to Academic All-District team
Sophomore tennis player Jordan Taylor and junior golfer Kendall Anderson were named to the Academic All-District 2013-14 Women's At-Large Team, by the College Sports Information Directors of America.
Taylor, from Council Hill, Okla., earned a 4.0 GPA in science classes, and was ranked at the women's tennis No. 1, 2, or 3 positions through the season. Anderson, from Houston, Texas, carried a 4.0 GPA in sports communications classes. She had the third-best average in the Heartland Conference at 76.3 strokes in 18 rounds.
For more on these and other sports stories go to http://newmanjets.com.