In the very near future, Newman University students will be taking classes and working in labs inside new and renovated, state-of-the-art science, nursing and health sciences facilities – thanks to the multi-million- dollar fundraising plan, Facing Forward – A Campaign for Newman University.
Newman officials announced the "public phase" of the campaign at a gala event Feb. 6 (see story, page 11). Facing Forward is designed to raise $30 million
to make upgrades to the existing Eck Hall on the Newman campus, to build the Bishop Gerber Science Center, and to raise funds for endowment and scholarships.
"We are extremely happy to announce the Facing Forward campaign, and excited at the prospect of the renovations and construction of new science and health sciences facilities," said Newman President Noreen M. Carrocci Ph.D. "These facilities will help Newman students become even better doctors, nurses, rad techs, dentists and other health care professionals, which in turn will benefit the entire Wichita community and the surrounding region. This is a 'win' for everyone."
BOLD STEPS
Facing Forward is by far the biggest and boldest fundraising effort the university has ever undertaken. Carrocci has noted, however, that, "Newman has a history of taking bold steps to transform the future and shape our destiny."
As examples, she pointed to the bravery and boldness of St. Maria De Mattias, who in the early 19th century founded the Adorers of the Blood of Christ (ASC), to help meet the needs of women and the poor.
The ASC later took bold steps when they came to America, and then to Kansas in the early 20th century to teach children.
Perhaps the boldest steps were taken by Mother Beata Netemeyer, ASC and other sisters who founded, in the depths of the Great Depression, Sacred Heart Junior College, which grew to become today's Newman University.
"Taking bold steps is in our DNA!" Carrocci said. "The bold steps we're taking with
the Facing Forward campaign will create high-quality science facilities that will serve Newman and the region through the 21st century."
The beginnings of the campaign can be traced back to the 2010 Newman University Campus Master Plan, which cited new science facilities as the university's top academic and physical plant need. Even before that, however, many at Newman recognized that better facilities were crucial to the university's growing reputation for quality science, nursing and health sciences education.
Graduates who earn a Newman degree in biology, chemistry, pre-professional-medicine, nursing, respiratory care, sonography or other science and health sciences programs are respected and sought-after for their knowledge, clinical skills and well-rounded education.
The pass rates of Newman students on professional licensing exams are consistently among the highest in Kansas.
Over the past 10 years, 96 percent of qualified students in the Newman pre-med program who applied have been accepted into medical schools.
Other science graduates are accepted into postgraduate programs in chemistry, biology and other science fields at universities across the nation
Unfortunately, the current science education facility, Heimerman Science Center, is outdated. Studies by engineers and construction professionals have shown that expanding and upgrading the building is not practical or cost-effective.
THE BISHOP GERBER SCIENCE CENTER
The new facilities will allow for the latest technology and equipment, more research areas and "smart" classrooms, and simulated operating rooms and other labs, which are increasingly necessary to properly teach clinical skills and to meet program accreditation standards.
The Bishop Gerber Science Center will honor the Most Rev. Eugene J. Gerber, Bishop Emeritus of the Diocese of Wichita. Gerber has long been an advocate for Catholic higher education and a supporter of Newman University. He is greatly respected and widely admired for his work to help people in need throughout the Wichita Diocese. Many social service organizations would not have been created without his guiding hand, including The Lord's Diner, The Guadalupe Clinic, Harbor House and other institutions.
"We at Newman University are grateful and humbled that Bishop Gerber gave us his consent to name the science center for him," Carrocci said. "With this act, we recognize the important contributions Bishop Gerber has made to the health and welfare of people throughout Wichita and the region, and hope to preserve and honor his legacy of good works."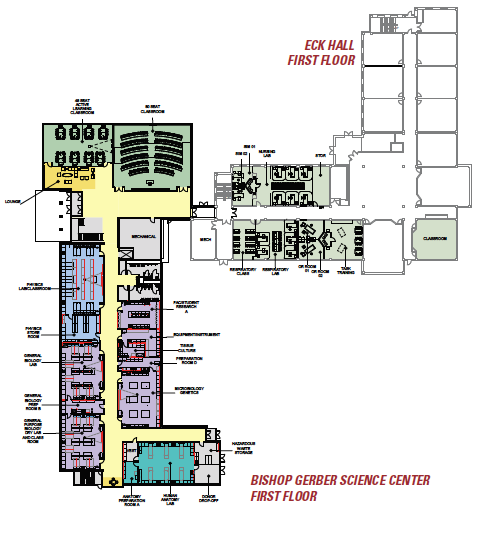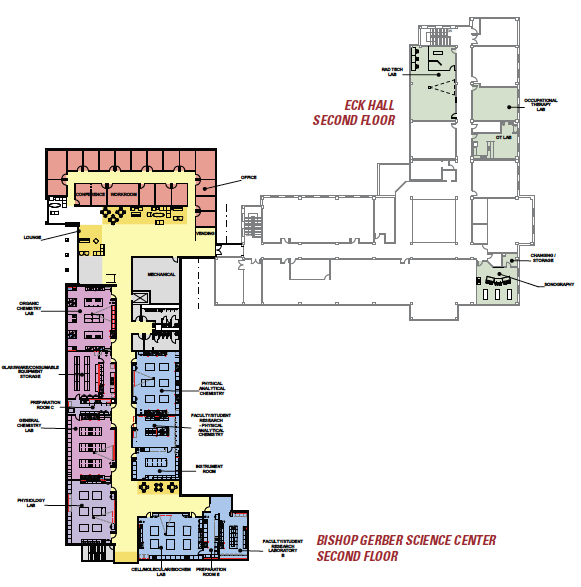 Gerber also serves as spiritual co-chair of the campaign, along with the Adorers of the Blood of Christ. Honorary co-chairs are the Most Rev. Carl A. Kemme, Bishop of
the Wichita Diocese, and Kathy and Pat O'Shaughnessy. Campaign co-chairs are Melissa and Bart Grelinger, M.D., both Newman graduates, and Dana and Larry Fugate.
BENEFITS FOR ALL
The proceeds from the Facing Forward campaign will help support several initiatives. The 51,400 square foot science building and renovations to Eck Hall will be $24.5 million. The remainder of funds raised will be for the university's endowment, which provides for the future sustainability of the university, and the Annual Fund, which supports student scholarships and operational costs.
The university has already raised about $21 million during the "silent phase" of the campaign, which began in 2012. Newman was blessed to receive several significant gifts during that time from a number of donors, including a $2.5 million gift from the ASC, a $2 million gift from Dana and Larry Fugate, a $1 million grant from The Dwane L. and Velma Lunt Wallace Charitable Foundation, and generous gifts from other individual donors, foundations and institutions.
Carrocci noted that, while Newman University will clearly gain from the renovated and new facilities, Facing Forward – A Campaign for Newman University will bring benefits to all.
"Newman students will benefit from being better-trained for their chosen professions, area employers will benefit from a better-prepared healthcare workforce, and the region as a whole will benefit from an increased number of well-educated graduates of all professions. I urge everyone to consider supporting this very worthy campaign."
WAYS TO GIVE
Visit give.newmanu.edu to make on online contribution or learn more about other ways you can give back to Newman University.
In addition to supporting the building of Bishop Gerber Science Center and the renovations to Eck Hall, your gift to the Facing Forward campaign can be made to support:
The Newman Fund
Scholarships
Endowment
Planned Giving
Gifts That Will Impact Today
Cash and Other Outright Gifts
A direct gift of cash (or other appreciated securities) will directly benefit the campaign and provide an immediate income tax deduction to you.
A Pledge
Your gift may be given over three to five years time.
Gifts That Will Impact Tomorrow
Personal Property Estate Bequests
Life Insurance
IRA and Other Qualified
Retirement Plans
Charitable Lead Trusts
Life Income Gifts
Retained Life Estates
To make you gift or to learn more about the many ways to support the Facing Forward campaign, visit newmanff.com or call 316-942-4291 ext. 2163.
'I'M REALLY PROUD OF THE NEWMAN GRADUATES WHO COME HERE. [THEY] CARRY BOTH THE KNOWLEDGE AND UNDERSTANDING OF SCIENCE, AS WELL AS THE UNDERSTANDING OF HUMANITY, AND I THINK THEY MAKE EXCELLENT MEDICAL STUDENTS.'
–GEROLD MINNS, M.D. DEAN, UNIVERSITY OF KANSAS SCHOOL OF MEDICINE – WICHITA
'NEWMAN HAS DEVELOPED A GREAT REPUTATION HERE, BECAUSE NOT ONLY DO THEY HAVE THE PROGRAMS – NURSING, SONOGRAPHY, THE OTHER PROGRAMS – BUT THE PREPARATION FOR MEDICAL SCHOOL, THE PRE-MED PROGRAMS, ARE VERY STRONG AT NEWMAN.'
–JODY GALICHIA, M.D. PRESIDENT, GALICHIA MEDICAL GROUP, P.A.
'HOSPITAL SYSTEMS ARE VERY AWARE OF WHO PUTS OUT SOME OF THE BEST QUALITY NURSES IN THE STATE. NOT ONLY DO [NEWMAN NURSING STUDENTS] PASS THEIR BOARDS FIRST ROUND, BUT THEY'RE JUST QUALITY INDIVIDUALS.
-BART GRELINGER, M.D. '83
Did You Know . . .
Today, over 3,200 Newman graduates are serving in a variety of science, medical and health science fields.
Newman University offers 19 science, nursing, health sciences and pre- professional programs. Five are not offered anywhere else in the area:
Nurse Anesthesia
Occupational TherapyAssistant
Radiologic Technology
Respiratory Care
Sonography
At Newman, 59 percent of all students pursue a science, math, nursing, health science or related major. Nearly all undergraduate students pass through our current science facility to fulfill their general education requirements.
For more information, visit newmanff.com, or 316-942-4291, ext. 2163.