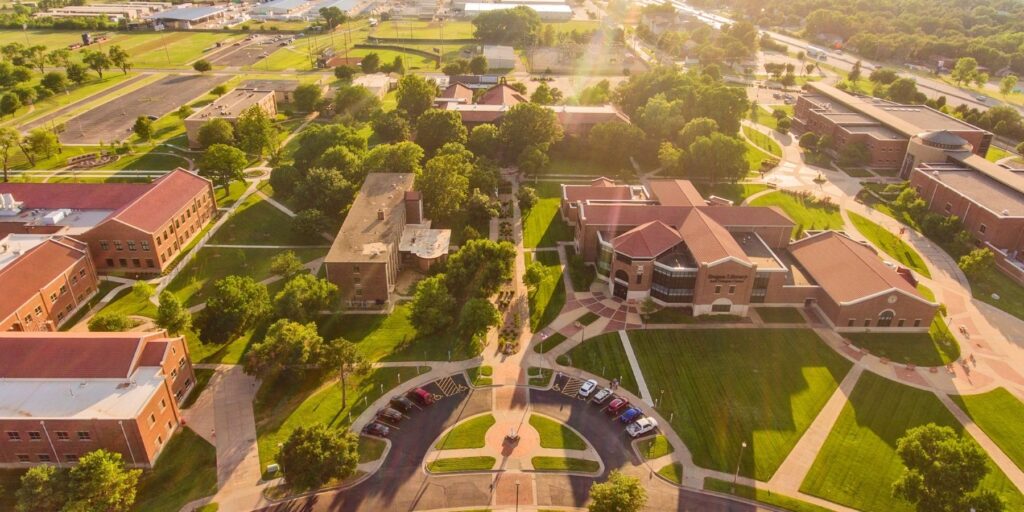 ---
by Dana Beitey
Newman University welcomed four new Board of Trustees members — Lori Benge, Bishop Carl A. Kemme, Wendy Glick and Diana Stanley — on Oct. 9 during the first board meeting of the 2020-2021 academic year.
LORI BENGE
A lifelong Wichitan, Benge attended St. Anne's Grade School and graduated from Bishop Carroll High School. She excelled in softball and bowling during her high school years, earning a number of local, state and national bowling titles.
She holds a general studies degree with an emphasis in business and computer science from Wichita State University and a master's degree in theological studies from Newman University.
Her professional career started at Bank IV, now Bank of America, where she worked in the records department and later was promoted to supervisor of the regional records management department. After a third bank merger, her position was moved out of state but she opted to remain in Wichita.
She moved to a human resource representative position at TRICON before being hired by the Adorers of the Blood of Christ in 1998, where she is currently the director of the U.S. Region Ministry of Vocations.
BISHOP CARL A. KEMME
Bishop Kemme was ordained to the priesthood on May 10, 1986, at the Cathedral of the Immaculate Conception in Springfield, Illinois.
He has served as parochial vicar, pastor, vicar general, moderator of the curia, diocesan chancellor and diocesan administrator. On Aug. 23, 2002, he was named a Prelate of Honor with the title Monsignor by Blessed John Paul II.
His appointment as the 11th bishop of the Catholic Diocese of Wichita, Kansas, was announced Feb. 20, 2014, by Pope Francis. He was ordained to the fullness of the priesthood on Thursday, May 1, 2014, at the Cathedral of the Immaculate Conception in Wichita.
WENDY GLICK
Glick holds more than 20 years of experience as a senior executive. She has been responsible for staff management, volunteer organization, special programs and development and mission execution.
She holds a Bachelor of Arts in communication from Stephen College in Columbia, Missouri. She has worked for Catholic Charities since 1998, serving in a number of roles including executive director, development director and her current position as executive director and CEO.
She mentors fundraising professionals through the Association of Fundraising Professionals, greater Wichita chapter and also mentors individuals through within Catholic Charities in leadership development, with a focus on succession planning for our organization.
DIANA STANLEY
A 2017 graduate of Newman University, Stanley returns to her alma mater to serve as a Board of Trustees member. Stanley was the 2017 recipient of the Newman University Leona J. Ablah Award.
Stanley holds a Bachelor of Arts in history with minors in English, international studies and pre-law from Newman University. She earned her Doctor of Law at the University of Kansas School of Law in 2020 with a certificate in environment, energy and natural resources law.
She has worked for Koch Industries, the Kansas Law Review and the University of Kansas School of Law. She is currently an associate attorney for Depew Gillen Rathbun & McInteer LC in Wichita.