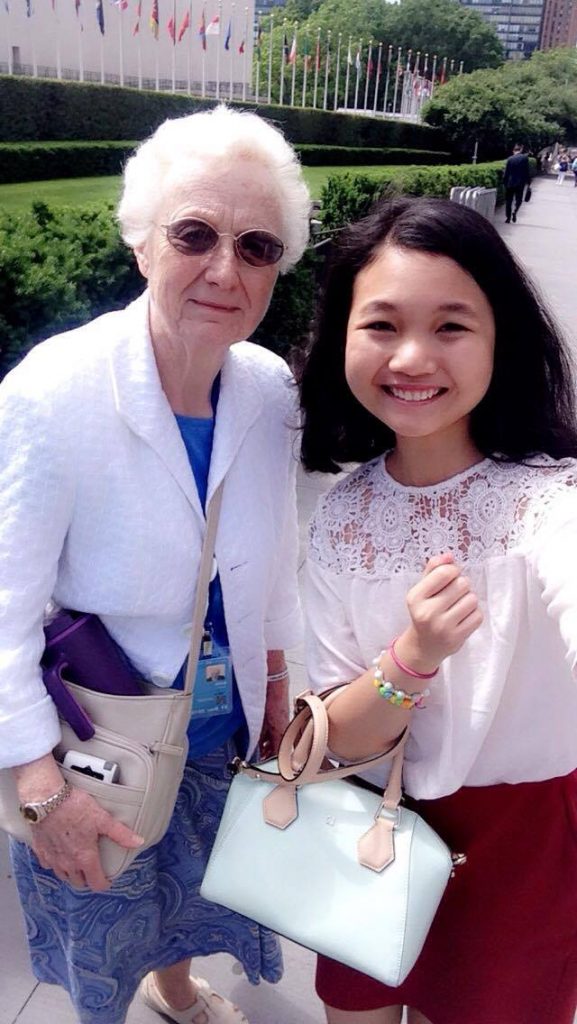 JoAnn Mark, ASC with Khoi Nguyen at the United Nations in New York.
Students making a difference
In spring 2016, Newman University history professors Cheryl Golden, Ph.D. and Kelly McFall, Ph.D. offered a unique and exciting opportunity to nursing student Khoi Nguyen – a chance to intern in New York City at the Partnership for Global Justice (PGJ), an international non-governmental organization with special consultative status to the United Nations.
The PGJ is a network of religious congregations, other groups and individuals who work with the UN to address and advocate for issues important to the Catholic Church's mission, including justice for the oppressed and respect for the diversity of world cultures. The PGJ is headed by Executive Director JoAnn Mark, ASC, Ed.D., a former Newman professor and administrator.
During her visit to New York in June, which was financed in part by a Newman Honors Program travel grant, Nguyen worked with Mark. She also attended the 7711th meeting of the UN Security Council,which focused on protecting civilians in armed conflicts, and took in two conferences about ending AIDS and other diseases.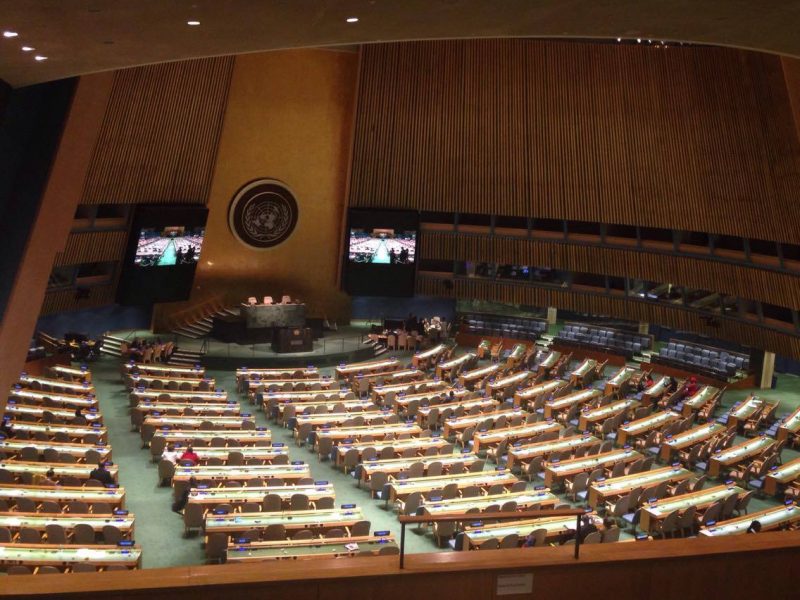 Nguyen was so impressed with the experience that she brainstormed with Mark on a project that Nguyen could bring back to Wichita. She wanted something that would help the community, and address part of the UN's 17 Sustainable Development Goals, which include food security and fighting hunger. Nguyen decided she could teach grade school students the importance of food and sustainable development by showing them how to grow beans. She called her project "Cool Beans."
When Nguyen returned to Wichita, she asked two classmates to help her put the project into action — her roommate, education major Lauren Rust, and biology major Ambonirina "Nate" Razafindrabe. The group took lima beans to a 4th grade class at St. Joseph Catholic School in Wichita, and one 7th and two 8th grade classes at Prairie Hills Middle School in Hutchinson, Kan.
To begin their presentation, the group showed students a pizza with 40 percent missing, to represent how much food is typically wasted in America. They then gave some students a whole slice while others received little or none, to demonstrate that not everyone in the world has the same amount of food. After the example, the group planted beans with the students.
After meeting a few times, the students said they had become more conscientious about wasting food, and explained to their parents about the time and care that goes into growing food. With that, Nguyen considered the project a success.
"Sustainability was the goal of the project," Nguyen said. "Sister JoAnn told me that charity is good but you have to teach people how to be sustainable. We didn't simply give them a one-time event, but a multilayered lesson that will affect their lives in the future.
Tags:
Branding
,
khoi nguyen
,
partnership for global leadership