Newman alumna Andrea Mártires is living the Newman mission in Europe
By Robin Allard '14
Since her graduation in 2013, Newman University alumna Andrea Mártires has been continuing to learn ways to transform society – and expanding an already broad base of the Newman Core Value International Perspective – in Geneva, Switzerland and other places in Europe.
Perhaps not surprisingly, she's also having some fun doing it.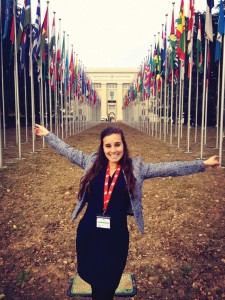 Mártires, whose full name is Andrea Mártires Abelenda Castelli, is from Uruguay but also has Swiss influences through her step-father's side. She speaks Spanish, English, French, Italian and Portuguese. While at Newman she played on the Women's Golf Team, worked as a legislative intern for Congressman Tim Huelskamp and for Sen. Pat Roberts in the summer of 2012, and was selected for the 2013 Who's Who Among Students in American Colleges and Universities. She graduated magna cum laude in May 2013 with majors in Sociology and Psychology (with a concentration in criminal justice) and a minor in International Studies.
Following graduation she worked at Cessna Aircraft Company as a service, parts and programs intern. She also volunteered and took training for disaster relief, emergency first aid and other services with the American Red Cross. Her training qualified her to be part of the Disaster Action Team, where she was on call 12 hours a day, responding to house and apartment fires. She also was part of the Red Cross Disaster Team that responded to the Colorado floods in 2013.
In early 2014, she was off to Geneva, where in February she began studying in a program at the University of Geneva called the Geneva International Students Program (GISP). The focus of the program was international relations. The classes were in English, complimented with intensive French courses.
"I found it on the Internet, and when I saw it I just loved it and for some reason felt like this was my next step," Mártires said. "There were students from all over the world in this program. It was really cool and I learned a lot."
Model U.N.
Even though the GISP and Geneva Academy classes took up much of her time and included heavy readings, Mártires made herself even busier with extracurricular activities, including taking part in the Model United Nations Society in Geneva, which is organized by the Geneva International Model United Nations (GIMUN). The program is a simulation of U.N. activity, with each student representing a delegation.
"They taught us the rules and procedures of the U.N. – how to do a speech, how to write resolutions and make amendments of resolutions," Mártires said. "It was just as if we were in a conference representing a country in a certain council or committee trying to solve issues with other delegations on specific subjects."
For the entire semester, Mártires met with other members or delegations, received training and did research on current issues. Mártires worked as a delegate of South Africa discussing the subject "Responsibility to Protect." The group met each week simulating actual U.N. activity, and passed a resolution with correspondent amendments at the end of the semester.
Mártires also took part in more formal Model U.N. activities, including EuroMUN in Maastricht, the Netherlands, where she represented Chile in the U.N. Security Council, and the Model U.N. Youth Association of Switzerland in Bern, where she was part of the Economic and Social Council as a delegate of Russia.
"We discussed new technologies and risk prevention of humanitarian crisis," Mártires said. "It was a lot of hard work, but it was great to be part of this."
At the end of the semester, Mártires was selected for the 15th GIMUN Annual Conference held in the Palais des Nations (U.N. headquarters) in Geneva. Mártires spent a week at the U.N. as a bloc representative for the Union of South American Nations, where she supervised and helped other students in the conference and researched topics including rebuilding Haiti, and terrorism and nuclear energy, for three committees for all USAN member states. She also attended the 6th Geneva Summit for Human Rights and Democracy.
No slowing down
In June, Mártires took a three-week course in international law at the University of Geneva, and in July took a short, intensive course on Transitional Justice, Conflict, and Human Rights at The Geneva Academy of International Humanitarian Law and Human Rights.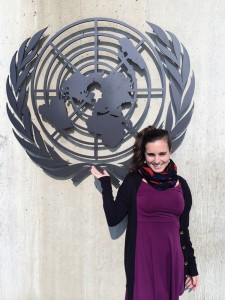 Never one to slow down, in September Mártires started an internship as a Junior Project Support at the U.N. agency the International Telecommunication Union, as part of the Integrated Event Coordination team. Mártires is working on a world telecommunications event that will take place in December in Qatar. She was also offered an internship at the U.N. High Commissioner for Refugees for a semester In Washington, D.C., where she would work in the Caribbean Protection Unit of Refugees.
"I'm still deciding on that one," she said as this magazine went to press, "as I am waiting on other offers in Geneva and Africa." She is also considering the financial difficulty of another unpaid internship, as she plans to attend graduate school in Geneva in August 2015.
"I am truly grateful for the whole community at Newman," she said. "Newman is truly a place I will never forget and will always carry in my heart. I have a lot left to do, and I hope life lets me try to accomplish a lot more. But I know that thanks to everyone at Newman, and my mom, I am here ­- because the support, love and encouragement that everyone shows me is hard to find."