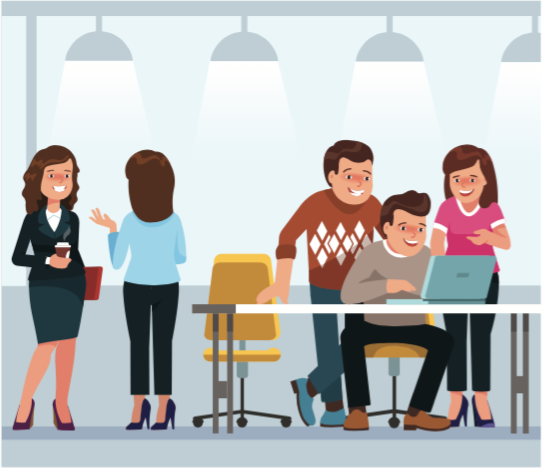 The Newman University Alumni Department and Student Support Services joined forces to create "Table Talks," an event that brings alumni and current students together for discussion. The first event was held on March 13, 2017, and the departments plan on scheduling events during each academic year.
Former Director of Alumni Relations and Annual Giving Sarah Strole said, "I spoke with one of our accounting alums and he expressed a great appreciation for the high-quality education he received in the classroom at Newman but wished that he could have had some exposure to 'real-world experience' prior to graduation. We wanted to create a way to build an opportunity between alumni and current students to close that gap."
According to Director of Career Services and Cooperative Education Coordinator Melody Head, Table Talks is a "win-win" for Newman students and Newman alumni. The Alumni office recruits alumni from a specific program of study and invites them to come in during lunch to visit with Newman students about their profession — what they wish they would have done before graduating (internships), and what they wish they would have known before they graduated.
The alumni communicate with four to five Newman students informally around a table, and then they rotate to the next table. Future events will last between 45 to 75 minutes.
Head plans for Newman University to host four Table Talk lunches throughout the school year with each event hosting a different program of study along with a free lunch to students who attend. She stated that the next event will most likely be sociology and law.
"We hope students are able to get exposure on what to expect in their career fields," Head explained. "It's a networking opportunity to help prepare them for life after graduation."
The Career Services Center continues to provide on-campus opportunities to help Newman students be ready for the workforce as they advance their academic knowledge such as internship and shadowing opportunities.
Head added, "This is a great opportunity for both our current students and alumni. Our alums are able to give back and share their talents and knowledge, and the students are able to gain valuable insight that can prepare them for future careers and build important relationships in their chosen field."
Read a recent Table Talk story.
Tags:
alumni relations
,
career services
,
student support services
,
table talks