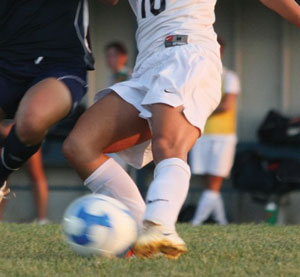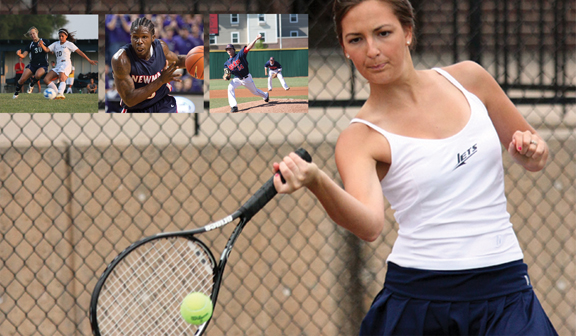 Educating the mind. Inspiring the spirit. The people of Newman University have always taken great pride in their education, faith and sports. This past year, Newman has gone above and beyond. Jets student-athletes not only excelled in their sports and education, but also achieved many "firsts."
During the 2010-2011 academic year, the Women's Basketball Team won the university's first-ever Heartland Conference Championship. Newman defeated Oklahoma Panhandle State in the regular season's final contest with a 111-106 shoot-out victory.
The game was a tense, neck-and-neck challenge that all players fought to win. Every move by the players attributed to the triumph, including the career-high 38 points by Tasha Cannon. With the win, the Jets finished the regular season with an overall record of 19-7 and an 8-1 mark in Heartland Conference play.
Another great "first" for Newman was the Women's Tennis Team achieving its most successful season in the program's six-year history.
"Newman should be very proud of these student-athletes and what they have done for the program and the university in a very short time," said Director of Tennis Shella Augspurger. She added that the women's team is definitely on its way up. Many players stayed with the Jets through the NCAA transition and all the players have "excellent character and outstanding academic standards," Augspurger said. The team had many seniors who graduated in Spring 2011, and Augspurger hopes the new players will continue the tradition that has been started in the program.
All Newman student-athletes have continued a tradition of academic achievement that has made the university known throughout the Heartland Conference. Ninety-eight Jets were named to the Heartland Conference Honor Roll, which earned the university the top spot in the conference for the number of students that made the roll. Newman claimed the highest GPA in all three major categories – men's sports, women's sports and overall GPA.
The Newman Baseball Team took top honors on the men's side with 14 honorees, while the Women's Soccer Team placed a combined 12 student-athletes on the honor roll. The Newman Men's Soccer, Men's Cross Country, Women's Cross Country, Women's Golf and Men's Tennis Teams each posted the best GPA in the Heartland Conference in their respective sport.
"We are very proud of all students-athletes for their hard work and dedication," said Athletics Director Vic Trilli. "Making time for academics, practices, and games is a full-time job in itself. To be ranked as high as the Jets are ranked in both athletics and academics is a very prestigious honor."
.
.