Newman celebrates first Heritage Month
The month of February is typically a busy time at Newman, as the university celebrates the life and teachings of its namesake Blessed John Henry Cardinal Newman with a number of traditional events, including High Tea, Cardinal Newman Mass and the Cardinal Newman Banquet and Awards Ceremony.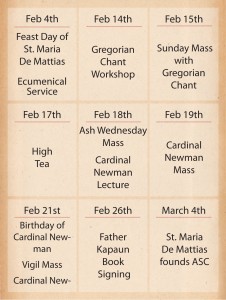 This year, Newman University broadened the celebration to include additional events, which honored not only Cardinal Newman but also our founders the Adorers of the Blood of Christ, and our Catholic tradition. The month-long celebration – "Heritage Month" – ran from Feb. 4 to March 4 and included more than a dozen activities. Newman officials said they plan to make it an annual event.
"Heritage Month is a collection of important dates that have to do with this university, and are celebrated almost every single year in very similar fashion," said Director of Mission Effectiveness and Archives Charlotte Rorhbach, ASC, who played a central role in creating Heritage Month. While Rohrbach said Cardinal Newman Week is something that is "extremely special" for the university, other events occurring primarily in February are also very important to our heritage.
In addition, the university planned other activities, including special prayer services, masses, speakers and different programming, to pay homage to our past and to encourage more alumni and supporters of the university to return to campus to enjoy the events.
The month kicked off Feb. 4 with observation of the Feast Day of St. Maria De Mattais, and an Ecumenical Service in St. John's Chapel. Other events included a mass with Gregorian Chant and a book signing. Heritage Month concluded with a celebration of the day St. Maria founded the Adorers in 1834, and music by Luke Spehar, a rising Catholic singer/songwriter.
"Heritage Month allows us to recognize the rich traditions of the university, the courage and foresight of our founders the ASC, the wisdom of Cardinal Newman, and the Catholic foundation that supports everything we do," said Newman President Noreen M. Carrocci, Ph.D. "It was an absolutely wonderful way to celebrate all that is good about Newman University."