Newman Gears Up for All-Alumni Reunion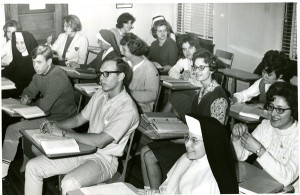 Mark your calendar, make plans now and sign up to attend the Newman University 2016 All-Alumni Reunion. Register by May 27.
The Reunion Steering Committee at Newman University has set plans in motion for a full weekend of fun for all alums and their families, regardless of graduation year or age.
"All alumni of Newman and all previous schools are welcome, as well as your family members and friends," said Director of Alumni Relations Sarah Kriwiel Cundiff '86, '90, '15. "We truly have something for everyone to enjoy as we celebrate the many classes and alumni at this special weekend!"
Among the activities planned are campus tours, presentations by Newman faculty members, games for kids, art exhibits, beer tasting, Newman-style TED Talks, a banquet, dance and Sunday Brunch.
"Alums and families can even stay in a residence hall for the weekend," Cundiff said.
One of the top events scheduled is the June 10 groundbreaking ceremony for the new Bishop Gerber Science Center, led by the Most. Rev. Carl Kemme, Bishop of the Diocese of Wichita.
If you haven't already received a registration form with complete details, watch your mailbox, register for the events you find of interest, and get ready to enjoy a memorable weekend at the Newman University 2016 All-Alumni Reunion.
For questions or more information contact Cundiff at 316-942-4291,
ext. 2166, or [email protected].
To register online visit: give.newmanu.edu/AllNewmanAlumni.
Tags:
alumni reunion