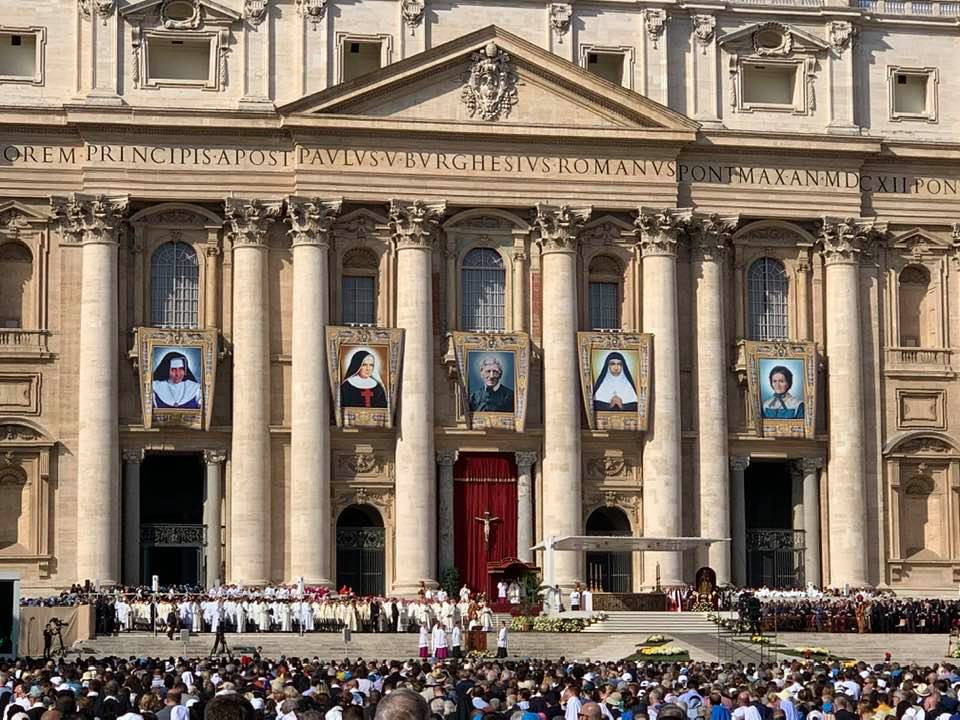 John Henry Newman canonization in Rome in St. Peter's Square (or St. Peter's Basilica). Image courtesy of Bob Benson.
The canonization of Newman University's namesake, St. John Henry Newman, has created much excitement for the university's community. The canonization took place oct. 13, 2019, in Rome in St. Peter's Square.
A delegation of Newman alumni and community members led by President Noreen M. Carrocci, Ph.D., participated in a pilgrimage Oct. 7-15 in honor of the canonization. The trip, which included visits to Rome, Siena, Florence, San Gimignano and Assisi, allowed the travelers to experience the blessed event and become immersed in the rich Catholic heritage the university embraces and celebrates today.
Newman University, once known as Sacred Heart College, was founded in 1933 by the university's sponsoring religious order, the Adorers of the Blood of Christ. The college provided education for both sisters and laywomen in the fields of teaching, nursing, secretarial sciences and home economics.
As time progressed, the college became coeducational and expanded its programs and curriculum. The college changed its name to Kansas Newman College in 1973 to honor St. John Henry Newman, the 19th century theologian and scholar known for his writings on liberal arts and education.
The college became Newman University in 1998 and today's students experience an enriched education based on St. Newman's belief that an education should be deeply rooted in the liberal arts. The Newman Studies Program (NSP), which is part of the liberal arts education students receive at the university, reflects that belief.
Embodying St. John Henry Newman's view of what a university should be, which is to educate both the mind and the spirit, the NSP curriculum puts his ideas into action and prepares graduates to adapt in a rapidly changing world in which future professions do not yet exist.
The NSP embraces a collaborative learning environment in which students experience diverse perspectives. Classes within the NSP combine disciplines such as art and science, business and sports or communication and criminal justice.
This interdisciplinary curriculum challenges and inspires the students to actively learn and think critically. Graduates leave Newman ready to succeed and elevate society.
To learn more about the Newman Studies Program, visit the Newman University website or go to newmanu.edu/nsp.