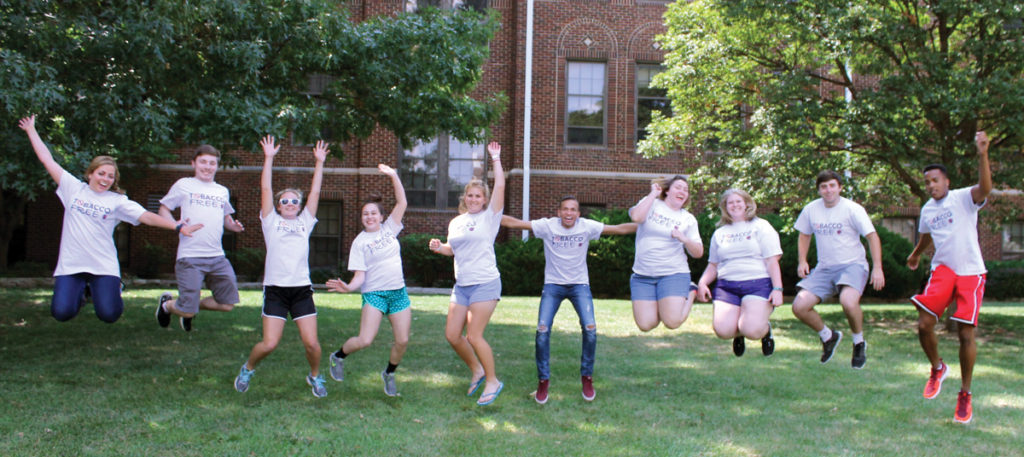 Newman students show their excitement for a tobacco-free campus.
NEWMAN UNIVERSITY OFFICIALLY BECOMES A TOBACCO-FREE COLLEGE CAMPUS
A tobacco-free campus means cigarettes, cigarillos, cigars, roll-your-own tobacco, e-cigarettes, pipes and smokeless tobacco, including snus and other spitless products, are prohibited on all property owned and leased by Newman University.
A 2013 survey asked students whether they wanted a tobacco-free campus and, according to the results, the answer was an overwhelming yes. Dean of Students Levi Esses kick-started the tobacco-free Campus Initiative a er Newman received a $25,000 grant from the Kansas Health Foundation in 2015.
The policy was passed unanimously in February 2017 by the cabinet of Newman President Noreen M. Carrocci, Ph.D., — which includes the vice presidents for Academic Affairs, Enrollment Management, Finance and Administration, University Advancement and Student Affairs.
In November 2016, a lunch-and-learn event informed students and staff about the "tobacco- free Jets" group, whose goal is to "ensure a safe, healthy environment for everyone during their time at Newman University."
Esses said he hopes that everyone can understand that the initiative is not "anti-user" but rather focused on promoting health both on and off campus.
Professor of History Cheryl Golden, Ph.D., said, "It's impressive that students identified what they see as an issue and took the steps needed to affect what they think is a positive change. Despite the feelings of many of my colleagues and students who do smoke and will find this inconvenient, I think steps like this that reduce the levels of smoking in our nation are beneficial in the long run."
Junior Lauren Spencer does not smoke but said she thinks there should be secluded spaces located on and around campus for those who do. "I understand that cigarette smoke can be an irritant for some people, but it feels a little like they are being punished or pushed out," she said.
Esses understands that people may be frustrated by the policy. He said he hopes people will recognize that it is in place and will help hold others accountable — not in a forceful way, but in an educational way.
"It's a little personal to me because my mom passed away three years ago, and she smoked for the longest time," Esses said. "She smoked in high school and back then no one knew (the health risks), so she ended up developing emphysema and pneumonia and her lungs just didn't have the capacity to breathe. To me, this is a way to help people recognize the serious effects of tobacco use and that smoking can affect those who choose not to smoke as well.
"Ultimately, our goal is to provide a healthier and cleaner environment for our campus and our students, but at the same time give people the help they need if they choose to quit tobacco. Hopefully, they're respectful and, hopefully, it's a way for them to try to quit."
Information about tobacco use, smoking cessation and other resources are available to students and staff in Human Resources and the Student Life office.
Tags:
Tobacco
,
Tobacco Free
,
tobacco free campus