Newman, Sedgwick County build on success to host second 'Senior University'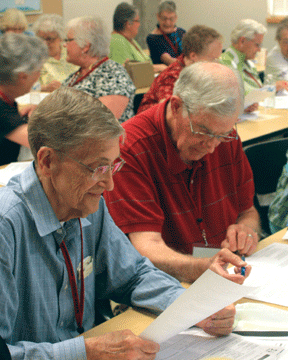 Following up on the success of the first "Senior University" in June 2012, the Newman University School of Social Work is again joining The Aging and Wellness Coalition of Sedgwick County to offer the educational event June 11-13, 2013 on the Newman campus.
Senior University is based on nationwide models, and offers three-day workshops on a variety of subjects to seniors. Last year's event drew 45 people, many of whom said they would return this year with friends, according to Newman Associate Professor of Social Work and co-chair of the event Sue Gardner, Ph.D.
"This program offered some wonderful classes last year and we were able to get some great speakers," Gardner said. "This year we have another exciting schedule and we expect to receive up to 100 students, which is where we must cap the registration numbers."
Gardner said this year's classes will include topics such as Oil Fracking, Origami, Egyptology and Zumba. Senior University will also offer three animal programs from the Great Plains Nature Center, Tanganyika Wildlife Park, and the Sedgwick County Zoo, as well as wine tasting and book presentations. For complete information on classes and instructors, visit www.cpaaa.org.
Registration is now underway through June 3 for adults 55 and over. The registration cost is $65. Group discounts are also available. Register online at www.cpaaa.org or by calling 316-264-4066, ext. 5591, or 316-942-4291, ext. 2183.
.
.