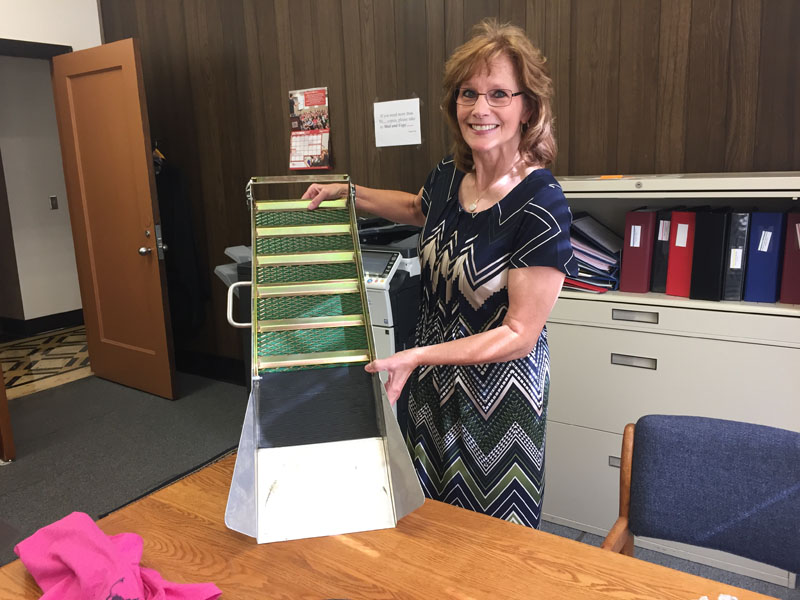 Tracy McGarey holds up the sluice she uses while mining.
Tracy McGarey is an executive assistant by day, but during her down time, she prefers to spend time with her husband, Kevin, digging for gold.
She said they have been searching streams, rivers and creeks for more than 16 years. McGarey said she couldn't think of a better way to spend her time off.
"It's just the best way to get to spend a vacation," she said. "You get up in the morning and you get to go up onto a mountain and enjoy nature."
A recent trip took them to Buena Vista, Colorado, and surrounding areas. During that trip, they experienced a minor setback when a thunderstorm rolled in but despite that, McGarey said, "It was incredibly beautiful at the top of the mountain. We found grape agate that looks like clusters of grapes, pieces of turquoise and ore with silver and fool's gold."
The McGareys often participate in local education days at places like Old Cowtown Museum and Butler Community College to help spread their knowledge to others about panning techniques. They also teach others about modern equipment used in prospecting today.
"We have worked with elementary-aged students in a summer school program through Butler Community College, and it's great to work with the kids.
"Their enthusiasm and eagerness to get in there and play in the dirt — they're just excited to be a part of it. The history isn't as interesting to them at that age, but most of them love it because we use fake gold, so they're excited when they find that."
Both are members of the Kansas Prospectors group, which is an arm of the national Gold Prospectors Association of America. 
Because of their membership, they have access to many different claims, allowing them to travel around the country.
McGarey added that meeting new people is a big perk of the hobby.
"That's probably one of the best things I like about this," she said. "You make so many friends. We all have that same interest and we're all looking for places to go, so we say 'Let's meet there,' and the lifelong friendships form."