Newman student's design is a winner for Catholic Charities Christmas appeal
A set of designs by Newman University senior graphic design major Gloria Esparza was a hit with the Diocese of Wichita's Catholic Charities. The social services organization selected Esparza's work for their 2014 annual Christmas Appeal. Esparza's designs and name and the Newman logo appeared on the appeal card and envelope, Christmas card and envelope, and a donation envelope.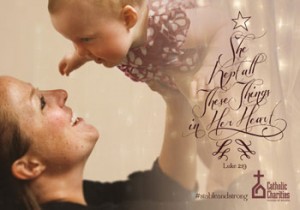 For the past three years, Newman Assistant Professor of Art and Graphic Design Pamela Pancake has worked with Heather Welch, director of communications and marketing at Catholic Charities, and Jodee Johnson, art instructor at Maize High School, as a community partnership. Newman senior graphic design students and Maize design students submit their work for the appeal as part of the students' course work.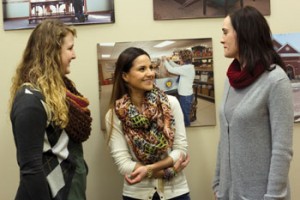 "The collaboration offers students a real world, hands-on experience, and at the same time we are blessed with several creative concepts and designs from which to choose," Welch said.
According to Welch, Catholic Charities has seen profits from the appeal increase by 76 percent since the organization began working with Newman in 2010. The 2014 appeal was mailed to 50,000 local homes.
The focus for donations in the 2014 appeal was on Harbor House, which helps women and their children who are victims of domestic violence.
2013 Newman graduate Victoria Hostick volunteered to pose with her daughter, Skyler, for the photos. 2014 Newman graduate Brittany Loomis, now a designer for Catholic Charities, acted as art director to both groups of students.