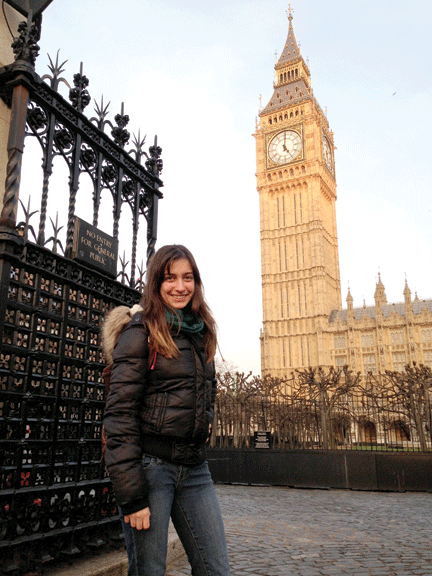 Newman University has offered study abroad opportunities for several years. Since establishing a partnership last year with Newman University in Birmingham, UK, students at Newman in America also now have the option of spending a semester in England. In some cases, students may also design a program to study in other spots around the globe under the supervision of a faculty advisor.
Here's a look at two Newman students who spent the Fall 2012 semester in Birmingham, another who is currently there, and another now studying in Shanghai, China.
Rachel Stanley and Raymond Williams were the first students from Newman to study in Birmingham. In addition to immersing themselves in everything English, the pair visited several countries in Europe on weekends and holidays.
"Being in different countries puts everything you've learned into perspective," Williams said. "I loved that I got to go places you see in movies and read about in history books. Studying abroad was one of the most incredible decisions I've ever made. All of the people I met, food I ate, and the things I saw will forever be in my mind."
Stanley, who with Williams created a blog while overseas to document their experiences, noted in one entry that the best part of her experience was making friends. Without them, she wrote, "We would have studied, gone to class, and taken a few trips, but in the end we would have still just felt like Americans out of place and far from home. In such a short time . . . we found friends we could talk to for hours, laugh with in the kitchen, and take adventures with around town."
Rusty Carbaugh, who is currently in Birmingham, described her experience as nothing short of amazing.
"I truly feel like I am learning all the time, whether in class (they call it lecture), or out," she said.
Carbaugh also launched a blog. In one entry, she noted that some things she's learning are of a practical nature, including, "How to cook (kind of)- It's a necessity here unlike in the states . . . You either cook, spend all your money eating out, convince your friends to feed you, or just eat cereal and basically starve."
Another was, "How to use public transport- Bus timetables are uber confusing when all you've ever done is drive yourself or be driven by others . . . Trains are completely different altogether and don't get me started on the metro."
.
Alaina Garret, who is in Shanghai through July, has been unable as of press time to create a blog because U.S. blogging sites are blocked in China. That hasn't dampened her enthusiasm about China, though.
"Shanghai is an amazing city," she said. "In the metropolitan area alone there are over 24 million people. The experience has been fantastic. I'm learning to get around the city. The food and public transportation are phenomenal."
Garret, who is studying Mandarin at Shanghai Normal University, will return to Newman in the fall to start her senior year. A history major with political science and international studies minors, she hopes to eventually study international relations or foreign service in graduate school, then pursue a career in the State Department.
"Chinese is in high demand in those career fields, so it seemed like an excellent language to learn," she said. "Thankfully, even though Newman doesn't have a study abroad program in China, the school has worked with me and Shanghai Normal so that I could have this amazing opportunity."
.
.
.