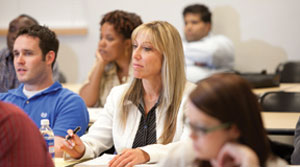 New approach to learning builds on Cardinal Newman's views on higher education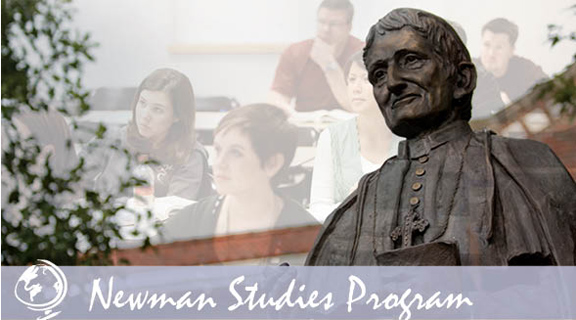 .
What is a university? Why does it exist? What things should a university do to provide a true and meaningful education? What, for that matter, is a true and meaningful education?
Many have pondered these questions over the centuries. One of them, Blessed John Henry Newman, addressed these issues and more in a work that has had a substantial and lasting impact on modern higher education, The Idea of a University.
Newman asserted that a university should provide students more than a collection of facts, figures, skills and job training. While all these are important and necessary, Newman said, they are but parts of what should be a larger whole; a system that teaches students how to make connections, create methods of analysis, form opinions and principles, and develop the ability to react to and act upon the information they receive.
In short, to think.
Newman University has always reflected and drawn inspiration from Newman's views. Now, the university has developed a program that more directly translates to action the educational philosophy Newman advocated.
University officials said the new program, called the Newman Studies Program (NSP), will give students a distinctive academic experience, and a way of learning and perceiving the world around them that will serve them the rest of their lives.
"The faculty wanted to take the vision Cardinal Newman had more than 150 years ago and create an academic program that is meaningful and relevant to students today," said Newman President Noreen M. Carrocci, Ph.D. "We think this program will clearly set Newman apart from other universities, and provide a powerful intellectual experience for students."
"This approach to higher education is completely consistent with Newman's views on knowledge and learning," said Newman Provost and Vice President for Academic Affairs Michael Austin, Ph.D., who played a large role in developing the program. "It's designed to help students go beyond an education that simply accumulates facts. It shows them how to use facts to create meaning."
The new 'core'
The new program, which began in the fall 2011 semester, is required of all students who earn a degree at Newman. It is based on the general concepts of Cardinal Newman's The Idea of a University, which grew from a series of lectures and essays Newman produced while he served as the first rector of the Catholic University of Ireland from 1854 to 1858.

Newman believed a university education should encompass a wide range of disciplines in the liberal arts and sciences, performing arts and professions, but should give students more than what he saw as a shallow understanding of many different fields. Newman wrote that, "the end of a Liberal Education is not mere knowledge." Rather, he believed the goal of education was the "enlargement" of the mind, or the ability to compare ideas, generalize, incorporate new information into existing systems of knowledge, and find meaning.
The NSP is designed to help students attain enlargement by taking a new approach to the "Core Curriculum" or "Gen Ed" requirements most colleges and universities employ.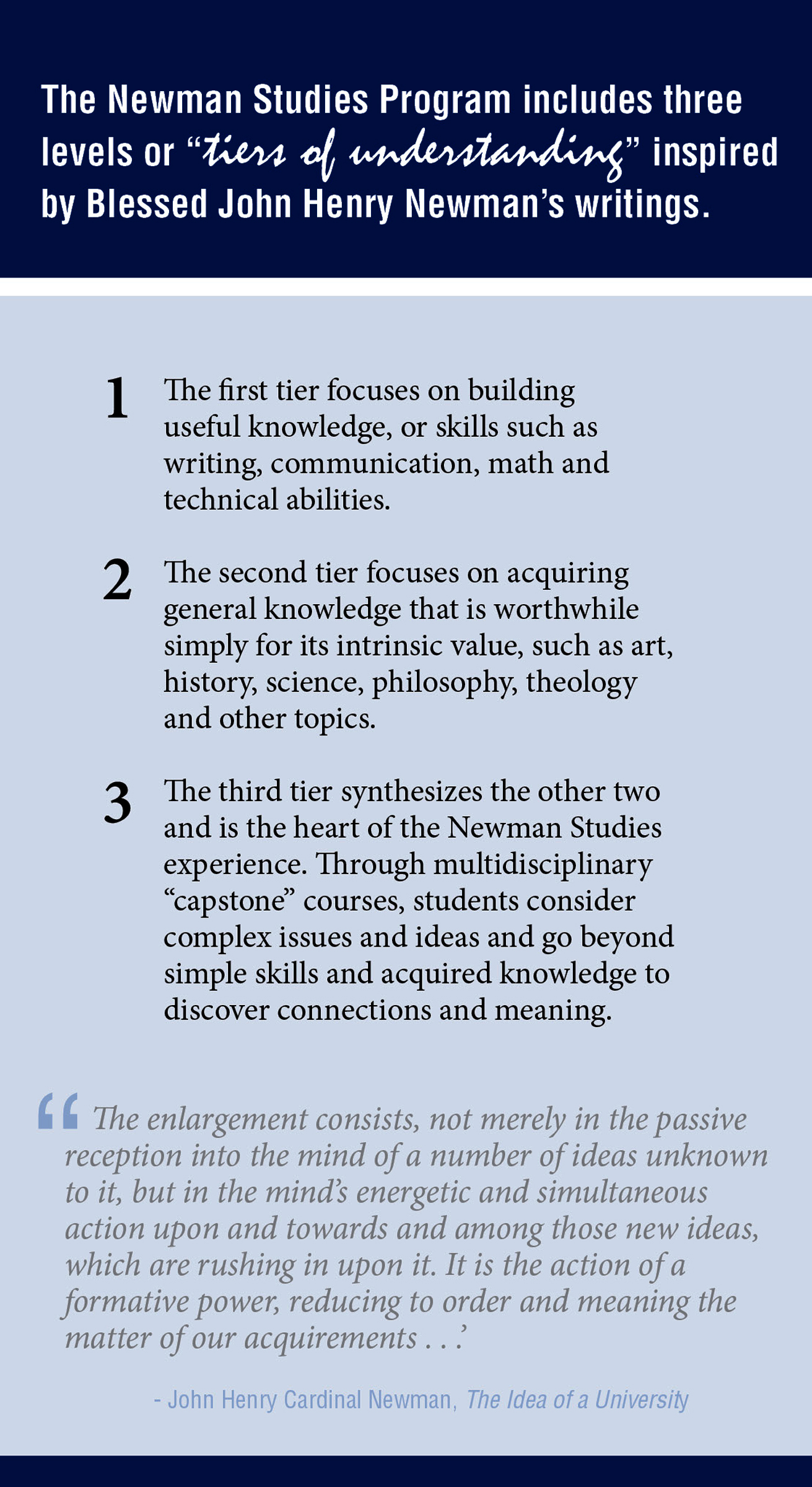 The program is based on three levels or "tiers of understanding" Cardinal Newman emphasized in his writings. The first tier centers on building skills such as writing, communication, math, and technology, which corresponds with Newman's idea that certain kinds of education provide useful knowledge, or knowledge that enables an individual to do other things. The second tier focuses on acquiring general knowledge about science, history, the arts, philosophy, theology and other topics, which Newman considered important simply for its intrinsic value.
The third tier is a multidisciplinary approach to learning that synthesizes the first two. All junior and senior students will be required to take four "capstone" courses based on a central theme chosen each year by the faculty. Through courses such asm "The Creative Spirit" and "The Quest for Meaning," (see related story) students will draw from elements of their earlier education to consider issues or problems that go beyond simple skills, knowledge and disciplinary boundaries. Students will also prepare at least one research project as part of the requirements for a baccalaureate degree.
Austin said the NSP offers benefits to students, faculty, and the university as a whole. It provides a recognizable academic structure to students as opposed to a seemingly random set of core courses, and focuses on skills such as writing that students will continue to hone as they move through the program. For faculty, it provides the opportunity to teach in their own discipline, or team-teach in an interdisciplinary environment, thereby extending their own knowledge and skill base.
"The Newman Studies Program will help fulfill our mission of producing graduates who can transform society," Austin said, "because it teaches students to reason intelligently, communicate clearly, and make decisions effectively."
Praise and attention
Austin and a faculty committee under the direction of Associate Professor of History Kelly McFall, Ph.D., worked over the past three years to create the program and the revised curriculum. To ensure that the program reaches all students, including the many Newman students who transfer from other institutions, the key components of the NSP will be available in students' junior and senior years.
The new program has already drawn praise and attention from several education organizations, Web sites and publications. When the NSP was presented at an Association of Catholic Colleges and Universities conference in Washington, D.C. earlier this year, Carrocci said "presidents' jaws were dropping" in appreciation of the program, and the leadership supplied by Newman faculty. Articles describing the new program have also appeared in several publications. Many were picked up by other industry publications and Web sites.
"We've had a very favorable and supportive response from the higher education community," Carrocci said. "I think the Newman Studies Program will set a new standard for quality, innovation and, ultimately, effectiveness in higher education, and give students the tools they need to truly succeed, not only in their chosen field, but also in life."
.